2010 LFB Challenge Round finalists are Montpellier and Nantes-Rezé
The second leg of the LFB Challenge Round turned into an anti-climax with the teams leading after the first games qualifying for the final easily.
Nantes-Rezé, starting with a 28-point advantage against Challes-les-Eaux, were never in difficulty against their guests.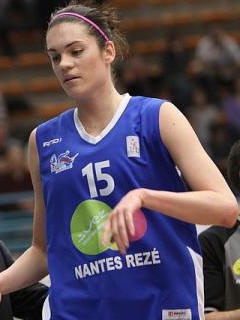 The first 20 minutes were a festival of poor shooting with Nantes taking the honours to lead (29-24).
After the break the quality of the game improved. Nantes stepped up on the accelerator while outscoring Challes 23-13 during the third quarter.
Nantes-Rezé went on to win (71-53) with Lindsay Taylor (right) leading the scoring with 14 points.
Villeneuve d'Ascq started the match with a 22-point handicap scoring the first 5 points of the match.
Trailing (14-17) by the end of the first period, Montpellier had the better of the second quarter and went into the locker room leading (32-27).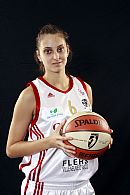 Villeneuve's hopes of making up the deficit more or less disappeared by the end of the third quarter trailing (38-46).
However a 17-2 run at the end of the final quarter enabled them to end the season with a victory (60-56).
Ana Cata-Chitiga (left) who is leaving Villeneuve led the scoring with 15 points. Jolene Anderson and Lady Comfort also made their last appearance for the club.
---
LFB Challenge Round: Advantage Lattes Montpellier and Nantes-Rezé
Return from LFB Basketball News to Ligue Féminine de BasketBall index
Go to Women Playing Basketball In France Home Page
---
picture credits:

Ligue Féminine de Basketball - LFB
Olivier Martin
Date created: 02 May 2010
---