Lattes Montpellier
's LFB Challenge Round remains perfect after beating Villeneuve d'Ascq (90-68).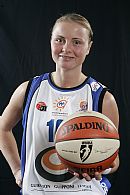 The two teams were tied (21-21) at the end of the first quarter and continued to trade baskets until the 18th minute of the game (33-33).
Pauline Krawczyk (pictured) and Khadijah Whittington finished the quarter strongly for Montpellier as they went into the locker room leading (41-37).
Villeneuve regained the advantage early in the third quarter (44-43) before collapsing totally and conceding 13 straight points.
Krawczyk was having an excellent evening from behind the arc as the hosts went into the final quarter leading (64-53). Sylvie Gruszczynski and Krawczyk quickly increased the lead to 20 points (73-53) and ended this game as a contest with eight minutes remaining.
The concept of defense was thrown out of the window for the rest of the match with Montpellier outscoring Villeneuve (17-15) to take a 22-point lead into the second leg.
Lattes Montpellier: Linda Boubaa 5, Alexia Plagnard 0, Constance Jinks 0, Leslie Fournier 0, Sylvie Gruszczynski 13, Pauline Krawczyk 30, Dana Boonen 10, Gaëlle Skrela 0, Sandra Dijon-Gérardin 17, Khadijah Whittington 15.
Villeneuve: Lady Comfort 10, Ana-Maria Cata Chitiga 5, Ingrid Tanqueray 3, Laurie Datchy 9, Carine Paul 9, Emilie Gomis 10, Elodie Bertal 14, Jolene Anderson 8.
---
---
Challes-les-Eaux
' resistance lasted three minutes with them leading (6-2).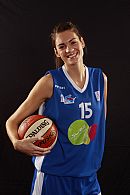 Lindsay Taylor (right) then kick-started the Nantes-Rezé offensive with back to back scores. She followed this up with an assist to Mame-Marie Sy-Diop.
A trey by Mélanie Plust and 2 points by Kathleen MacLeod completed the 11-0 run to give Nantes-Rezé the lead for good (13-6) with just over six minutes played.
Nantes-Rezé were never in difficulty for the rest of the game and ended it as a contest leading (62-37) by the end of the third quarter.
Nantes-Rezé ended up winning the match (84-56).
Challes-les-Eaux: K. B. Sharp 14, Kirby Copeland 16, Laina Badiane 6, Marie Ruzickova 0, Magali Lacroix 7, Stéphanie Dubois 0, Ivanka Matic 9, Whitney Miguel 3, Diaminatou Toure 0, Elodie Tadeuszak 0, Caralie Magoni 0, Lalya Sidibe 1.
Nantes-Rezé: Kathleen MacLeod 7, Camille Aubert 8, Mélanie Plust 9, Natalia Bogdanova 4, Yuliya Andreyeva 8, Mame-Marie Sy-Diop 13, Doriane Tahane 12, Leslie Ardon 6, Lindsay Taylor 16.
---
LFB Challenge Round: Villeneuve d'Ascq & Challes-les-Eaux recovered from game 1
Return from LFB Basketball News to Ligue Féminine de BasketBall index
Go to Women Playing Basketball In France Home Page
---
LFB Challenge Round picture credits:

Ligue Féminine de Basketball - LFB

Date created: 27 April 2010
---