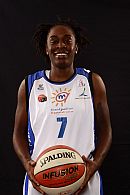 For the first time in the history of the
LFB Challenge Round
the winner will come from the higher seeds with the elimination of teams ranked 9 through 12.
Montpellier, leading by 10 points against COB Calais after the first leg, found themselves trailing on aggregate score at the interval.
However a strong third quarter put them back on top 27-5 and they went on to win the game (75-64) and the tie (153-134).
Constance Jinks (above) was the match winner for Montpellier with 17 points and 4 rebounds.
Villeneuve d'Ascq were pushed to the limit from Aix-en-Provence before coming out on top (80-75) to win the tie (155-151).
As expected both teams scored a lot from beyond the arc. But the main battle was in the paint with Elodie Bertal and Lady Comfort from Villeneuve d'Ascq against Tiffany Stansbury and Julie Page from Aix-en-Provence.
Aix-en-Provence finally took hold of the game late in the third quarter. Jolene Anderson (right) fired in a shot from beyond the arc to put Aix-en-Provence back in front on aggregate (57-50).
Laurie Datchy followed up with another shot from beyond the arc. Despite Anaïs Déas replying with a three-pointer, Villeneuve went into the final quarter leading (62-55).
Anderson finished the game with 19 points, 4 assists and 9 rebounds. Julie Page was the top scorer for Aix-en-Provence with 24 points.
Challes-les-Eaux ended the LFB Challenge Round dreams of Basket Landes by beating them (74-59).
Challes-les-Eaux put themselves into a good position during the first quarter leading (25-13).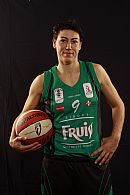 Basket Landes came storming back during the second quarter and went into the interval trailing (33-37) but level on aggregate score.
Magali Lacroix (left) put Challes back in control with the first 5 points of the second half.
Basket Landes were playing with a lot of players from the youth team. They did their best but went into the final quarter trailing by 17 points.
The match ended with academy players from both teams on the court.
Challes won the tie (136-125).
Nantes-Rezé, leading by 29 points after the first leg against Toulouse, cruised to victory (82-56) to win the tie (176-121).
The semi-final of the LFB Challenge Round starts on Tuesday, 27 April 2010 with the following matches:
Challes-les-Eaux vs. Nantes-Rezé
Lattes-Montpellier vs. Villeneuve d'Ascq

Box Scores
The links will be added when they are made available.
Villeneuve 80-75 Aix-en-Provence
Lattes Montpellier 75-64 COB Calais
Challes-les-Eaux 74-59 Basket Landes
Nantes-Rezé 82-56 Toulouse

Go back to the top of page
---
LFB challenge round almost over for Toulouse
Return from LFB Basketball News to Ligue Féminine de BasketBall index
Go to Women Playing Basketball In France Home Page
---
LFB Challenge Round picture credits:

Ligue Féminine de Basketball - LFB

Date created: 23 April 2010
---