Toulouse's roster for the LFB Challenge Round was reduced by two key elements.
Katharina Fikiel (left) and Kateryna Dorogobuzova's contracts expired at the end of the regular season and both players have returned to their countries.
They were replaced for this match against Nantes-Rezé with players from the Toulouse basketball academy.
Mame-Marie Sy-Diop ( below right) and Lindsay Taylor got Nantes-Rezé off to a good start (8-2) with three minutes on the game clock.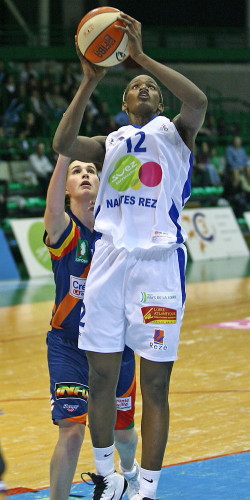 Nantes went in front by as many as 11 points halfway through the quarter. But then they had to settle for a 7-point lead (19-12) by the end of the first quarter.
Toulouse did their best during the second quarter and traded basket for basket with their guests for six minutes (25-32).
Laurent Buffard requested for his much taller players to take advantage of their height. Taylor got the show on the road as Nantes closed the first half ahead (44-31).
Nantes dominated the third period and went 28 points clear (72-44) to go into the final quarter.
Valérie Garnier, the coach from Toulouse, decided to give her academy players Lola de Angelis, Camille Fourcade and Jessie Boudenne time on the court as her side lost (65-94).
Nantes go into the second leg with a 29-point head start.
Toulouse: Leah Metcalf 2, Camille Fourcade 0, Milica Beljanski 10, Emilie Maurice 12, Swanne Gauthier 8, Bintou Dieme 16 (4 assists), Jessie Boudenne 2, Lola de Angelis 2, Agathe N'Nindjem-Yolemp 13 (11 rebounds).
Nantes-Rezé: Kathleen MacLeod 6 (8 assists), Camille Aubert 6, Mélanie Plust 5, Natalia Bogdanova 6, Yuliya Andreyeva 14, Mame-Marie Sy-Diop 20, Doriane Tahane 10, Leslie Ardon 11, Lindsay Taylor 16.
The rest of the news from the LFB Challenge Round
Julie Page was in explosive form at the start of the game for Aix-en-Provence by scoring her team's first 7 points.
Anaïs Viale and Tiffany Stansbury then took over the offensive duties for Aix to remain in front (11-6).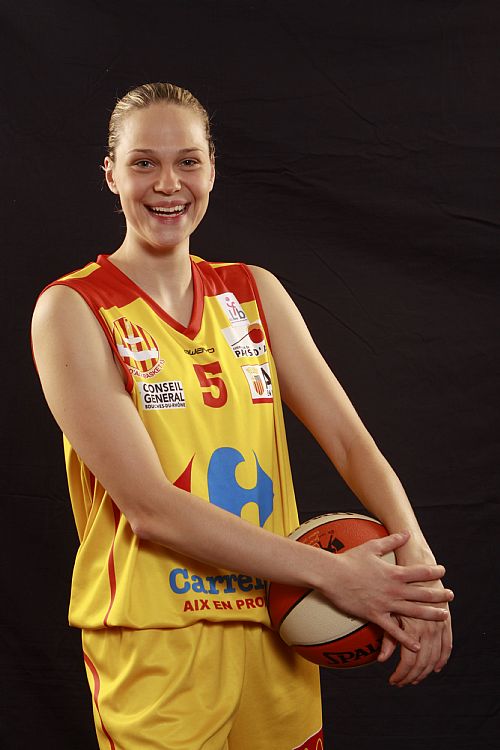 However with Jolene Anderson conducting the play with Elodie Bertal and Lady Comfort doing most the scoring, Villeneuve edged the first quarter (21-19).
The two teams played cat and mouse over the next two quarters with Villeneuve d'Ascq going into the final quarter leading (61-56).
Claire Tomaszewski (Tom-Tom left in picture) hit two big three-pointers that kept Aix in the match. She then finished the game with her third trey of the quarter to win the game (76-75).
Aix-en-Provence: Tiffany Stansbury 20 (16 rebounds), Claire Tomaszewski 17, Anaïs Déas 0 (5 assists), Isabelle Strunc 0, Guiday Mendy 4, Anaïs Viale 9, Margaux Okou-Zouzouo 2, Claudia das Neves 3, Manon Cuomo 0, Julie Page 21.
Villeneuve: Lady Comfort 11, Ana-Maria Cata Chitiga 13, Ingrid Tanqueray 3 (5 assists), Laurie Datchy 7, Carine Paul 7, Emilie Gomis 12, Elodie Bertal 14 (10 rebounds), Jolene Anderson 8.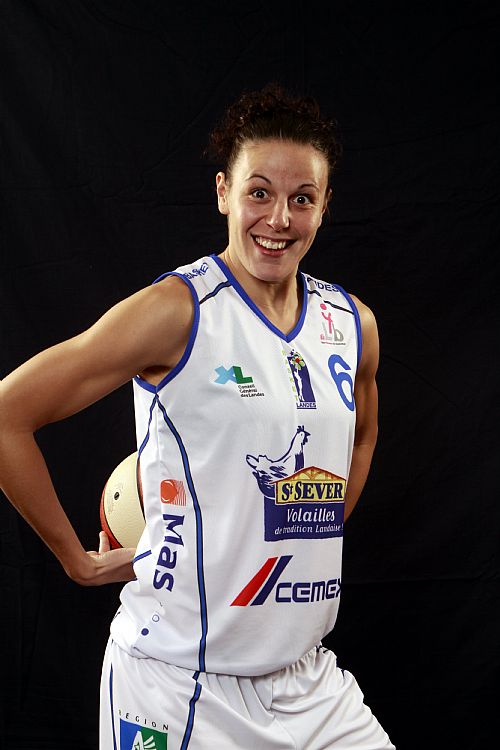 Basket Landes gave their fans something to cheer about with a (66-62) victory against Challes-les-Eaux.
Sabrina Reghaïssia (right) had a perfect shooting day. She went 8-of-8 from the field which included two three-pointers for a total of 18 points.
COB Calais' losing streak continues as they fell at home (69-79) to Lattes Montpellier.
The return legs will be played on Friday, 23 April 2010.
---
LFB Challenge Round Scores
COB Calais 69-79 Lattes Montpellier

Aix-en-Provence 76-75 Villeneuve d'Ascq

Basket Landes 66-62 Challes-les-Eaux
Go back to the top of page
---
Brackets for LFB Challenge round set
Return from LFB Basketball News to Ligue Féminine de BasketBall index
Go to Women Playing Basketball In France Home Page
---
LFB Challenge Round picture credits:

Ligue Féminine de Basketball - LFB
Olivier Saare @Basquetebol.org

Date created: 20 April 2010
---