Mame-Marie Sy-Diop is ready for the LFB Challenge Round
---
---
SJS Reims started their 2009 LFB Challenge Round campaign with a 22-point victory against COB Calais.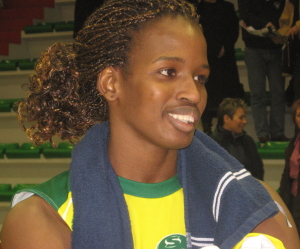 This margin was due to Mame-Marie Sy-Diop who top scored with 23 points.
She also seized 21 rebounds of which 16 were on the defensive boards.
Sy-Diop finished with a match evaluation (efficiency) ranking of 40 points, which happened to be more than the whole Calais team that finished with 33.
Calais were without Olayinka Sanni, who has returned to the USA in order to prepare for the WNBA season. Without her presence Calais were powerless in stopping Sy-Diop.
Sy scored the first 5 points of the match as Reims quickly took control to lead (7-1) and then (11-3).
Calais finally woke up and outscored their hosts (10-3) with baskets coming from Lauren Neaves, Aurélie Cibert and Lina Brazdeïkyte.
Calais managed to draw level (15-15) through Sara Leemans on the buzzer to end the first quarter.
Calais went in front at the start of the second period as Neaves found her way to the basket. This action forced Reims to step up in intensity.
The basketball was not pretty as the teams traded baskets for most of the quarter.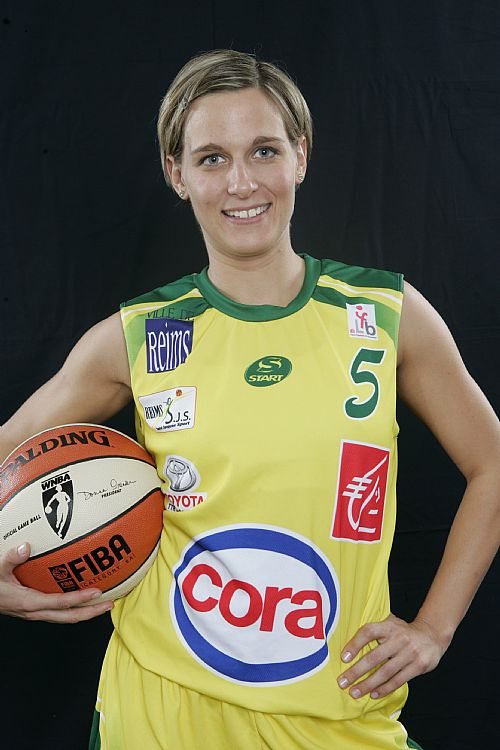 The two teams were still locked together (22-22) when Hungarian international Orsolya Englert (right) fired a shot from beyond the arc to put Reims in the lead.
Sy-Diop then completed the scoring to take Reims into the locker room leading (28-24).
She led all scoring with 11 points and 11 rebounds, Neaves led the COB attack with 8 points.
Calais who went 0-7 from the three-point land during the first half of the match opened the scoring with a trey from Anne-Sophie Pagnier with a three-pointer.
However it was Reims who maintained control and opened up a 7-point lead (34-27).
Calais somehow found the resource and were soon back on level terms after 5 points from Neaves and a trey from Pagnier (35-35).
This was the last time both teams were level as Reims went on the offensive with Marie-Laure Kindoki-Fleury providing the firepower and a three-pointer from Manon Sinico to go into the final period leading (44-37).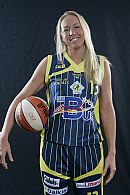 Calais started to look tired going into the final period and despite resisting initially and trailing by 7 points (41-48) after 32 minutes, they were hit 13-3 in less than four minutes as the game ended as a contest (44-61).
Reims did not let up and finished the game with a three-pointer by Englert to win (73-51).
Sarra Ouerghi was the only other player from Reims in double digits with 10 points. Englert scored 9 points (3-of-9) and dished out 7 assists.
For Calais Neaves (above) scored 16 points and had 9 rebounds while Pagnier finished with 11 points.
LFB Challenge Round Box Score
---
Jenna O'Hea shines as Arras beat Challes-les-Eaux in game one
2009 LFB Challenge round introduction
Return to women playing basketball blog
Return from LFB Challenge Round basketball news to LFB news index
Picture credits:
Womensbasketballin-france.com
Ligue Féminine de BasketBall

Date created: 22 April 2009

---