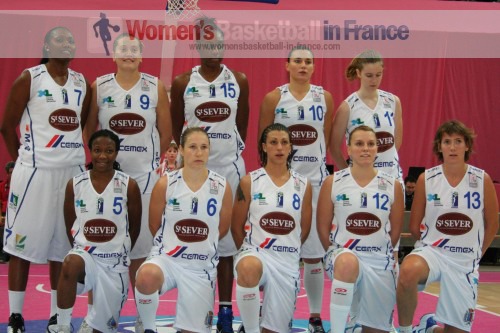 The first week of action in the LFB has come to an end with five teams remaining undefeated.
However six clubs have just played two games. At the moment Basket Landes and Bourges Basket share the top position with a perfect record of three wins.
The other teams with perfect records have only played two games and are all tied for fifth place: Aix-en-Provence, Nantes-Rezé and Tarbes.
Basket Landes failed to take advantage of their (10-0) opening and had to wait until the last four minutes of the game to knock down Calais.
With the game tied (51-51) it was Jennifer Humphrey who put the hosts in the lead for good by splitting a pair of free-throws.
French international Marion Leborde then set Basket Landes on their way to victory (60-53).
Humphrey finished with a double-double of 24 points and 16 rebounds while Leborde scored 17 points. For Calais Greek international Pelagia Papamichail led the way with 14 points.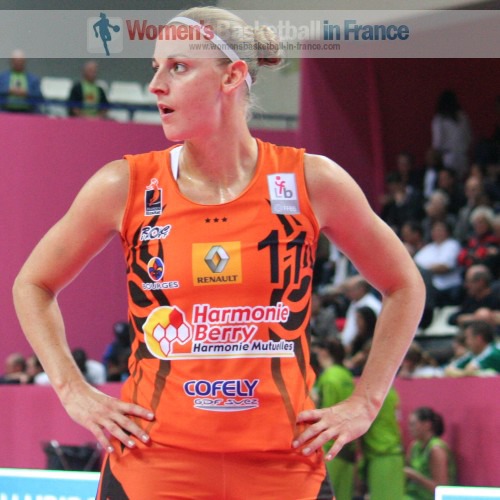 Bourges Basket, playing at home, were kept busy by Challes-les-Eaux for just seven minutes before running out winners (85-55) in front of a capacity crowd.
Cathy Joens (left) hit 5-from-6 from beyond the arc to lead the scoring with 19 points. She also was credited for 5 assists.
Nwal-Endéné Miyem and Emméline Ndongue both scored 11 points each. Miyem also dished out 4 assists. All 10 players got on the score sheet.
Mistie Williams-Bass led the scoring for Challes-les-Eaux with 16 points.
The rest of the LFB basketball news from round 3
Nantes-Rezé had the better of the first 20 minutes against Charleville-Mézières and led by 17 points going into the break (41-24).
Amel Bouderra (21 points) tried to bring her team back into the game during the second half. But Nantes with 21 points from Allison Hightower held on the advantage to win (72-59).
Aix-en-Provence almost blew a 12-point advantage going into the final quarter (51-39) against Montpellier. Finally they held on for a 1-point victory (55-54).
Greek international Zoi Dimitrakou poured in a game high 22 points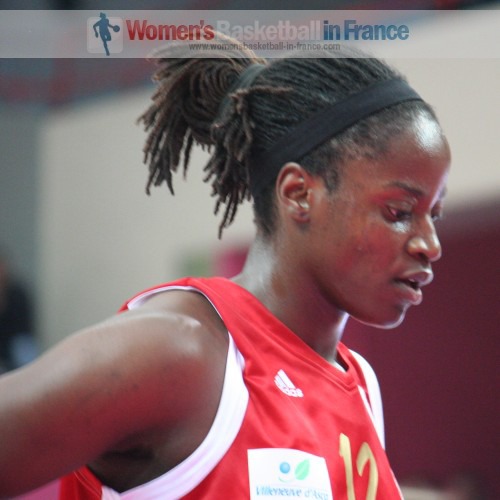 for Aix, while her team-mate Lauren Neaves finished with a double-double of 18 points and 14 rebounds.
Villeneuve d'Ascq were the only team to win on the road with a (71-55) victory against Toulouse. Carla Thomas (right) led the scoring with 15 points while Ingrid Tanqueray fired in 13 points and gave out 9 assists.
Tarbes, the defending LFB champions, were once again taken to the wire before coming out on top against Mondeville (66-61). K. B. Sharp fired in 28 points for Mondeville. But it was not enough to secure the victory.
Florence Lepron led the Tarbes attack with 14 points.
Arras had to wait until the last two minutes to put away local rivals UHB (61-52). Arras played the whole of the second half without Marielle Amant and needed an 8-0 finish to win the game.
Pauline Akonga N'Simbo scored 19 points for Arras while Steffi Sorensen was the leading scorer for UHB with 18 points.
---
LFB round 3 results and points scored
Bourges Basket 85-44 Challes-les-Eaux
Bourges Basket: Anaël Lardy 6 (6 assists), Maja Miljkovic 6, Nwal-Endéné Miyem 11, Margaux Galliou 3, Styliani Kaltsidou 6, Jennifer Digbeu 9, Catherine Joens 19 (5 assists), Paoline Salagnac 6, Emméline Ndongue 11 (10 rebounds), Ilona Burgrova 6
Challes-les-Eaux: Romy Bär 4, Bianca Thomas 9, Alexia Plagnard 5, Sabrina Palie DNP, Mistie Williams-Bass 16, Magali Lacroix 6, Elodie Tadeuszak DNP, Clarisse Costaz 0, Lalya Sidide 2, Jennifer Fleischer 2
---
Basket Landes 60-53 COB Calais
Basket Landes: Aminata Konate 0, Katarina Manic 8 (6 assists), Bineta Diouf 8, Anaïs Le Gluher 0, Julie Barennes 0, Julia Borde DNP, Marion Laborde 17, Laurie Lapeyre DNP, Jennifer Humphrey 24 (16 rebounds)
COB Calais: N'Deye N'Diaye 6, Sylvie Gruszczynski 6 (6 assists), Cocks Micaela DNP, Aurélie Cibert 2, Mélanie Arnaud 11, Manon Sinico 4, Pelagia Papamichail 14, Brigitte Ardossi 10
---
Nantes-Rezé 72-59 Charleville-Mézières
Nantes-Rezé: Florine Basque 0, Caroline Aubert 6, Joyce Cousseins-Smith 9, Mélanie Plust 4, Allison Hightower 21, Mame-Marie Sy-Diop 12, Jenna Smith 14, Sabine Niedola 6
Charleville-Mézières: Amel Bouderra 21, Belinda Mboma 5, Sarra Ouerghi 4, Alexia Kusion 0, Ekaterina Dimitrova 6, Kristen Mann 9, Djéné Diawara 8, Eléonore Grossemy DNP, Bojana Vulic 6
---
Toulouse 55-71 Villeneuve d'Ascq
Toulouse: Lou Mataly DNP, Jessie de Colo 0, Camille Aubert 9, Chandrea Jones 12, Emilie Maurice 7, Leslie Matanga 2, Lola de Angelis 0, Shanavia Dowdell 14, Suzanna Milovanovic 11
Villeneuve d'Ascq: Julie Page 11, Carine Paul 3, Onayssa Sbahi DNP, Ingrid Tanqueray 13, Laurie Datchy 6, Fanny Ploegaerts DNP, Carla Thomas 15, Olayinka Sanni 12, Elodie Bertal 4, Bridgette Mitchell 7
---
Aix-en-Provence 55-54 Lattes-Montpellier
Aix-en-Provence: Emmanuelle Gorjeu 0, Claire Tomaszewski 6, Zoi Dimitrakou 22, Lauren Neaves 8, Isabelle Strunc 0, Margaux Okou-Zouzouo 0, Natalie Hurst 2, Sabrina Réghaïssia 9, Hollie Grima 8
Lattes-Montpellier: Virginie Bremont 2, Alicia Poto 8, Iva Perovanovic 12, Cyrielle Hugues DNP, Brittainey Raven 5, Ana Lelas 6, Gaëlle Skrela 3, Sandra Dijon-Gérardin 6, Fatimatou Sacko 12
---
Tarbes 66-61 USO Mondeville
Tarbes: Jelena Dubljevic 11, Erin Thorn 11, Ivanka Matic 7, Pauline Jannault-Lo 7, Isis Arrondo 0, Naura El Gargati 4, Florence Lepron 14, Darline Nsoki 1, Ana Maria Cata Chitiga 9, Vaida Sipaviciute 2
USO Mondeville: Touty Gandega 0, Anne-Sophie Pagnier 2, Esther Niamké-Moisan 2, Aija Brumermane 9, K. B. Sharp 28, Lenae Williams 4, Yacine Sene 2, Aurélie Bonnan 7, Valeriya Berezhynska 7
---
Arras 61-52 Union Hainaut Basket
Arras: Leilani Mitchell 13, Laury Aulnette DNP, Krissy Badé 4, Johanne Gomis 3, Olesia Malashenko 16, Adja Konteh 0, Marielle Amant 4, Aija Putnina 2, Pauline Akonga N'Simbo 19, Juliana Mialoundama DNP
Union Hainaut: Steffi Sorensen 18, Emilie Duvivier 6, Emilie Silbande 0, Noémie Lemaire DNP, Céline Girard DNP, Laëtitia Kamba 12, Jasmon Covington 12, Elsa Martins DNP, Alison Bales 4
---
2010 Open LFB - Basket and the City Index
Return from LFB Basketball News to Ligue Féminine de BasketBall index
Go to Women Playing Basketball In France Home Page
Return to the top of page
---
LFB picture credits:

Ligue Féminine de Basketball - LFB
womensbasketball-in-france.com

Date created: 24 October 2010
---