LFB basketball news from round 9
Asptt Arras down UHB
---
---
LFB basketball news: Four wins in a row for Arras
Arras are in their third season in the LFB. They have added a new chapter to their history as they won their fourth consecutive match in the LFB by beating local rivals Union Hainaut Basket (62-61) in a dramatic fashion.
Once again Mia Fisher was in the thick of the action as the game reached its climax with 20 seconds to play in the final quarter.
Arras was leading (60-58) when Fisher went on her typical drive to the basket and managed to force Kathy Wambe into fouling her and win two free-throws.
Bruno Blier used this opportunity to call a time-out.
Unfortunately for Fisher and Arras she did not convert her free-throws. UHB then took their time with Wambe setting up the play.
With the clock running down, she made the pass to Sabrina Reghaïssia who then fired in a three-pointer for UHB to regain the lead (60-61).
Without Leilani Mitchell who had picked up 5 fouls, it was left to Fisher to run the very last play. She drove to the basket as the clock ran down and made contact with Wambe while shooting and won another 2 free-throws.
This time she did not miss and the game was won (62-61) for Arras.
This is the second time that Reghaïssia has been on the receiving end of a Fisher last second buzzer beater winner.
Fisher led the scoring with 15 points and was joined in double digits by Jenna O'Hea (7 assists), Bernie Mosby and Marielle Amant with 12, 11 and 10 points each.
Wambe led the scoring with 17 points for UHB and was supported offensively by Bernadette Ngoyisa and Reghaïssia with 14 and 11 points apiece.
LFB basketball news: Box score information has been removed from linking site.
---
---
LFB basketball news highlights from the remaining games on Saturday
Bourges Basket
bounced back from mid-week disappointment in the EuroLeague Women to beat Aix-en-Provence (75-47).
Bourges Basket bounced back from mid-week disappointment in the EuroLeague Women to beat Aix-en-Provence (75-47).
Bourges, playing at home, struggled by their standards to get going and went into the locker room with only a 2-point lead (31-29).
However after the break they went to the rampage and more or less ended the game as a contest with a 25-9 third-period run.
Bourges had four player in double digits with Nwal-Endènè Miyem (right) leading the way with 18 points. Hollie Grima scored 17 points for Aix.
LFB basketball news: Box score information has been removed from linking site.
---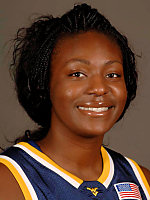 COB Calais had a good win at home against Clermont-Ferrand (87-75). The match winner was Olayinka Sanni (left) who finished the match with 29 points.
In a very open offensive match, Calais had the better start and led (6-2) early on.Clermont-Ferrand slowly came into the game and thanks to Anaël Lardy edged the first period (17-15).
The two teams continued to play offensively with the advantage changing several times until they were tied for the last time (29-29).
Calais with Sanni (14 points in the first half) finished the second period stronger and went into the interval in front (38-32).
In the second half of the match Calais managed to control the pace of the game and stretched their lead (63-50) going into the final period.
The last quarter was an offensive festival by both sides with the hosts not allowing their guests to come to within 10 points of their score.
Clermont-Ferrand were once again dependant on the scoring of Emma Randall and Claudia Das Neves who both scored 20 points
LFB basketball news: Box score information has been removed from linking site.
---
SJS Reims ended up losing at home to Montpellier (62-67) after leading (31-22) by the end of the first period.
Reims went on a 10-0 run early in the first period to take charge of the game (16-4). Montpellier who played without Khadijah Whittington for most of the game were forced to change their strategy after only three minutes of play.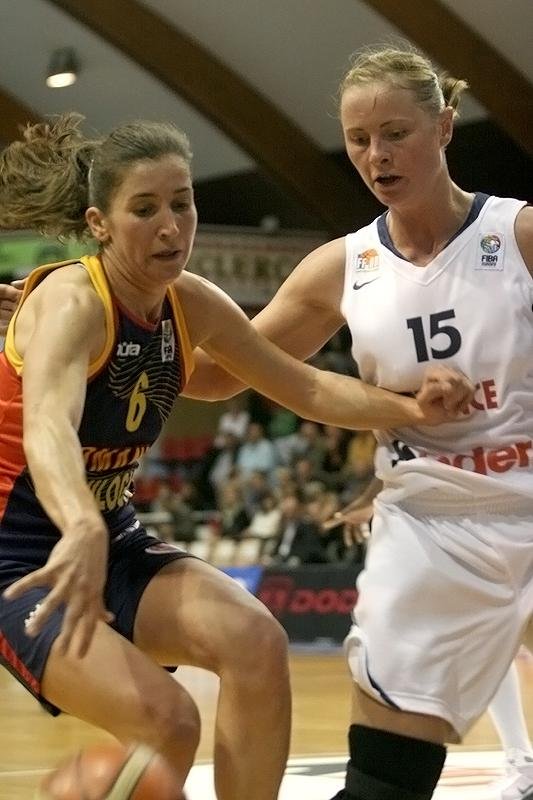 Montpellier made some changes to their defensive system. Midway through the second period they had regained the lead (36-34).
The whole dynamics of the game changed thereafter with Montpellier going into the locker room with a small advantage (44-41).
The third period was rather technical as neither side was able to get going. By the start of the final period the two teams were level (52-52).
The match swung in the direction of Montpellier off two actions from Pauline Krawczyk (right No. 15).
She hit her only three-pointer of the game, quickly followed by a two-pointer to put them in front for good (58-54).
The score remained close throughout the final quarter.
It was Krawczyk who increased her tally to 23 points by scoring the last points of the game (67-62) as the match entered money-time.
Krawczyk led the scoring and was joined in double digits by Sheana Mosch and Elodie Bertal with 16 and 14 points apiece.
Mame-Marie Sy-Diop led the scoring for Reims with 16 points. Valeriya Berezhynska finished with a double double of 11 points and 11 rebounds.
LFB basketball news: Box score information has been removed from linking site.
---
In the final game of Saturday night between the two newcomers to the LFB, Basket Landes beat Nantes-Rezé (59-49).
Basket Landes led from start to finish to win their second game in the LFB.
LFB basketball news: Box score information has been removed from linking site.
---
---
Tarbes and Challes win on Sunday
In the first game on Sunday Tarbes playing at home held off the challenge of Mondeville to win (73-69).
Tanisha Wright was in explosive form for Tarbes and hit a game high 22 points. She also notched up 4 assists and 5 rebounds.
Isabelle Yacoubou-Dehoui was also very active at both ends of the court and finished with another double double of 15 points and 11 rebounds while Liz Moeggenberg finished on 11 points.
Mondeville hit 9-of-21 from beyond the arc with Lenae Williams leading the way with 23 points (5-of-9 in three-pointers). Clarisse Costaz and Paoline Salagnac also finished in double digits with 17 and 16 points apiece.
After a fiercely contested period in which the teams finished level (18-18), Mondeville made the first break of the match after 5 points from Williams (25-20).
Despite the efforts of Costaz Mondeville were unable to increase their advantage. The teams were level once again as Polina Tzekova hit a trey (29-29).
Mondeville fired in a couple of three-pointers as they went into the break leading (37-34).
Béatrice Castets from Tarbes has a habit of scoring from beyond the arc and did so to bring the sides level again (39-39) with 23 minutes played.
Afterwards Wright took over the offensive work for Tarbes as both teams went on a scoring rush. She then put her side in front for good (48-47).
Tarbes dominated the last two minutes of the third period with Castets firing in her second three-pointer of the game.
The home side went into the final period ahead (58-57) to complete a 12-0 run.
Tarbes had a maximum lead of 14 points (64-50) with eight minutes to play. They looked to have the game won.
With five minutes to play they still had a comfortable lead with a 10-point advantage(68-58).
But then Tarbes suffered the jitters as Williams and Salagnac, sparked on by France U16 international Esther Niamke-Moisan, reduced their deficit to 4 points (67-70) with two minutes left on the game clock.
The rest of the points came from the free-throw line with Moeggenberg (right) scoring 2 and Yacoubou-Dehoui splitting a pair for Tarbes. For Mondeville Costaz hit 2.
LFB basketball news: Box score information has been removed from linking site.
---
Carly Wilson hit 4-of-8 from beyond the arc and compiled a total of 18 points as Challes-les-Eaux beat Villeneuve d'Ascq at home(70-64).
She was second in scoring to the captain Martina Luptakova-Gyurcsi who scored 19 points.
Challes got off to a good start and led (25-14). Villeneuve spent the rest of the match using a lot of energy chasing after the score.
Géraldine Robert scored 21 points and had 11 rebounds. She was helped by Iziane Castro Marques with 19 points.
Although Villeneuve improved in their free-throwing this weekend with 12-of-18, they ended up losing the match by 6 points.
LFB basketball news: Box score information has been removed from linking site.
---
All the results from round nine:
Bourges Basket 75-47 Aix-en-Provence
Cob Calais 87-75 Clermont-Ferrand
SJS Reims 62-67 Lattes Montpellier
Asptt Arras 62-61 Union Hainaut Basket
Basket Landes 59-49 Nantes Reze
Tarbes 73 - 69 Mondeville
Challes-les-Eaux 70 - 64 Villeneuve d'Ascq
---
LFB Basketball News from round 8
LFB Basketball News from round 7
Return from LFB basketball news to women playing basketball blog
Return from LFB basketball news from around the clubs to LFB news
Picture credits:
womensbasketball-in-france.com
Ligue Féminine de BasketBall
Ann-Dee Lamour

Date created: 09 November 2008

---