LFB basketball news from round 25 looking at foreign players
---
---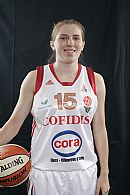 Jolene Anderson
(left) has been in the LFB basketball news a lot in the last four weeks with her performances for Villeneuve d'Ascq.
She was once again the leading scorer for Villeneuve d'Ascq as they beat Mondeville (77-54).
She hit an impressive 9-of-11 from the field which included 4-of-4 from beyond the arc. She also finished with 7 rebounds and 5 assists.
Anderson's three-point shooting infected her team-mate, French youth international Laurie Datchy who hit 3-of-5 from the land of many in her total of 13 points.
Villeneuve d'Ascq had the game wrapped up by the interval leading (46-23).
For Mondeville Bosnian Rankica Sarenac and American Lenae Williams scored 14 and 13 points each.
---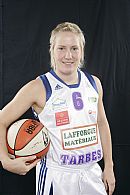 Tarbes beat Clermont-Ferrand (86-62) with 21 points coming from Swedish International Frida Eldebrink (right).
She connected 5 times in 8 attempts from the three-point land and had 7 assists.
All ten players from Tarbes scored during the match.
For Clermont-Ferrrand it was Brazilian international Claudia Das Neves that led the attack with 20 points.
---
Asptt Arras have been making LFB basketball news recently because of the confirmation of Sarah Michel and Marielle Amant staying at the club next season.
Their chance of finishing fourth at the end of the season was ended by a home defeat (65-66) against Aix-en-Provence.
Arras spent most of the game chasing Aix-en-Provence. But in the final period thanks to the shooting of Australian Jenna O'Hea (left) were leading (65-64) with a minute to play.
She finished the game as top scorer with 23 points which included a perfect 5-of-5 in three-pointers.
However it was another Australian playing for Aix-en-Provence Renae Camino that scored the game winning shot at the buzzer.
American and WNBA player K. B. Sharp was the leading player for Aix-en-Provence with 16 points and 4 assists. On the negative side she was credited with 6 turnovers.
---
Challes-les-Eaux ended their series of 4 defeats with a victory (61-51) against Nantes-Rezé. The captain of Challes-les-Eaux Martina Luptakova-Gyurcsi, a Slovakian international, was the match winner with 20 points, 8 rebounds, 5 steals and 3 assists.
Basket Landes beat Union Hainaut Basket (69-68) with American Jennifer Humphrey (right) as the match winner with 22 points, 9 rebounds and 4 assists.
For Union Hainaut Basket Bernadette "Mudju" Ngoyisa was once again her team's best player with 20 points and 13 rebounds.
Despite the help of Sabrina Reghaissïa who also scored 20 points, UHB were unable to get the victory.
If Montpellier win their last game of the regular season, then UHB will not be able to qualify for the LFB championship play-off series even winning their last game.
LFB basketball news from the rest of the games
Bourges Basket travelled to Reims and struggled for most of the game.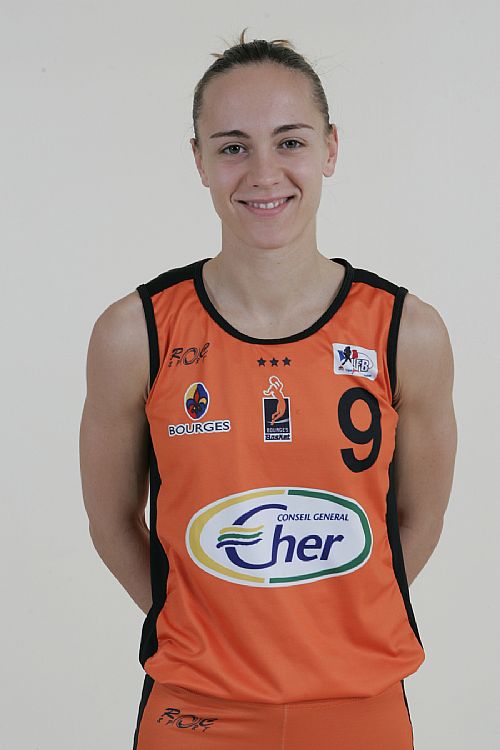 Céline Dumerc (left) fired in 3 three-pointers in the final period as Bourges managed to distance themselves from SJS Reims to win (60-52).
Dumerc scored 11 points in total and dished out 5 assists to lead the Bourges' offensive.
Hungarian international Orsolya Englert led the Reims attack with 16 points.
Cob Calais were unable to make it four wins in a row as they lost at home (62-72) against Montpellier.
Calais were without Aurélie Cibert but had Joyce Cousseins-Smith leading the scoring with 18 points.
Sarah Leemans came off the bench to score 12 points and compile 4 assists while the inside players Olayinka Sanni and Lauren Neaves combined for 15 points and 19 rebounds.
However this was not enough to stop Montpellier who had four players in double digits.
Gaëlle Skrela led the scoring with 16 points and Sheana Mosch added 14 points.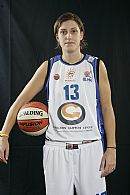 However it was the ability of Aurélie Bonnan (7 assists - right) in finding the good pass that enabled her team to take advantage to win the game.
Montpellier move back into fourth position but they have the same number of points as Challes-les-Eaux, Union Hainaut Basket and Cob Calais.
On Wednesday Montpellier will play Challes-les-Eaux in Challes-les-Eaux.
If Montpellier win this match they will finish in fourth place and qualify for the 2009 LFB final four play-off series with Bourges Basket, Tarbes and Villeneuve d'Ascq.
You will be able to watch Montpellier's last game live here.
In case of Montpellier losing then calculators may be required to determine who finishes in fourth place.
---
All the results from LFB round 25 with statistics:
Villeneuve d'Ascq 77-54 USO Mondeville
Tarbes 86-62 Clermont-Ferrand
Asptt Arras 65-66 Aix-en-Provence
Challes-les-Eaux 86-62 Nantes-Rezé
Basket Landes 69-68 Union Hainaut
SJS Reims 52-60 Bourges Basket
Cob Calais 62-72 Lattes-Montpellier
---
LFB Basketball News from round 24
LFB Basketball News from round 23
Return from LFB basketball news to women playing basketball blog
Return from LFB basketball news from around the clubs to LFB news
LFB basketball news picture credits:
Ligue Féminine de BasketBall
womensbasketball-in-france.com
Date created: 12 April 2009

---