In all the newspapers and magazines the LFB basketball news headlines in the last few days have been on the financial status of clubs in the LFB.
In a meeting last week the FFBB have issued a communiqué reminding everybody of the rules of engagement for the LFB and FIBA Europe competition.
In round 24 only two teams managed to win at home as it was a night for the teams playing on the road.
However this victory does not help them because Basket Landes won, so they cannot qualify for the play-offs and have lost their place in the LFB.
Elsewhere Villeneuve d'Ascq' victory against Montpellier has secured them a third-place finish in the regular season and a place in the LFB championship play-off.
You will be able to read more LFB basketball news with all the statistics by following the links below or scrolling down the page:

After the 2006-2007 season, Mourenx failed to meet the financial requirements for the LFB and as a result were withdrawn from the League.
Mourenx appealed to the highest court of arbitration in France and won their appeal because they showed that they had backers and sponsors to cover the costs of running the club.
Anyway at the end of the 2007-2008 Mourenx finished last in the LFB and went into administration and does not exist today.
A new club has since been formed in Mourenx called Pau-Lacq-Orthez and currently plays in NF3.
At the end of last season Clermont-Ferrand were refused by the LFB a place in the FIBA EuroCup because they did not fulfil all the requirements of the LFB.
The LFB management allowed them to stay in the competition but with a reduced roster and hence Lourdes Pelaez San Gil (left in picture who eventually left the club) and Elena Nikipolskaia were not issued licenses to play.
The current situation at Clermont-Ferrand is something that the LFB has wanted to avoid and as a result they had an emergency meeting with the presidents of all the clubs and have come up with some measures.

1. Clubs that do not meet the financial requirements for the League will be relegated.

2. Any club that did not meet certain financial targets by 31 December 2008 will not be allowed to play in European Basketball competitions next season (EuroLeague Women and EuroCup Women).
Who will finish fourth?
Cob Calais move into fourth place after a hard fought victory on the road against Nantes-Rezé (80-74).

Simon Guillou, the head coach from Nantes-Rezé, will be shaking his head again after his team turned the ball over 24 times.

Nantes-Rezé were without the services of Michele Van Gorp for this match did not allow Calais to have it all their way as the game remained close through the first three quarters.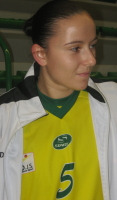 The two teams were level (64-64) after 37 minutes. Nantes were to lose Jessica Moore for 5 fouls after this. Calais managed to push themselves in front with a trey from Anne Sophie-Pagnier and held on to win.
Lauren Neaves led the COB attack with 19 points, Pagnier followed with 17 points. Olayinka Sannia and Joyce Cousseins-Smith scored 12 and 11 points each as Calais move into fourth place in the table.
For Nantes Franza Bounderra was the best player with 18 points and 7 assists. Leslie Ardon came off the bench and scored 17 points. Sandrine Ronot and Yuliya Andreyeva scored 14 and 13 points apiece.
LFB basketball news Box Score
---
Union Hainaut's defeat to Tarbes and an inferior head to head with Calais sees them drop into fifth position.
Tarbes controlled the first period as they completely outclassed their hosts (23-14) before allowing them back into the game during the second quarter.
Liz Moeggenberg (right) poured in 16 points during the first 20 minutes as Tarbes went into the interval leading (31-30).
UHB came out from the locker room with a spring in their steps and went in front for the first time in the game through Bernadette "Mudj" Ngoyisa.
The UHB fans thought it was going to be their game as Sabrina Reghaïssia's three-pointer increased the UHB advantage (37-33) with 22 minutes played.
The joy was not to last as Isabelle Yacoubou-Dehoui and Tanisha Wright led the Tarbes charge as they wrestled their way back into lead by the end of the third period (50-41).
Tarbes then paced themselves in the final period and led by just 6 points (58-52) with five minutes left to play before stepping on the accelerator to win (71-58).
LFB basketball news Box Score
---
Asptt Arras, despite losing to Bourges Basket (44-63) can still finish the season in fourth place.
Arras who were playing away from home refused to be intimidated by Bourges and trailed by only 2 points after three minutes of play (5-7).
Arras kept up the pressure and went in front briefly after Leilani Mitchell connected from beyond the arc (12-11).
However Ana Lelas enabled Bourges Basket to win the first period (13-12).
Lelas and Ana Cata-Chitiga (left) allowed Bourges to open up an advantage early in the second period (20-12). Bourges led by as many as 10 points at one stage.
Mitchell and Marielle Amant were to bring Arras back to within 3 points of Bourges before Céline Dumerc hit a period-ending buzzer beater three-pointer for the hosts (33-27).
The third quarter started slowly with Bourges extending their lead (40-32) with 25 minutes played. Bourges did the rest of their scoring from the free-throw line (8-of-8) to go into the final period with a 12-point lead (48-36).
Arras were unable to find the energy to come back allowing Bourges to extend their advantage to 19 points by the end of the game.
LFB basketball news Box Score when available
---
The defeats of Challes and Montpellier leave them in sixth and seventh place respectively, one game behind Calais and UHB.Montpellier lost at home to Villeneuve d'Ascq (78-84).
Villeneuve had five players in double digits with Géraldine Robert leading the way with 23 points. Yet Robert only played for 25 minutes as she picked up an injury.
With the victory Villeneuve have secured third place.This match is available here.
LFB basketball news Box Score
---
Clermont-Ferrand won but are relegated
Clermont-Ferrand have ended the negative series of 13 defeats with a (65-63) victory against Challes-les-Eaux.

Challes-les-Eaux have now lost their last four games and have dropped to sixth place. You can view the box score here.

Despite this victory Clermont-Ferrand can finish no better than 13th place because Basket Landes pulled off an amazing road victory against Mondeville (69-65).

Jennifer Humphrey was the match winner for Basket Landes.

The official statistics for this game were not available at the time of releasing this report.
Aix-en-Provence had 24 points and 8 assists from K. B. Sharp (right) but still ended up losing (66-71) at home to SJS Reims.
Hollie Grima was the only other player from Aix to score big with 17 points.
Mame-Marie Sy-Diop led the way for Reims with 19 points and 12 rebounds. She was supported by Hungarian international Orsolya Englert who scored 16 points and had 8 assists.
LFB basketball news Box Score All the results from round 24:

Nantes Rezé 74-80 Cob Calais

Clermont-Ferrand 65-63 Challes-les-Eaux

Bourges Basket 63-44 Asptt Arras

Lattes Montpellier 78-86 Villeneuve d'Ascq

Aix-en-Provence 66-71 SJS Reims

Union Hainaut Basket 58-71 Tarbes

Mondeville 65-69 Basket Landes

---
LFB Basketball News from round 23
LFB Basketball News from round 22
Return from LFB basketball news to women playing basketball blog
Return from LFB basketball news from around the clubs to LFB news
LFB basketball news picture credits:
Ligue Féminine de BasketBall
womensbasketball-in-france.com
Date created: 10 April 2009

---