Round 18 LFB basketball news:
First match of weekend sees Villeneuve keep hopes up for play-offs
No luck for clubs in the bottom 5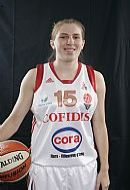 Jolene Anderson
got the LFB basketball weekend off to an explosive start with 22 points during the first 20 minutes in Villeneuve d'Ascq's victory against Toulouse (88-61).
She finished the game as leading scorer with 24 points while Emilie Gomis and Ana Cata-Chitiga finished each with 17 points. For Toulouse Serbian international Milica Beljanski made her début and scored 6 points and dished out 4 assists while former North Carolina stand-out Leah Metcalf led her team with 16 points.

In the second evening of the 18th round of LFB action, Tarbes struggled for 20 minutes against Armentières and trailed at the interval (38-39). However with the experience of Hamchétou Maïga-Ba on her début and the scoring of Isabelle Yacoubou-Dehoui (26 points) and Frida Eldebrink (16 points), Tarbes ran out winners (74-64).
COB Calais fell at home (87-88) to Arras in the "departmental" derby match. Lauren Neaves fired in a game high 27 points and picked up 12 points for Calais. Leilani Mitchell led Arras with 16 points and 8 rebounds.
Challes-les-Eaux remain unbeaten in 2010 with a road victory against Aix-en-Provence (71-66).
In the last game of the evening Mondeville came from behind to hold off Basket-Landes (74-61).
Bourges brought the LFB weekend to an end with a routine victory against Lattes Montpellier (51-43).
You can read highlights of the LFB basketball news from the weekend actions by clicking on the links below or by scrolling down the page:


Blitz start took Villeneuve to victory

Tarbes turned things around in the second half

Nantes-Rezé can think about play-offs

Difficulties for clubs in the relegation zone

Bourges, better at chess than Montpellier

Match results and statistics

Villeneuve recovered their scoring touch
At -6°C, Villeneuve d'Ascq's players did not waste time in getting into their stride. They warmed up quickly to score the first points within 45 seconds.
Jolene Anderson (13 points) and Ingrid Tanqueray (9 points) went on a three-point shooting festival with 3 each as Villeneuve moved 20 points clear (31-11) after seven minutes.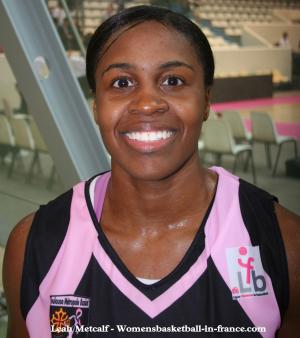 Toulouse switched to zone and Villeneuve forgot about defending. The introduction for Toulouse of Katarina Fikiel and Kateryna Dorogobuzova slowed the hosts down. Leah Metcalf (right) also found more space and started to score from all over the court.
Villeneuve still finished the first quarter leading (35-21).
Toulouse kept up the zone defense at the start of the second quarter while outscoring their hosts 7-1.
Villeneuve continued to struggle. But thanks to Anderson they held the advantage (40-31) with 15 minutes played.
Toulouse continued to chip away at the score but Anderson with 22 first-half points enabled the hosts to go into the locker room ahead (48-39).
Emilie Gomis (left) stepped up for Villeneuve after the break. She drew foul after foul and made several trips to the free-throw line as her team opened up a 15-point lead (63-47) with 27 minutes played.
Villeneuve maintained the pressure and increased the advantage going into the final quarter (68-49).
Toulouse were unable to pass through the defensive system of Villeneuve. They were forced to shoot from far without much success and fell further behind (53-81).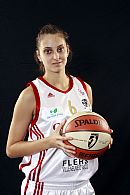 Ana Cata-Chitiga (right) controlled the defensive rebounds during the last five minutes as Villeneuve strolled to victory (88-61).
Anderson finished the game as top scorer with 24 points. Gomis contributed 17 points and drew 10 fouls. Cata-Chitiga picked up a double double of 17 points and 17 rebounds.
For Toulouse, Metcalf led the scoring with 16 points while Fikiel, Emilie Maurice and Agathe N'Nindjem-Yolemp scored 12, 11 and 10 points respectively.
Return to the top
Isabelle Yacoubou-Dehoui is getting better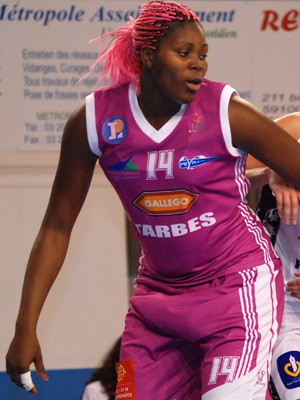 Isabelle Yacoubou-Dehoui
(right) was everywhere for Tarbes at the beginning of the game and scored 8 of her team's 13 points (13-12).
Armentières' player to player defensive system caused their hosts problems and enabled them to stay in contact (18-20) by the end of the first quarter.
Armentières maintained the pressure all through the second quarter to go into the locker room ahead (39-37).
Tarbes changed tactics after the break and with Hamchétou Maïga-Ba as the catalyst and Fatimatou Sacko scoring they regained the lead (47-43).
Marie-Frédérique Ayissi and Kateryana Pilyashenko-Novohatna battled with Isabelle Yacoubou-Dehoui for the rest of the quarter as both teams exchanged baskets.
Florence Lepron went on a solo run to score on the buzzer to take Tarbes into the final quarter leading (54-51).
Frida Eledebrink scored twice beyond the arc as Tarbes moved 10 points clear (62-52).
Yacoubou-Dehoui and Maïga-Ba then made sure that Armentières did not come back.
Yacoubou-Dehoui finished the match with 26 points, 12 rebounds, 2 assists and drew 7 fouls to take the player of the match award.
This was not a great match. François Gomis should expect a big improvement on Wednesday when they meet Bourges Basket in the match that might determine who will be LFB regular season champions.
Return to the top
Nantes-Rezé thinking about LFB play-offs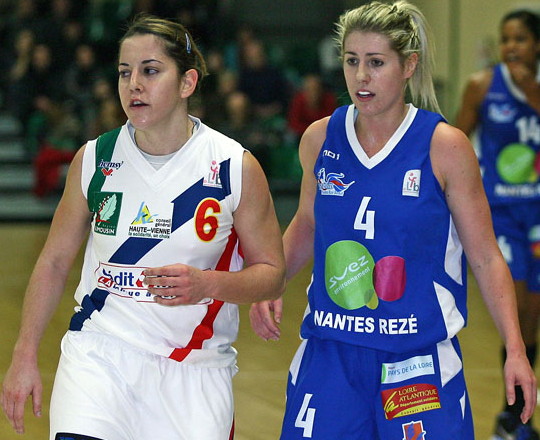 Limoges were disappointing this week. They were unable to reproduce the encouraging performance of last week.
Johanna Tayeau was absent again. She finished the game last week limping and her ankle is not 100% healed.
The match was interesting for eight minutes with Limoges leading (13-12) with Aikaterini Spatharou having the better in the battle against Kathleen MacLeod (both in picture above).
Nantes-Rezé's shooting from beyond the arc enabled them to finish the quarter with a 8-0 run.
A trey by Yuliya Andreyeva (right) at the start of the second quarter (23-13) moved them 10 points clear.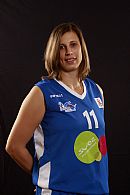 Erica Davis made sure that Limoges did not fall further behind. However she got into foul problems and had to take her place on the bench with 15 minutes played.
Nantes took full advantage of her absence to open up a 16-point advantage going into the break (40-24).
Nantes-Rezé controlled the pace for the rest of the game and increased their lead slowly. They went on to win by 31 points (78-47).
Andreyeva led the Nantes-Rezé attack with 20 points while Mélanie Plust and Doriane Tahane scored 11 and 10 points each.
Return to the top
Bottom teams had no luck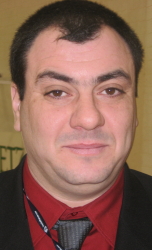 Cyril Sicsic (left) from Calais was left scratching his head after his side lost at home (87-88) to neighbours Arras.
His side trailed for most of the game. Yet with two minutes left to play Joyce Cousseins-Smith gave Calais the advantage (85-83).
Olesia "Olesya" Malashenko restored the lead for Arras with a trey. Jennifer Humphrey and Marielle Amant then exchanged baskets.
Both teams missed opportunities to score. With five seconds left to play Calais had the chance to win the game but Cousseins-Smith (11 points and 11 assists) messed up the last play.
Lauren Neaves scored a game high 27 points and picked up 12 rebounds. Elizabeth Egnell scored 13 of her 20 points during the third quarter.
Johanne Gomis fired in 20 points for Arras.
This was the second defeat of the week for COB Calais in the LFB.
---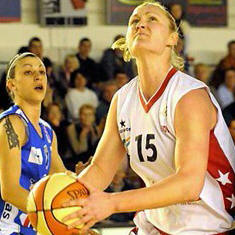 Basket Landes had another final-quarter meltdown. This allowed their hosts Mondeville who were trailing into the final quarter to win (74-61).
Temeka Johnson (15 points), Yacine Séné (12 points) and Aurélie Bonnan all scored from beyond the arc during the last couple of minutes as Mondeville escaped defeat again.
Valeriya Berezhynska (right) led the scoring with 16 points. Lenae Williams did not play for Mondeville.
---
Aix-en-Provence led Challes-les-Eaux (39-28) at half time. Although they did not lose any players with 5 fouls they still ended up losing (66-71).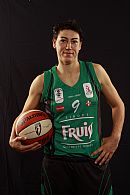 Magalie Lacroix (22 points) who played for Aix-en-Provence for three years sparked Challes-les-Eaux into action during the third quarter to outscore Aix 29-12 to go in front.
Aix were unable to catch up and conceded the game (66-71) despite the efforts of Tiffany Stansbury's 22 points.
Aix-en-Provence, Basket Landes and COB Calais are all still not clear out of the relegation zone.
Return to the top
LFB chess match in Bourges
The first ten minutes of the match resembled the opening plays in a chess game. The build-ups were slow and systematic with both sides cancelling each other out in a low scoring first quarter (10-10).
The second quarter continued in the same way for almost six minutes with Bourges just having the advantage (17-16).
Nwal-Endéné Miyem (right) from Bourges was the most active player on the court and kick-started her team into going on an 8-0 run to open the first lead of any significance in the game (25-16).
Montpellier's American connection of Constance Jinks and Khadijah Whittington managed to stop Bourges from running away with the game by scoring the last 6 points for their team.
However Bourges went into the locker room ahead (29-22).
After the break, we had to wait almost four minutes for the first score. Miyem, breaking the dead lock, gave the fans some hope of offensive basketball. When Paoline Salagnac fired in the first trey of the game moments later, it appeared that Bourges were ready to take off.
The game did not take off and Montpellier scored the next 5 points. Pauline Krawczyk went 3-of-4 from the charity stripes and Leslie Fournier hit a mid-distance jumper.
Players and coaches started to get agitated which resulted in the officials issuing a technical foul to Valéry Demory, the coach from Montpellier.
Styliani Kaltsidou split the pair of free-throws and seconds later Anäel Lardy was at the charity stripes. She hit both free-throws and Bourges went into the final quarter leading (37-27).
Bourges scored the first 8 points of the final quarter and were leading by 18 points (45-27) with seven minutes left to play.
Then they went to sleep and Montpellier clawed their way back into the game (41-48) with just under two minutes to play.
Bourges woke up and weathered the storm with Katrina Manic finding the target as Bourges went on to win (51-43).
Miyem was leading the scoring with 12 points while Jinks finished with 10 points for Montpellier.
Return to the top
---
LFB round 18 results
COB Calais 87-88 Arras
USO Mondeville 74-61 Basket Landes
Aix-en-Provence 66-71 Challes-les-Eaux
Villeneuve d'Ascq 88-61 Toulouse
Bourges Basket 53-43 Lattes Montpellier
Go back to the top of page
---
LFB Basketball news: Bourges warm up for EuroLeague with a victory
Return from LFB Basketball News to Ligue Féminine de BasketBall index
Go to Women Playing Basketball In France Home Page
---
LFB Basketball news picture credits:
Ligue Féminine de Basketball - LFB
womensbasketball-in-france.com
Olivier Saare @Basquetebol.org
Gérard Piwtorak
Pascal ALLEE /IS/ FFBB

Date created: 12 February 2010
Last update: 14 February 2010
---