November LFB basketball news from Basket Landes, Mondeville and Union Hainaut
---
---
LFB basketball news from around the clubs from the season's LFB newcomers Basket Landes, Mondeville's injury woes and possible LFB suspension in UHB as well as bad luck for Canadians in the Ligue Féminine de BasketBall.
What is happening at Basket Landes?
Olivier Lafarque explained after their defeat last weekend against Clermont-Ferrand: "Yet again, we were close."
This has been story of the season. They have only won two games this season. However in all the games except for their match against Bourges during the LFB Open they had opportunities to win games.
The team tends to run out of energy and luck during the final period.
Basket Landes have also been unlucky with injuries all seasons but have never used this as an excuse for the results.
In their last match Anaïs Le Gluher and Naignouma "Mima" Coulibaly were missing.
While Le Gluher was ill, Coulibaly had to sit out once again as a precaution. So far the players have never been all well and fit.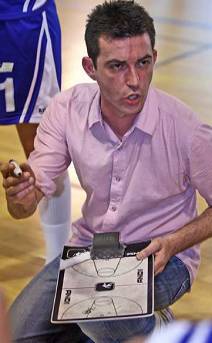 As the club roster is small they have registered a number of U18 players to make up the roster for their matches.
This is good for the young players's experience. But Basket Landes have not been able to get with them the results they desire.
However Lafarque (right) is hopeful that that his team can soon put a winning sequence together and move out of the relegation zone.For the club's first adventure in the LFB they only added three new foreign players to the NF1 roster.
Ana Perovic is a Serbian international and at 31 she is the oldest player in the team (10 days older than Bineta Diouf).
The second player is former Bulgarian youth international Ekaterina Dimitrova who is just 21 and played in Italy last season. Then there is Coulibaly who is just 19 and played at the Olympics with Mali.
In addition Coralie Lapeyre who played in NF3 last season at Dax has made a big jump to the LFB.
---
---
How long is the injury list at Mondeville?
If you pick up the local paper in Mondeville, the LFB basketball news is not about the victory of the team but the length of their injury list. Ingrid Tanueray and Pauline Jannault are expected to leave this list the week.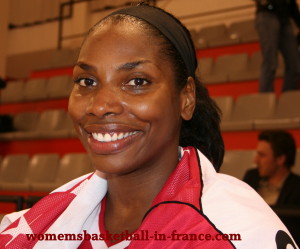 However the rest of the news is not good. Nyree Roberts (left) is already out until the league starts after the Christmas break in February after the EuroBasket Women 2009 additional round games. Roberts had an operation on her knee.
Naura EL Gargati who played last weekend has also picked up an injury that will keep her out for at least four weeks.Mondeville have no pivots and will be looking to sign a player on medical cover for the next few games.
The LFB news is not good for UHB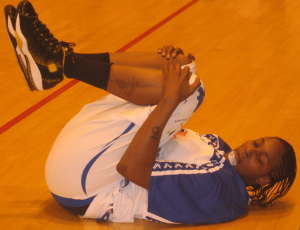 Tiffany Stansbury (right) is out for at least four weeks as she has picked up what is known as the "dog's heal" or "flip flop disease'' (Plantar fasciitis ). She is suffering from painful swelling to her foot.
For UHB it is possible that Bernadette "Mundju" Ngoyisa might miss a LFB game through suspension for collecting her third technical foul of the season during the match against Reims.
The rule in France for players and coaches is that you will be served with a match suspension for accumulating three technical fouls in a season.
In the meanwhile UHB will be allowed to bring in a replacement for Stansbury.
No fun for Canadians in the LFB this season
Before the season started
Natalie Doma
who is part of the Canadian development squad was signed to play for Arras.
She arrived for preseason but was released after only four games and replaced by Bernie Mosby.
Kaela Chapdelaine (left) who was playing for Nantes-Rezé and had averaged 7.6 ppg in her nine games has had to make way for Jessica Moore although these two players do not play the same position.
But Nantes are only allowed to play a maximum of two non European Community citizens per match. As they have already Michelle Van Gorp they decided to let Chapdelaine go.
---
LFB basketball News from Arras, Basket Landes and Nantes-Rezé in November
News from around the clubs in October
Return to women playing basketball blog
Return from LFB basketball news to LFB news
LFB Basketball news picture credits:
womensbasketball-in-france.com
Basket Landes Team picture - Basket Landes BasketOlivier Lafarque - Ligue Féminine de BasketBall

Date created: 18 November 2008

---