November LFB basketball news from Arras, Basket Landes and Nantes-Rezé
---
---
Asptt Arras have been making the LFB basketball news recently for all the right reason. Also
Bruno Blier
, their head coach, is happy with the current situation but still regrets the start of the season.
When the LFB season started Leilani Mitchell was still playing in the WNBA. In addition things did not work out as expected with Natalie Doma who has been replaced by Bernice Mosby.
However his problem at the start of the season was the health of Sarah Michel. When it was made clear that she would not be able to play at the start of the season he had three days to find another player.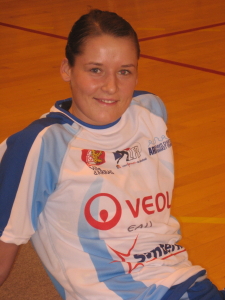 Mia Fisher came to his rescue and will stay at the club for another three weeks. Michel is still out and Julie Bertin, (left) the other player injured, has only returned to training.
Why is Blier happy? During their hard fought victory against Nantes-Rezé, when things were not going right on the court offensively, his players defended hard and did not give up and played as one unit. This was a big change from last season because in similar situations they had lost.
Arras have a derby match against UHB followed by a tough trip to Mondeville. They are currently fifth in the table.
LFB basketball news from Nantes-Rezé
Nadezda Grishaeva
's one week trial ended with her returning to her club in Russia.
Simon Guillou
decided that as good as she was, she would require some time to adjust.
He is actually looking for a player that would make an immediate impact in the paint.Clarisse M'Paka's return to the LFB has not been according to plan. So far she has played in four games this season. M'Paka was not on the roster for their last home game.
In the meantime Maeva Dagorne, a youth player from the club, has been added to the roster.
Camille Aubert is expected to make her return in February.
You can watch some Video clips supplied by Nantes-Rezé in the match against Arras below.
Naignouma Coulibaly is back for Basket Landes
The Malien international Naignouma Coulibaly is allowed to play again in the LFB.
Her licence was briefly suspended while she had to retake her medical. She past the tests and is once again fit and likely to play this weekend.
Video Clip Supplied by Nantes Rezé
---
News from around the clubs in October
Return to women playing basketball blog
Return from LFB basketball news to LFB news
LFB Basketball news picture credits:
womensbasketball-in-france.com

Date created: 08 November 2008

---