LFB basketball news from around the clubs
---
---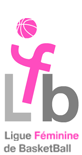 With the Ligue Féminine de BasketBall ready to resume on the 7th February, the LFB basketball news updates on all the clubs' activities.
France were one of the few professional leagues for women playing basketball that actually took a break.
They allowed the foreign players in the French clubs to join their national teams in order to prepare for the EuroBasket Women 2009 qualifiers.
France had already qualified for EuroBasket 2009 in Latvia and used this period for a training camp.
Although many of the clubs played friendly matches during this period, the only competitive match played was in the sixteenth-final of the Coupe de France.
Results from some of the friendly matches can be found at the bottom of the page.
---
There has been no news from Aix-en-Provence. All the players returned after their Christmas break.
They played matches against Bourges Basket and Union Hainaut Basket which they lost. However they did have a victory against Clermont-Ferrand
They are still in the French Cup after holding off US Laveyron (76-73).
LFB basketball news from Asptt Arras: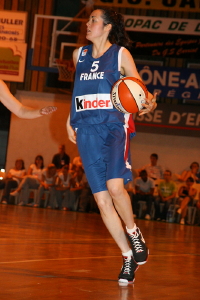 Mia Fisher's medical cover period came to an end in December and following the rules of the LFB has left the club.
On the other hand Sarah Michel is finally back after missing the first part of the season with an injury she picked up during the 2008 U20 Women European Championships Division A.
She played her first game with Arras in a friendly match at the beginning of January.
Arras were semi-finalists in the French Cup in 2007. Yet they are already eliminated from this season's competition after falling to Charleville-Mézières (71-51).
Basket Landes announced just after the new year that Naignouma Coulibaly and Elizabeth Montero will not be part of the LFB roster for the rest of the season.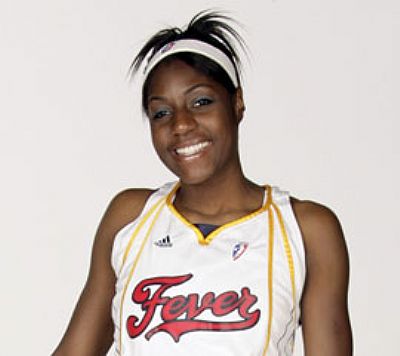 Coulibaly, who only played in eight games this season, left the club on good terms. This was not the case for Montero whose contract was terminated with immediate effect due to a code of conduct violation.
In the meantime Basket Landes have signed 24 year-old Jennifer Humphrey (right) for the rest of the season. She is 1.96m and played for Maccabi Ashdod in Israel this season.
---
Bourges Basket
's participation in the EuroLeague Women has given them almost a 2-week head start on their opponents in the LFB.
They had just one warm-up game, which was played in Besançon against Aix-en-Provence.
Erik Lehmann, the coach from Aix-en-Provence, has strong links in Besançon.
Bourges then travelled to Roche Vendée for their French Cup tie that they won comfortably. They have to play Gambrinus Brno in the final match of their eight-final Euroleague play-off series before their match against COB Calais during the weekend.
COB Calais have been very quiet since the break. They have played a few warm-up matches and qualified for the next round of the cup.
For Challes-les-Eaux, the main LFB basketball news is the return of Marlous Nieuwveen from injury.
The club has played a number of friendly matches and unfortunately some players have picked up knocks.
Kirby Copeland and Aida Fall are expected back by the weekend.
The situation is not clear about Stéphanie Dubois who sprained her ankle in their last LFB match in 2008 against Montpellier.
The new multi-sports complex has been officially opened in Chambéry and has a maximum seating capacity for 6000 people.
The Handball team is the big attraction in the town and will play their matches in this hall. The big question is will the basketball team move from their current base to these new facilities.
While we wait for the answer, the Challes-les-Eaux coach Corinne Bénintendi (right) showed some of her handball skills as she played for an all star team of sport personalities and celebrities against the Chambéry handball team for the openning of the new sport complex - "le phare"
Montpellier are another club that do not report much.
They started their preparation with a match against Tarbes on the 14th January 2009 with a victory. They have also had wins against Basket Landes and Challes-les-Eaux.
They have not had the full roster on display for any of these games.
The good news for USO Mondeville is that all the players have returned from injury.
Furthermore for the first time since the Open LFB the club will be able to present a full roster of professional players for a LFB match when the leagues tips off this weekend.
Nantes-Rezé are bottom of the league with just 1 victory so far this season.
On the bright side Camille Aubert (left) is back after eight months absence.
She was injured while playing for USVO last season and was not retained by the new club UHB. However she was signed by Nantes-Rezé.
She made her first official appearance during their cup match against Pleyber-christ. She scored 9 points in their (83-49) victory.
Faeza Bouderra who made the LFB basketball news in December when she signed as medical cover for Marie Vicente Santa Cruz is still at the club.
---
---
It is official that Saint Jacques Sport Reims is changing names to
Reims Basket Féminin
. During the club's next home game on the 17th February 2009, the new logo, club colours will officially be presented.
It is no secret that the club lost a big part of their funding this season and is looking at new ways in finding sponsors for the future.
On the basketball court, Reims' preparation has gone well with victories against Arras and UHB. They are also in the next round of the French Cup after beating Strasbourg ABC.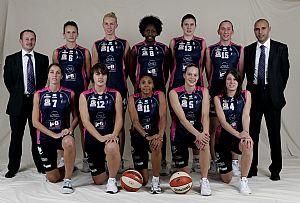 All season Clermont-Ferrand have been in the LFB basketball news because of their financial situation.
And unfortunately this has not changed. The club avoided going into liquidation by going into administration.
What this means is the club can continue its activities until the end of the season.
It also gives the management of the club time to see if they can find a permanent solution for Clermont.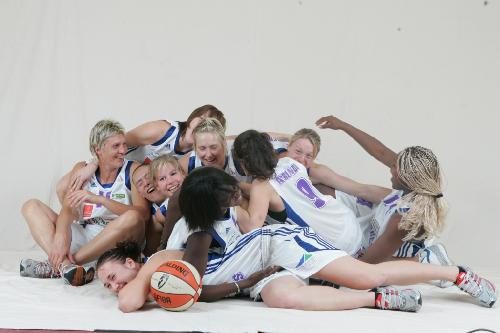 Tarbes are back to full strength with the return of Taisiia Bovykina.
Isabelle Yacoubou-Dehoui who missed the French training camp appears to be back to full strength.
Tarbes only managed one friendly match before their EuroCup game last week.
Their French Cup tie against US Colomiers was postponed due to the storms that hit that part of France.
This lack of match practise may have cost them the first leg of their EuroCup match against Cras Basket as they dropped only their second game of the season.
Union Hainaut Basket have had a roller coaster season so far and continue to take up space in the LFB basketball news.
They had to fight all the way to beat Armentières in the cup and they have had some close friendly games.
While other clubs have managed to get back all their injured players during the six-week break, UHB have been losing players.
Kathy Wambe is not expected back until the middle of February, while Bintou Diémé is uncertain for this weekend.
Tiffany Stansbury's situation is also unsure. Melaine Plust required five stitches during a friendly match against Reims.
Villeneuve d'Ascq the only news that made the headlines was the departure of Iziane Castro Marques.
She was originally signed as medical cover but ended up staying for seven weeks. She is now in Spain with Extrugasa Vilagarcia.
Villeneuve d'Ascq are more or less back to full strength and negotiated a tricky French Cup match against Illkirch-Graffenstaden which they won.
Jolene Anderson was back in the starting line-up for the French cup match after her one-game club suspension.
---
Result from some of the friendly matches
Arras 88 – 60 Spirou Monceau
Waregem 74 – 80 UHB
Calais 93 - 54 Ypres
Montpellier 79 – 54 Tarbes
Charleville 66 - 57 Reims
Irun 80 - 62 Basket Landes
Arras 83 - 76 Waregem

Mondeville 69 – 64 Rezé-Nantes
Montpellier 90 – 69 Basket
Dexia Namur 87 - 81 Arras

UHB 78 - 56 Aix
Mondeville 71 – 47 Villeneuve d'Ascq
Bourges 81 – 65 Aix
Armentières 59 – 74 Villeneuve d'Ascq
Reims 54 - 55 Charleville

Reims 68 – 66 UHB
Arras 71 - 75 Reims
Challes 65 – 69 Montpellier
---
LFB Basketball News from round 15
LFB Basketball News from round 14
LFB Basketball News from round 13
LFB Basketball News from round 12
LFB Basketball News from round 11
LFB Basketball News from round 10
Return from LFB basketball news to women playing basketball blog
Return from LFB basketball news from around the clubs to LFB news
LFB basketball news picture credits:
womensbasketball-in-france.com
Ligue Féminine de BasketBall
Indiana Fever - WNBA
Fabien Savouroux @Basquetebol.org
Corinne Bénintendi playing handball - Le DL/Sylvain Muscio.
Date created: 03 February 2009

---