LFB Basketball News: 2008-2009 season is officially finished
---
---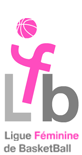 The LFB basketball news confirming the 14 teams for the Ligue Féminine de BasketBall for 2009-2010 season brings an official end to the 2008-2009 season.
Nantes-Rezé finished at the bottom of the table but have received a reprieve from the French Basketball Federation and will play in the top division again next season.
It is very likely that Laurent Buffard will be the new coach at the club.
2008-2009 final standings
| | Club | Points |
| --- | --- | --- |
The relegation of Clermont-Ferrand was confirmed before the completion of last season.
The club was in a financial mess and would not have been allowed to stay in the LFB.
Clermont-Ferrand has now dropped out of the national league structure and will start again in the regional league.
Saint Jacques Sport Reims now known as Reims Basket Féminin has been relegated to NF1 because of its financial problems.
The LFB and various auditors made this decision against Reims because of what happened to Mourenx and Clermont-Ferrand.
Mourenx went into administration at the end of 2008 while finishing last in the LFB.
In 2009 Clermont-Ferrand was allowed to play in the League and the result was similar. The club went bankrupt and finished in the relegation zone.
The past history of clubs in financial difficulty before the start of a new season made it easy to decide against Reims, hence relegation for Reims who owe about 200,000 Euro.
However the most sensational LFB basketball news was the fall of the Union Hainaut Basketball club.
UHB will start again next season in NF1 but under a complete new legal structure.
In addition the club will be based in Saint Amand and will be coached by Corinne Bénintendi.
Three clubs came up from NF1: Limoges who were the regular season champions, Armentiéres as NF1 champions 2008-2009.
The final place was offered to Illkirch-Graffenstaden who finished third during the NF1 regular season but this spot was finally taken up by Toulouse.
The following clubs are in the LFB:
- Arras Pays d'Artois
- Armentières SO
- Basket Landes
- Basket Lattes Montpellier Agglomération
- Bourges Basket
- Challes-les-Eaux Basket
- Côte d'Opale Basket Calais
- ESB Villeneuve d'Ascq Lille Métropole
- Limoges ABC en Limousin
- Pays d'Aix Basket 13
- Rezé Nantes Basket 44
- Tarbes Gespe Bigorre
- Toulouse Metropole Basket
- USO Mondeville

---
The LFB Championship play-off will be decided in game three
Tarbes beat Bourges at home in game one
Bourges Basket and Tarbes Gespe Bigorre qualify for LFB final
Bourges Basket and Tarbes Gespe Bigorre win game one
Return to women playing basketball blog
Return from LFB basketball news to LFB news index
picture credits:
Date created: 01 July 2009

---