Bourges Basket keep LFB Championship play-off ambition alive
---
---
Bourges Basket
force game three in the 2009 LFB Championship play-off final with a comfortable (78-37) victory against Tarbes Gespe Bigorre in front of a capacity home crowd.
Isabelle Yacoubou-Dehoui opened the scoring in this contest with about 30 seconds played for Tarbes to lead for the only time in the game.
Cathy Melain scored 5 points for Bourges as she kick-started a 13-0 run. Bourges shot 6-of-8 shots during this sequence as they opened up an early lead (13-2).
Tarbes were allowed only 1 point from the free-throw line before Bourges fired in 11 unanswered points.
Yacoubou-Dehoui picked up 2 fouls during the first period as Bourges opened up a 25-point advantage (30-5).
Nwal-Endéné Miyem and Emméline Ndongue made sure that Bourges maintained their advantage during the second period (42-17) despite the efforts of Tanisha Wright and Polina Tzekova from Tarbes.
The comeback from Tarbes never happened. With Tzekova, Wright and Yacoubou-Dehoui in foul problems Bourges had it easy and led (69-30) going into the final period.
Both coaches played their bench in the final period as the game was played out.
Bourges won (78-37) with Miyem leading the scoring with 14 points. Ana Lelas and Ndongue scored 12 apiece while Katrina Manic fired in 10 points.
Tzekova was the leading scorer for Tarbes with 11 points.
Bourges: Nwal-Endéne Miyem 14, Ana Lelas 12, Emmeline NDongue 12, Katarina Manic 10, Cathy Melain 8, Céline Dumerc 7, Carine Paul 5, Nora Bujdoso 5, Alexsandra Santos 4, Ana Cata Chitiga 1.
Tarbes: Polina Tzekova 11, Isabelle Yacoubou-Dehoui 9, Tanisha Wright 6, Elizaveta Rusakova 5, Liene Jansone 4, Liz Moeggenberg 2.
LFB Championship Play-off Box Score
when available.
The final match in the series will be played on Tuesday, 12 May 2009 in Bourges at 20:30. The winner of that game will be crowned as the 2009 French Champions.
LFB Championship play-off after-match comments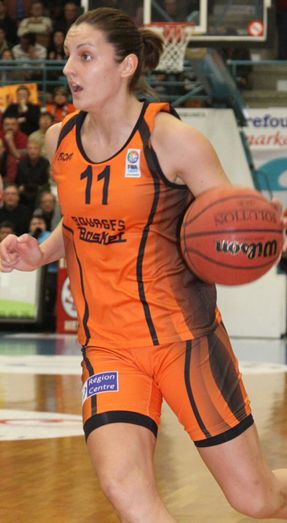 Ana Lelas (left) from Bourges explained that they were more focused and concentrated on their game.
They set the tone for the match right from the tip-off and maintained it for the whole match which was not the case during the first leg. All the same she expects that the third game will be very difficult.
Polina Tzekova (right) from Tarbes said that her team was given a good lesson in the art of playing basketball.
She hopes this will get her team-mates thinking as they have seen the defending champions close up.
She went on to explain that the match on Tuesday was another game. She believes in her coach and team-mates.
François Gomez, the Tarbes head coach, said with the series being tied the final will be on Tuesday.
He went on to say that Bourges played well and caused his players problems. However on Tuesday they would do all in their power to win.
Pierre Vincent was happy with the victory and added that at Tarbes for their first leg they lacked confidence and were taken in by the atmosphere, while here they played their game and that on Tuesday would be another game.
The final match will be shown live by Sport+ in France. There will be no internet streaming.
---
Tarbes beat Bourges at home in game one
Bourges Basket and Tarbes Gespe Bigorre qualify for LFB final
Bourges Basket and Tarbes Gespe Bigorre win game one
Return to women playing basketball blog
Return from LFB Championship play-off basketball news to LFB news index
Picture credits:
FIBA Europe
Ligue Féminine de BasketBall

Date created: 09 May 2009

---