2011 LFB coach of the year: Valéry Demory
Valéry Demory
has been elected as 2011 LFB coach of the year. He will receive the trophy during the opening day in September 2011.
Demory who has been the head coach of Basket Lattes Montpellier Agglomération since 2007 and led them to
their first French cup success
this season.
Prior to coming to Montpellier he was the coach at Mourenx for seven years (2000-2007). The club was in the fourth division NF3 when he started. By the time he left in 2007 the club has reached the Ligue féminine de basket (Division 1).
During his first season in coaching he returned briefly to his last club Evreux in Pro B.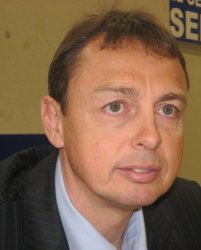 Before coaching Demory (left) played professional basketball for eight clubs in France between 1981 and 2000.
He won the young player of the year award twice (MVP Espoir) in 1983 and 1985 and played 82 times for France.
He won his first French Championship in 1990 with CSP Limoges and he picked up a second championship medal in 1992 with Pau-Orthez.
Since his arrival at Montpellier in 2007, his team has qualified twice for the Championship final four. In 2008 they reached the final but were beaten by Bourges Basket for the title.
This season his side was eliminated in the semi-final once again by Bourges Basket.
He is the 22nd coach to receive this honour since its creation in 1986. He follows in the footsteps of Bruno Blier who had picked up the trophy last season.
---
Return from LFB basketball news to Ligue Féminine de BasketBall index
Go to Women Playing Basketball In France Home Page
Return to the top of page
---
Picture credits:
womensbasketball-in-france.com

Date created: 30 May 2011
---