USA and China head coaches at FIBA Olympic qualifying tournament
---
---
While the FIBA Olympic qualifying tournament was going on, Anne Donovan (USA head coach), Tom Maher (China Head coach) and his assistant Michelle Timms were in the stands taking notes.
.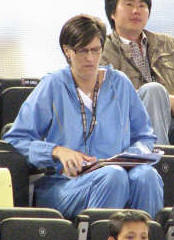 Anne Donovan
and her staff arrived in time for the quarter-final. The purpose of Donovan's visit to Madrid was to have a look at the participating nations in the finals as USA will be playing two of the teams from this competition. Furthermore she also explained that at the moment her squad members were playing in the NBA. Nine players have already been made public. Donovan is still looking at players before she announces the remaining three players. The players will be in camp from July 28.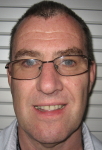 Tom Maher is a well known figure in the world of basketball. He did a lot of work for Australian and New Zealand Basketball. He has been with the Chinese federation for the last four years. He explained how FIBA recommended him to China to help them get their women's basketball back on its feet and what he has been doing in the last few years.
Michelle Timms a star of Australian Basketball before she retired from the game in 2002. She also was one of the star players in the WNBA from 1997 till 2001 with Pheonix Mercury.
Since February this year she joined Tom Maher as one of three assistants to the Chinese Basketball team. She gave a brief history, too, of what she has been doing recently.
(Note: If you are using Internet Explorer click twice on the triangle)


---
Return from Olympic qualifying tournament to "What's New" page
Return from FIBA Olympic qualifying tournament to basketball events
All the stories from the FIBA Olympic qualifying tournament for women
Return from Olympic qualifying tournament Angola-Brazil
Return from Olympic qualifying tournament Cuba-Japan
Return from Olympic qualifying tournament Latvia-Angola
Return from Olympic qualifying tournament Czech Republic-Japan
Return from Olympic qualifying tournament Cuba-Spain
Return from Olympic qualifying tournament Day three action
Return from Olympic qualifying tournament Day two action
Return from Olympic qualifying tournament Day one action
Date: 14 June 2008
---