Brazil remain in FIBA Olympic qualifying tournament
Brazil played it safe in the final FIBA Olympic qualifying tournament semi-final. They beat Angola (75-58) and will meet Cuba in the final match on Sunday.
The story of the match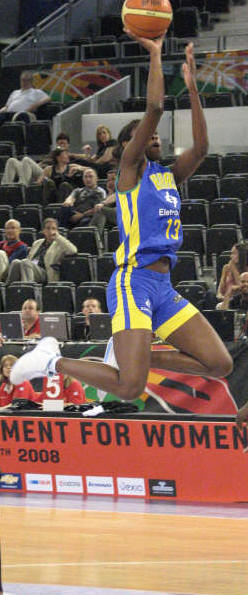 Claudia Das Neves did not waste any time as she hit a shot from down-town with only eight seconds on the clock. Brazil applied full court pressure and set out quickly to destabilise their opponents.
Soeli Garvao Zakrzeski then worked her way into the box with ease on two occasions and a side-line three-pointer from Karla Martins Da Costa had Brazil on their way. Angola found themselves trailing (1-10) with less than two minutes on the game clock.
Brazil scored 15 consecutive points before Astriba Vicente hit the target for Angola from the land of many (23-4).
Brazil led at the end of the first period (28-8).
Brazil dropped the pace in the second period, which allowed Angola to come more into the game. However Brazil went into the break leading (43-20).
(Picture: "Micaela" Martins Jcintho flying towards the basket)
Brazil lost their concentration during the third period and the game became scrappy. During this spell an incident occurred in the Angolan paint that left Maria Afonso from Angola on the floor. After several minutes she was carried out on a stretcher.
This incident fired up Angola as they scored back to back baskets (30-49) but also woke up Brazil.
Brazil went into the final period leading (59-34).
Brazil did just enough to maintain their advantage (69-42). Angola had no intention in leaving this tournament without a fight and kept on playing hard.
Brazil tried to play it safe but had to switch to zone defence (73-50) to keep Angola out of the paint.
Their experience was sufficient to see them through as they went on to win (75-58).
Olympic qualifying tournament Box Score
---
Return from Olympic qualifying tournament Cuba-Japan
Return from FIBA Olympic qualifying tournament Brazil-Belarus
Return from Olympic qualifying tournament Latvia-Angola
Return from Olympic qualifying tournament Czech Republic-Japan
Return from Olympic qualifying tournament Cuba-Spain
Return from FIBA Olympic qualifying tournament to "What's New" page
Return from FIBA Olympic qualifying tournament to basketball events
Return from Olympic qualifying tournament Day three action
Return from Olympic qualifying tournament Day two action
Return from Olympic qualifying tournament Day one action
Olympic qualifying tournament picture credit: MIGUEL BORDOY CANO for action pictures


Date: 14 June 2008
---