---
---
Latvia make Fiba Olympic qualifying tournament history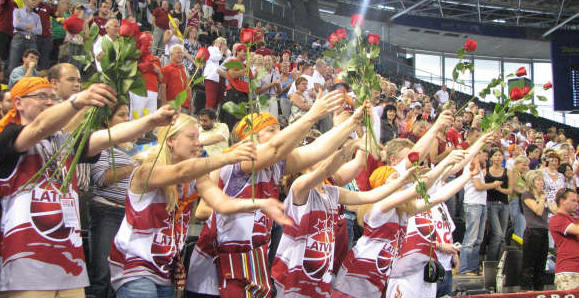 This FIBA Olympic Qualifying tournament success for Latvia is an important sporting Landmark for the country. The women's basketball team will be the first team to represent the country at the summer Olympics for 72 years.
The Story of the Match
Gunta Basko got the match started with a trademark drive, fake and basket. From the beginning of the match Latvia did not allow the physical nature of Angola to put them off their game. So they settled into their stride to open (6-0).
Angola decided to change their own tactics and switched to zone in defence and worked the perimeter in attack. They were quickly rewarded as Nassecela Nassecela and Isabel Francisco scored either side of an Anete Jekabsone-Zogota jumper.
However Latvia maintained their court discipline and alternated plays between the inside and outside to maintain their advantage (13-6).Irene Guerreiro silenced the Latvian supporters for a few moments as she hit a shot from down-town. Latvia were quickly back on the attack and scores from Zane Eglite, Zane Tamane and Ieva Kublina put them back on track as they dominated the last couple of minutes of the quarter to lead (23-9) on the back of a 10-0 run. The nightmare continued for Angola as Latvia scored 4 more points to start the second period.
Angela Cardoso finally put an end to the Angolan negative series of 17 unanswered points from the free-throw line.
However Latvia did not panic and remained focused and went into the interval with a comfortable lead (39-14)
Disaster struck for Ieve Tara from Latvia as she hit the advertising board around the 22nd minute of the game. She left the arena on a stretch (elbow injury). Latvia continued to dominate and went into the final quarter leading (62-20).
It was one way traffic as Latvia went on to win the (84-26)
Olympic qualifying tournament Box Score
After Match Comments from Gunta Basko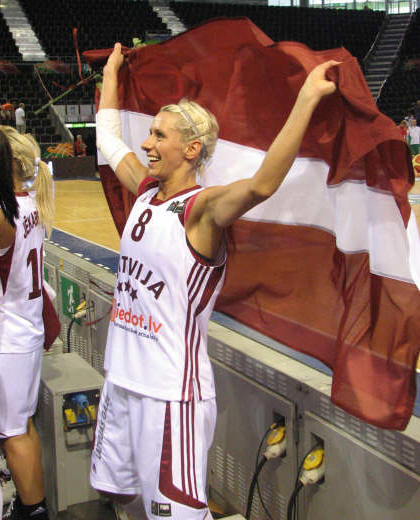 Gunta Basko
was lost for words and it has not sunk in yet about the olympics.
(Note: If you are using Internet Explorer click twice on the triangle)


---
Return from Olympic qualifying tournament Czech Republic-Japan
Return from Olympic qualifying tournament Cuba-Spain
Return from FIBA Olympic qualifying tournament to "What's New" page
Return from FIBA Olympic qualifying tournament to basketball events
Return from FIBA Olympic qualifying tournament Day three action
Return from Olympic qualifying tournament Day two action
Return from Olympic qualifying tournament Day one action
Olympic qualifying tournament picture credit: MIGUEL BORDOY CANO for action pictures


Date: 13 June 2008
---