EuroLeague Women preview 2009-2010
---
---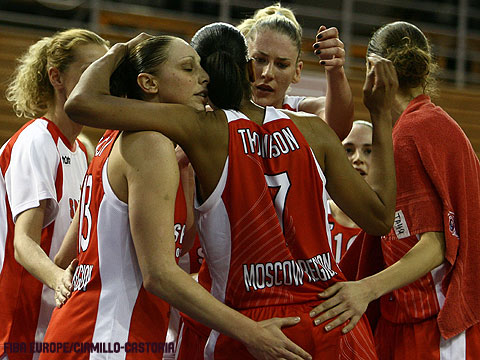 EuroLeague Women: Spartak Moscow Region
Only three French clubs have qualified for the FIBA Europe EuroLeague women competition this season: Bourges Basket as French Champions, Tarbes and Villeneuve d'Ascq after finishing second and third during the French regular season.
The Spanish and Hungarian leagues are also represented by three clubs while the Russian Federation will have just two clubs this season after the withdrawal of CSKA Moscow.
The first phase, better known as group phase (regular season), will run from 28 October 2009 until 20 January 2010.
Eight teams, that is two teams from each group, will then be eliminated. The second phase, or the play-off phase (knock-out phase), will run from 2 February 2010 until 3 March 2010.
The EuroLeague Women final four is scheduled to be played between 9 until 11 April 2010.
Sparta&K Moscow Region. Vidnoje are the four time defending champions and are among the Russian teams in the competition.
France will be represented by Bourges Basket, USO Mondeville and Tarbes
You can move between group previews by clicking on the links below or by scrolling down the page.
1. Group A
2. Group B
3. Group C
4. Group D

---
EuroLeague Women Group A
There are three French players on rosters for teams in this group and also a number of players that have made a name for themselves in women's basketball while playing in France.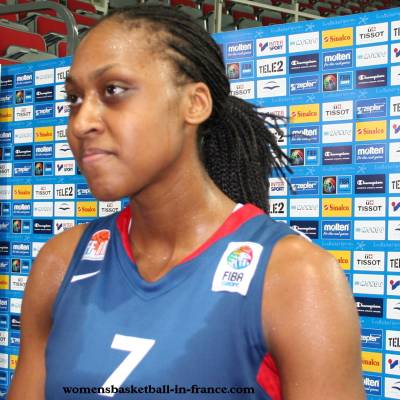 UMMC Ekaterinburg start as group favourites and are one of the teams favoured to qualify for the final four in April. Sandrine Gruda (right) is in her third season at the club and is joined by French captain Céline Dumerc.
Although Penny Taylor is not part of the team this time around, the addition of Ann Wauters, who played for a number of seasons with USVO in France, should more than compensate.
Ros Casares from Spain is also expected to qualify for the next phase of the competition. They have added Belinda Snell (two seasons ago Bourges Basket) and Ljubica Drljaca (last season Villeneuve d'Ascq) to the team for 2009-2010.
The battle for the remaining places should be evenly contested because all the teams have strengthened their squads with players that have experience in FIBA Europe competitions.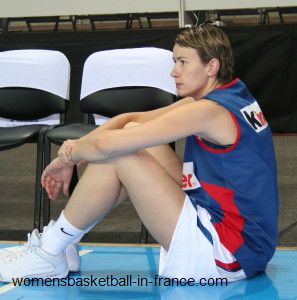 Cras Basket Taranto have lost Suzy Batkovic who decided to return to Australia.
But they are welcoming back Rebekkah Brunson from injury.
Elodie Godin (left) from France who replaced Brunson last year, remains at the club and is joined by Belgium international Kathy Wambe who has spent most of her professional career in France.
Cras Basket were runners-up in the FIBA Europe EuroCup and qualified for this competition as Italian Champions. This is their first participation in the EuroLeague Women.
TEO Vilnius are regular visitors to the competition. They take part in the Lithuanian championship as well as the Baltic Women's basketball League (BWBL).
Chioma Nnamaka who was in France last season is one of the new players in the team. She is joined by Renee Montgomery and Quanitra Hollingworth who have both just completed their first season in the WNBA.
TTT Riga are back again for a third season, this time with a young squad of local players that are made up of youth internationals.
However they have acquired the service of Spanish international Cindy Lima and should try to do their best to qualify for the next phase after two fifth-place finishes in the group stage during the last two seasons.
The last member of this group is Galatasaray. They were beaten by Spartak Moscow Region in the recent FIBA Europe SuperCup and have since added Katie Douglas to the roster.
Sophia Young should be the go to player in a squad full of Turkish internationals.
---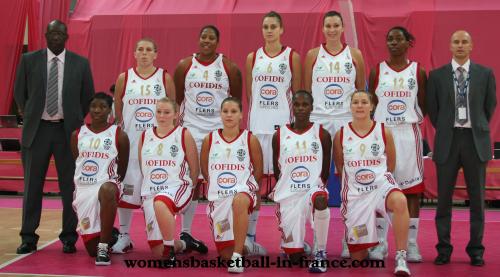 EuroLeague Women: Villeneuve d'Ascq ready for action
This group is likely to be the most open group in this year's competition. There are no clear favourites for qualification although last season's finalist Halcon (Perfumerias) Avenida are expected to make it to the next phase.
Each team has the fire power and experience to make it into the second round.
For France Villeneuve d'Ascq are in this group with a roster of who is who in international youth basketball.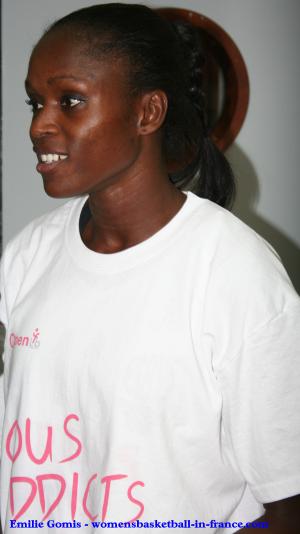 Emilie Gomis (left) is back in France after a season learning Turkish and Italian. She is the oldest player in the team. Gomis is the leader alongside Elodie Bertal.
All the players on the roster have played in intercontinental club competitions before and they should know what to expect.
Jolene Anderson, a double youth world champion, is expected to make her mark this season after a promising finish to her first season in France last year.
Carine Paul and Ana Cata-Chitiga have experienced the highs and lows of EuroLeague with Bourges Basket while Ingrid Tanqueray learned her trade alongside Caroline Aubert (Mondeville).
Villeneuve may have lost the exuberance of Géraldine Robert this season. But if Lady Comfort can becoame more consistent in the paint they have all the elements to see them pass into the next phase.
Halcon Avenida do not have Gunta Basko or Michelle "Donnette" Snow this season. Yet with the rising stars such as AlbaTorrens and Marta Xargay the team is still as strong as last season.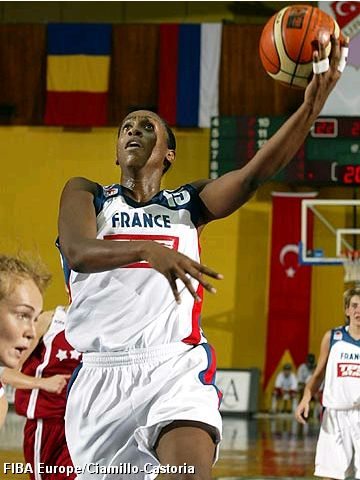 Beretta Famila Schio from Italy have three experienced Italian internationals with Laura Macchi, Raffaella Masciadri and Kathrin Ress.
In addition they have two former French internationals who have experienced the joys of winning the EuroLeague Women: Nicole Antibe (right) and Audrey Sauret-Gillespie.
They also have a couple more players that have played in France with Marlous Nieuwveen and Bernadette Ngoysa.
This star studded side on paper has more experience than most of the teams in the group and are expected to progress to the second phase.
Mizo Pecs have a knack of picking up youth international players from their national teams and grooming them into professional players.
The current squad of players is a mixture of youth players with experienced players such as Dalma Ivanyi and team leaders Anna Vajda and Zsofia Fegyverneky.
Wisla Can-Pack's coach José Hernandez guided Halcon Avenida to the EuroLeague Women final four last season.
His new team has come into this competition at the last minute but have a roster of established players such as Marta Fernandez and Iziane Castro Marques.
---
---
EuroLeague Women Group C
What makes EuroLeague Women basketball compelling at the preview stage is that a club's past history counts. In addition comparing rosters is not required because players are allowed to change clubs during the season.
Group C is made of teams that are relatively new to EuroLeague basketball. However the so called experienced teams should not have it easy.
On paper Bourges Basket with 14 seasons of experience in this competition should be one of the favourites and qualify for the next stage without problems.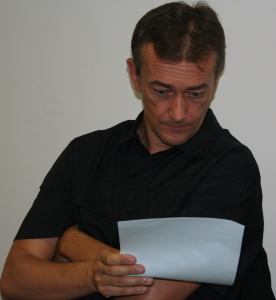 However in reality this is a new Bourges Basket team with players who have not had that much experience in EuroLeague Basketball.
They are a club in transition with only two players remaining from the back to back Euroleague final four appearance: Emméline Ndongue, the captain, and Nwal Endéné Miyem.
Not withstanding they have one of the best coaches in Europe Pierre Vincent (right).
Even without an American on their roster, his experience should be enough to get Bourges into the second phase.
Polish club basketball is on the way up and KSSE AZS-PWSZ Gorzow are hoping that their first participation in this competition will be rewarding.
In Poland since the start of the regular season the teams have been playing two games a week. So the players are already used to the rhythm of playing mid-week games week after week.
Gorzow played in the FIBA EuroCup Women last season. They have recruited Sidney Spencer, Liudmilla Sapova and Yuliya Dureika to bring some continental experience to their side.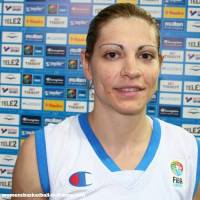 ZVVZ USK Prague became the champions of the Czech Republic after finishing second during the regular season.
They have an experienced roster with EuroBasket Women 2009 MVP Evanthia Maltsi (left) and WNBA start Lindsay Whalen both returning.
Sandra Le Dréan is back for her third season in a roster that contains other players that have played in the LFB, Ieva Kublina and Sonja Kireta.
The club had a roller coaster ride last season during the group phase but qualified for the knock-out phase and were eliminated by Spartak Moscow Region.
If they can play better on the road this time around they could secure a second phase place.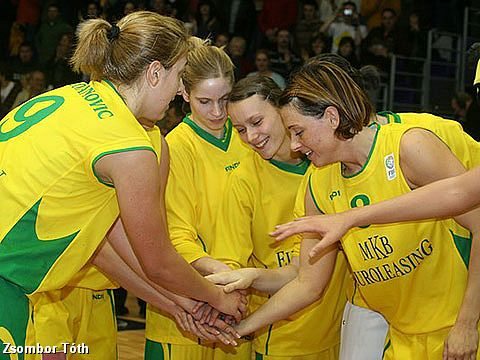 MKB EuroLeasing went all the way to the final four last season and knocked out Bourges Basket in the quarter-final. They have not made many changes to the squad this year.
Kathleen MacLeod is now in France but Maja Milijkovic from Serbia has come in as a replacement.
Jelena Milovanovic and Tijana Krivacevic are expected to shine again while Amber Holt, Dora Horti and Katalin Honti bring the stability and maturity this young side requires.
Good Angels Kosice have a new team this year. They should not have the fire power that enabled them to get through the first phase last season.
Anastasia Kostak, who has had a couple of spells in France, and Candice Dupree and Ekaterina Lisina should carry the team.
All teams from Spain are considered dangerous and Rivas Ecopolis although new to EuroLeague Basketball will be an interesting team to follow.
Cathy Joens who used to set the LFB on fire when she played for Aix-en-Provence is back to lead the team. She is joined by the impressive Crystal Langhorne and Spanish international Anna Cruz.
Two players of interest are Elin Eldebrink (the twin sister of Frida) and Andrea Csaszar who played in France for COB Calais two seasons ago. Both players like to attack.
---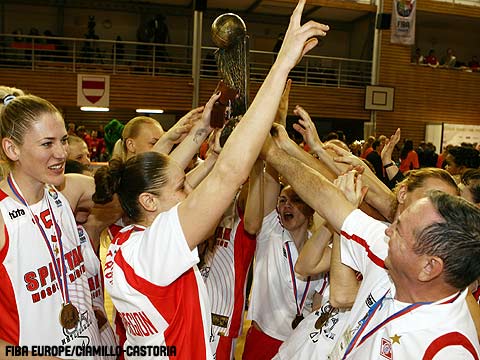 Spartak Moscow Region are the EuroLeague Women defending champions and are one of the favourites to win this competition.
Whether Lauren Jackson and Sue Bird play for the club during the group phase or not, the club is expected to top their group.
Ilona Korstin and Anete Jekabsone-Zogota are two new faces to the Spartak team. They are joined for three months by former French international Edwige Lawson-Wade and Janel Mc Carville on a roster that has most of their star players returning from last season.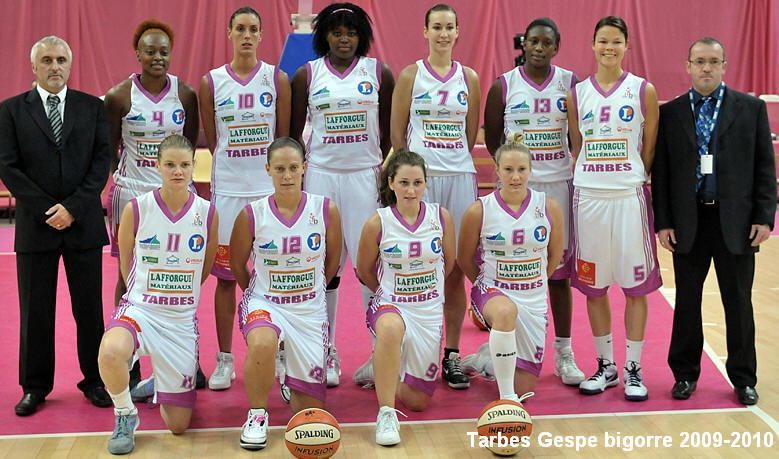 Tarbes who are back in EuroLeague action after a four-year break have built a squad that should be strong domestically and also do well in the EuroLeague Women.
They have had a perfect season in the LFB so far and the new players have already settled.
Charde Houston and Anne Breitreiner give Tarbes the physical presence they lacked in the EuroCup competition during last season.
Frida Eldebrink and Isis Arrondo could be the revelations of the season in EuroLeague Women. Neither player has played in the EuroLeague before.
Tarbes' qualities are unknown to most of the teams. With the addition of players like Florence Lepron and Fatimatou Sacko there are fireworks to be expected.
The battle for the qualification places should be hard because all the teams appear on paper to have strong rosters.
Frisco Sika Brno, as they are called today, have made many changes from last season with the addition of Linda Fröhlich, Zuzana Zirkova as well as the WNBA players Taj McWilliams and DeWanna Bonner.
Jan Bobrovsky, the head coach, has gone back to the formula that worked with the club as they reverted back to having more local players after last season's failed experiment.
Lotus Gdynia took their time in securing a sponsor for this season. They then went to work in acquiring the services of Shameka Christon and Erin Phillips.
They have also brought in Alana Beard. But as fans of WNBA know, she is not 100% fit at the moment and is recovering from an ankle injury, so it is a case of wait and see on her impact.
The team is made up of a number of international players that have the experience that will make them a difficult team to play against.
Fenerbahce is loaded with players with WNBA experience. The arrival of Penny Taylor this season to the roster is a sign of the club's ambition.
They already have Nicole Powell, Matee Ajavon, Nevin Nevlin and Tamara Sutton-Brown all returning from last season.
Furthermore they have experienced Turkish internationals such as Esmeral Tuncluer, Nevriye Yilmaz and Birsel Vardarli.
The last team in the group are Szeviép Szeced from Hungary.
This is the first participation in the FIBA Europe EuroLeague Women competition. The club has played in the EuroCup Women in the last few seasons.
The club has only two non-Hungarians in the roster: Vaida Sipaviciute (right) from Lithuania who played in the LFB last season with Arras.
The second one is Iva Ciglar who hails from Croatia and played college basketball with Florida International.
---
Return from FIBA Europe EuroLeague Women page to "What's New" page
Return FIBA Europe EuroLeague Women Index page
EuroLeague Women picture credit:

womensbasketball-in-france.com
Ciamillo Castoria - Fiba Europe
FIBA Europe
LFB
Date created: 28 October 2009
---
---