FIBA Europe SuperCup first winners are Spartak Moscow Region
---
---
The FIBA Europe SuperCup brings together the winners of the previous seasons of EuroLeague Women and EuroCup Women.
This is a new trophy and it marks the beginning of the European intercontinental basketball season for women.
Spartak Moscow Region may have been without Sue Bird, Lauren Jackson, and Diana Taurasi for the inaugural of this trophy.
But with a roster full of who is who in women's basketball they had no trouble in pushing aside Galatasary (92-59) in a one-sided game.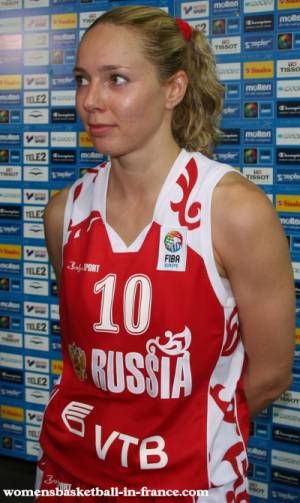 Ilona Korstin (left) who is a new signing for Sparkak Moscow was voted MVP for the match. She scored 14 points, collected 4 rebounds and made 3 steals.
Anete Jekabsone-Zogota, another new signing, led the scoring with 16 points.
Sonja Petrovic and Janel McCarville were the other players from the winners in double digits.
Spartak Moscow finished the first quarter with an 8-0 run to lead (23-9) after the first period and ended the game as a contest by the end of the second quarter leading (48-23) with McCarville on 11 points.
The game played itself out in the second half with the only incident coming in the final quarter because Diana Taurasi had been recognised in the crowd.
She then had to come down during a time-out so that she could receive the player of the year award. Taurasi also greeted the players and staff from her team.
Edwige Lawson-Wade who is on a three-month contract with Spartak Moscow Region scored 7 points and dished out 5 assists.
For Galatasaray, Sophia Young led the scoring with 15 points. Ivana Vecerová and Jia Perkins added 12 and 11 points each.
For those who missed the game you can watch it courtesy of Sportbox.ru.
The commentary is in Russian.
---
Return to the EuroLeague Women index
Return from FIBA Europe 2009 SuperCup Women to women playing basketball blog
Return to women playing basketball in France home page
picture credits:
womensbasketball-in-france.com
FIBA Europe
Date created: 20 October 2009