From Russia with love in EuroLeague Women
Wisla Can-Pack remain perfect
---
---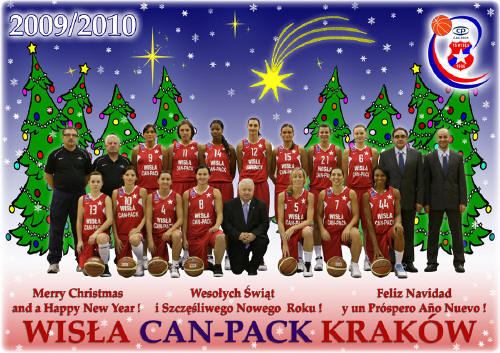 The EuroLeague Women round 8 started with strong performances from Russian club sides Spartak Moscow and UMMC Ekaterinburg.
Spartak Moscow Region cruised past Fenerbahce (103-59) while UMMC Ekaterinburg beat Spanish club side Ros Casares (82-70).
Both matches can be viewed on demand.
It was another poor night for clubs from the Ligue Féminine de BasketBall (LFB) with defeats for all three clubs.
Wisla Can-Pack beat Villeneuve d'Ascq (93-73) while Bourges Basket fell to MKB Euroleasing (73-83). Tarbes fell short to Frisco Sika Brno (68-83) despite 29 points coming from Charde Houston.
In the rest of EuroLeague Women action on Wednesday evening, from Group A Cras Basket (78-52) ended the hope of TTT Riga of qualifying for the play-off.
In Group B, Beretta-Famila eased past Gospic Croatia (88-65) and Halcon Avenida held off MiZo Pécs 2010 (70-63).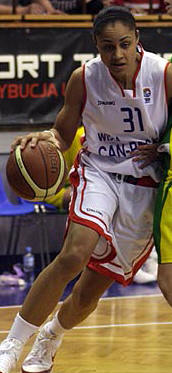 Good Angels Kosice ended the seven-game winning streak of Rivas Ecópolis (72-61) in Group C.
Candice Dupree (left) and Angel McCoughtry combined for a total of 50 points with 27 and 23 points respectively in the victory.
KSSSE AZS-PWSZ Gorzow pulled off a victory against ZVVZ USK Prague (87-67).
On the second day of action, TEO Vilnius required overtime to get past Galatasaray (86-80). This was the first victory for TEO in EuroLeague Women this season.
Renee Montgomery and Quanitra Hollingsworth scored 25 and 19 points apiece while Serbian international Milka Bjelica finished with a double-double of 18 points and 15 rebounds in the victory.
Szeviép won for the second time (71-58) against Lotos Gdynia. They are now tied with Tarbes and Lotus with two wins in Group D.
Select the links below to read the EuroLeague basketball news from all the groups:
1. Group A
2. Group B
3. Group C
4. Group D
5. Results and box scores

---
EuroLeague Women Group A - First win for TEO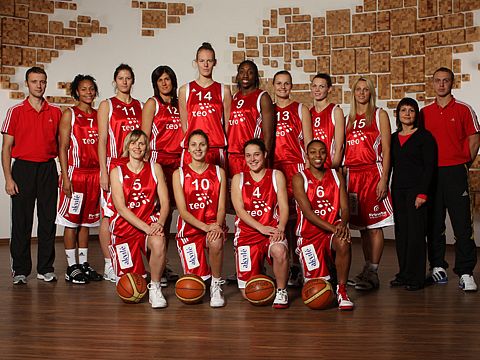 TEO's victory against Galatasaray (86-80) does not change anything for them because they were eliminated from progressing to the next phase of the competition in round 7.
For Galatasaray this defeat may drop them down the qualification ranking which may see them lose home court advantage in the best of 3 play-off series.
TTT Riga's slim chance of play-off qualification evaporated during the final quarter of their game with Cras Basket.
TTT Riga, back to full strength, were outscored 34-13 in the final 10 minutes to loose the game (78-52).
UMMC Ekaterinburg made up for their road defeat against Ros Casares with a 12-point victory (82-70).
It is offcial that UMMC, Ros Casares, Cras Basket and Galatasaray will play in the eighth-final (also known as the round of the last 16). Galatasaray's defeat in this round means that they cannot win their group.
Return to the top
---
EuroLeague Women Group B - Wisla-Can Pack on top of Europe at the moment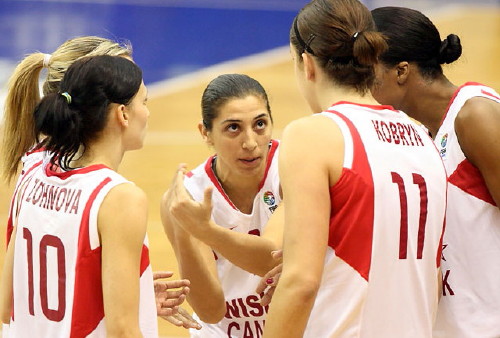 Wisla-Can Pack came to France and then gave Villeneuve d'Ascq a little lesson in the art of EuroLeague basketball.
Villenueve d'Ascq had the traditional bad first quarter and trailed (17-32) after the first quarter.
Wisla-Can Pack were never in trouble in the game and went on to win (93-73) with 28 points coming from Janell Burse. Marta Fernandez finished with 20 points. Iziane Castro Marques who played at Villeneuve last season scored 20 points.
For Villeneuve Lady Comfort led the scoring with 20 points, while Laurie Datchy, Carine Paul and Ana Cata-Chitiga scored 17, 12 and 11 points respectively.
Beretta Famila assured their qualification with a win against Gospic Croatia (88-65).
Former French international Nicole Antibe who did not play in round 7 marked her return with 13 points for the winners.
Halcon Avenida required a final quarter burst to keep away MiZo Pécs 2010 (70-63). The Spanish side have also booked their ticket for the next phase of the competition.
MiZo Pécs, Gospic Croatia and Villeneuve d'Ascq are still in the battle for the final qualification place in the group.
Return to the top
---
---
EuroLeague Women Group C - Nothing decided

Rivas Ecópolis dropped their first game of the competition to Good Angels Kosice (61-72). This defeat has no effect on Rivas' progress because they will still win the group.
Good Angels' victory pushes them up to third place, and puts them back into the qualification picture. Candice Dupree led the scoring with 27 points and 12 rebounds, while Angel McCoughtry came up with 23 points and 8 rebounds.
This result puts Bourges Basket in difficulty as they drop to 4th place after losing on the road to MKB Euroleasing (73-83).
With Polish side KSSSE AZS-PWSZ Gorzow getting past ZVVZ USK Prague (87-72), it is still possible for the remaining teams to qualify for play-offs.
Return to the top
---
EuroLeague Women Group D - Spartak Moscow Region are in another world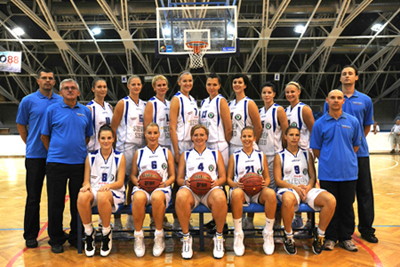 Fenerbahce are not a bad team. But they were torn apart by Spartak Moscow Region.
Diana Taurasi led the scoring with 20 points while hot shot Janel McCarville fired in 18 points. Sylvia Fowles and Anete Jekabsone-Zogota had 13 points each while Kelly Miller and Marina Karpunina scored 10 points each.
Frisco Sika Brno booked their ticket for the next phase by beating Tarbes (83-68). Tarbes must now win their remaining matches if they want to continue in the competition.
Dewanna Bonner led the scoring for Frisco Sika Brno with 19 points and 21 rebounds.
Szeviép came up on top (71-58) against Lotos Gdynia. If Tarbes and Lotos Gdynia do not win again, then Szeviép will qualify for the play-offs.
---
EuroLeague Women results and box scores from round 8
UMMC Ekaterinburg 82-70 Ros Casares
Wisla Can-Pack 93-73 Villeneuve d'Ascq
Halcon Avenida 70-63 MiZo Pécs 2010
Gospic Croatia 65-88 Beretta-Famila Schio
KSSSE AZS-PWSZ Gorzow 87-72 ZVVZ USK Prague
MKB Euroleasing 83-73 Bourges Basket
Good Angels Kosice Rivas Ecópolis
Spartak Moscow Region 103-59 Fenerbahce
---
Round 7: More teams qualify for the play-offs
Return to the EuroLeague Women index
Return from FIBA Europe EuroLeague Women round-up to women playing basketball blog
Return to women playing basketball in France home page
Return to the top
---
EuroLeague Women picture credits:

FIBA Europe
Wisla Can-Pack
Stepien Leszek
basketrivasecopolis
szeviepkosar.szeged
Date created: 16 December 2009
Last Update: 17 December 2009
---
---