EuroLeague Women play-off qualification assured for the teams from Russia
---
---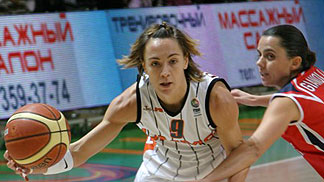 Céline Dumerc
(left) made her EuroLeague Women début for UMMC Ekaterinburg in their home victory (73-42) against Cras Basket.
In the second game in Group A, Ros Casares beat TEO Vilnius (75-60).
UMMC Ekaterinburg and Ros Casares have booked their tickets for the round of the last 16 (eighth-final).
The EuroLeague dreams for Villeneuve d'Ascq might be coming to an end with another home defeat. This time they lost (57-75) to Beretta-Famila.
With a game ending buzzer beater Olexandra Gorbunova secured the victory for Halcon Avenida against Gospic Croatia (81-79).
KSSSE AZS-PWSZ Gorzow improved their chance of EuroLeague Women play-off qualification from Group C with a victory (79-72) against MKB Euroleasing.
Essence Carson, "E", fired in a game high 22 points for Bourges Basket in their victory (83-71) against Good Angels Kosice .
In Group D, Spartak Moscow Region confirmed their play-off qualification with a victory against Szeviép (94-51).
Nevriye Yilmaz (20 points) from Fenerbahce won the battle against Hana Horakova (16 points) from Frisco Sika Brn to lead her side to victory (86-70).
Select the links below to read the EuroLeague basketball news from all the groups:
1. Group A
2. Group B
3. Group C
4. Group D
5. Results and box scores

---
---
EuroLeague Women Group A - UMMC Ekaterinburg and Ros Casares are in the eighth-final
UMMC Ekaterinburg ended the four-game winning streak of Cras Basket (73-42) with French international Sandrine Gruda leading the scoring with 16 points.
UMMC led from start to finish and took control of the game with an 11-0 in the second quarter to build a lead (25-9) after 13 minutes of play.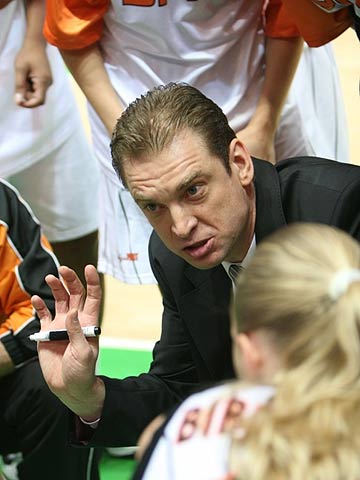 Cras Basket picked themselves up and traded baskets with their hosts for the rest of the quarter (21-39).
UMMC stepped up the pace during the third quarter and extended their advantage (65-28) going into the final stanza.
Gundars Vetra (left), the coach from UMMC, continued to turn his bench as his team played out the game to win (73-42).
Maria Stepanova added 11 points while Agnieszka Bibrzycka and Ann Wauters contributed 10 points apiece in the victory.
Ilisaine David was the only player in double digits for Cras Basket.
Ros Casares ran out winners (75-60) against TEO Vilnius.
The star of the match was Spanish international Amaya Valdemoro who played for just 17 minutes. But in that time she scored 15 points, made 4 steals and added 2 assists.
Belinda Snell and Elisa Aguilar were the only other player in double digits with 14 and 10 points each.
Becky Hammon who missed the weekend game in the Spanish league due to a groin strain made an appearance and scored 8 points in 20 minutes of action.
TEO played much better than last week and gave their hosts problems early. They were tied (16-16) after 12 minutes of play.
However they spoilt their performance with 28 turnovers.
Renee Montgomery led the TEO attack with 15 points. Aurime Rinkeviciute and Milka Bjelica scored 10 points each.
Galatasaray beat TTT Riga (71-55) with 17 points coming from Katie Douglas.
Sophia Young and Yelena Leuchanka added 15 and 13 points apiece as Galatasaray improved to 4 and 3 in EuroLeague Women play.
Return to the top
---
EuroLeague Women Group B - Villeneuve d'Ascq's bad habits let them down again
Villeneuve d'Ascq's bad habit of playing poorly at the start of the game continued as they gifted Beretta Famila, Schio the first 14 points of the game.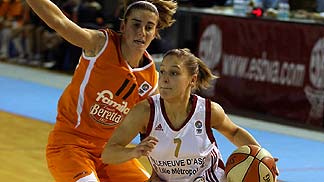 Ingrid Tanqueray (right in white) scored 11 of Villneuve's 13 points in the first quarter as they tried to bring down the deficit.
All the same Beretta Famila did not panic and led (21-13) at the end of the first quarter. They put the game out of reach of their hosts by stretching their advantage by the interval (48-27).
Raffaella Masciadri (above in orange) was the only player from the Italian side that played for more than 24 minutes as her side paced itself to victory.
Bernadette "Mudju" Ngoyisa compiled a double-double, 18 points and 11 rebounds, while Laura Macchi fired in 15 points.
Former French international Nicole Antibes is injured and did not play while former French captain Audrey Sauret-Gillespie contributed 2 points and 2 assists for the team from Schio.
Tanqueray was the top scorer for Villeneuve with 17 points. Jolane Anderson and Laurie Datchy added 10 points apiece.
Halcon Avenida left it until the last second to get past Gospic Croatia (81-79).
With the game tied (79-79) going into the last minutes, the hosts avoided overtime when Ukrainian international Olexandra Gorbunova picked up an offensive rebound from a missed three-point attempt by Anke de Mondt.
She had just enough time to put the ball into the basket to secure victory.
Sancho Lyttle led the Spanish side in points and rebounds with a double-double of 25 points and 15 rebounds. Le'Coe Willingham and Alba Torrens added 19 and 14 points respectively.
Andja Jelavic and Carla Thomas did most of the scoring for Gospic with 28 and 24 points apiece.
Marta Fernandez's 25 points helped Wisla Can-Pack Krakow stay unbeaten with a hard fought victory (74-71) against MiZo Pec.
Return to the top
---
---
EuroLeague Women Group C - Bourges did double over Good Angels Kosice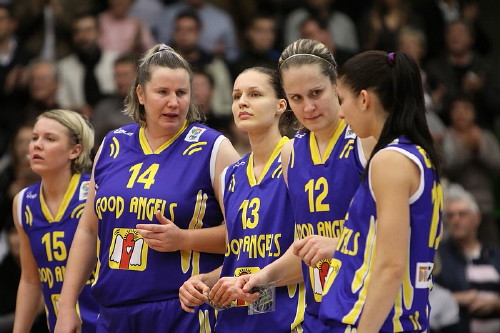 Good Angels Kosice's three-game EuroLeague Women winning streak has come to end with a road defeat against Bourges Basket (71-83).
Bourges scored 8 unanswered points to lead (11-4) after five minutes of play and maintained the advantage until the end of the first quarter (21-14).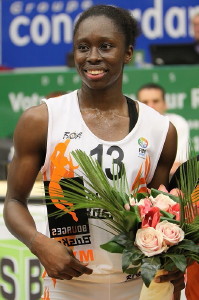 Angel McCoughtry (20 points) and Linda Fröhlich (17 points) combined for 17 of their team's 21 points in the second quarter.
Essence Carson (right) hit two treys at the end of the quarter for Bourges to go into the locker room holding onto the 7-point lead (42-35).
Carson winning her battle against McCoughtry after the break enabled Bourges to stretched their lead (64-50) going into the final period.
Bourges controlled the last 10 minutes and Anäel Lardy ended the game on a high note with a buzzer-beater trey (83-71).
Carson took the player-of-the-match award with 22 points while Stella Kaltsidou and Emméline Ndongue added 18 and 15 points each.
Candice Dupree was the third player for Good Angels in double digits with 14 points.
KSSSE AZS-PWSZ Gorzow defeated MKB Euroleasing Sopron (79-72) for their second victory in the EuroLeague Women.
This victory brings KSSSE AZS-PWSZ back into the play-off picture although they are still bottom of the group.
Rivas Ecopolis made it seven win from seven games with a comfortable victory (94-56) against ZVVZ USK Prague.
Crystal Langhorne led the scoring with ZVVZ with 25 points. Jelena Dubljevic and Cathy Joens scored 24 and 18 points.
For ZVVZ the game turned into nightmare early in (2-14) the first quarter. Lindsay Whalen led the ZVVK scoring with 10 points.
Return to the top
---
EuroLeague Women Group D - Are Tarbes back ?
Tarbes produced their best game of the season in overcoming Lotos Gdynia (81-67).
Charde Houston, was sick last week, was back to full strength and scored a game high 27 points.
Isabelle Yacoubou-Dehoui added 14 points in 15 minutes play time while Béatrice Castets and Frida Eldebrink scored 11 points each.
Yacoubou-Dehoui was in a hurry to get the game started and scored the first points with less than 9 seconds played. However she picked up 2 fouls within the first three minutes and had to return to the bench.
Not withstanding Tarbes dominated the early exchange. With seven minutes played they led (16-8) and went on to win the first quarter (21-16).
Ivana Matovic (19 points) and Alana Beard (19 points) did most of the offensive work for Lotus as they clawed their way back into the game.
Lotus went into the locker room leading after a three-pointer by Alana Beard (45-44).
The third quarter was end to end basketball with Houston doing most of the damage for Tarbes. However it was the three-point shooting of Castets that took Tarbes into the final quarter ahead (59-55).
Tarbes went all out offensively during the final quarter and brought to an end their five-game EuroLeague Women losing streak.
Spartak Moscow Region defeated Szeviép (94-51) with 24 points coming from Diana Taurasi. In the last game from the group Fenerbahce beat Frisco Sika Brno (86-70).
Spartak Moscow are the first team in the group to qualify for the play-offs.
Return to the top
---
EuroLeague Women results and box scores
UMMC Ekaterinburg 73-42 Cras Basket
Halcon Avenida 81-79 Gospic Croatia
MiZo Pécs 2010 71-74 Wisla Can-Pack
Villeneuve d'Ascq 57-75 Beretta-Famila Schio
Rivas Ecópolis-ZVVZ USK Prague
Bourges Basket 83-71 Good Angels Kosice
KSSSE AZS-PWSZ Gorzow 79-72 MKB Euroleasing
Spartak Moscow Region 94-51 Szeviép
Fenerbahce 86-70 Frisco Sika Brno
---
Round 6: All the teams from France lost
Return to the EuroLeague Women index
Return from FIBA Europe EuroLeague Women round-up to women playing basketball blog
Return to women playing basketball in France home page
Return to the top
---
EuroLeague Women picture credits:

FIBA Europe
Olivier Martin @ basquetebol.org
Date created: 09 December 2009
Last Update: 09 December 2009
---
---