EuroLeague Women becoming tougher for French clubs
---
---

Sixth-round EuroLeague Women nightmare for the clubs from France with three road defeats reduces hopes for qualification for Tarbes and Villeneuve d'Ascq.
Bourges Basket were soundly beaten by ZVVK USK Prague (47-70). Lindsay Whalen (left) led the attack for USK with 18 points.
Tarbes fell to Szeviép Szeged (66-82) while Villeneuve d'Ascq lost against Gospic Croatia (63-85).
Tarbes and Villeneuve have only won one game in this competition so far and have to start winning if they hope to make it to the play-offs.
Spartak Moscow Region and UMMC Ekaterinburg continue with their progress to the play-offs with victories against Frisco Sika Brno (82-65) and TEO Vilnius (86-37) respectively.

EuroLeague Women group B and C leaders, Wisla Can-Pack and Rivas Ecópolis made it six wins from six games with the last one a close victory.
Wisla Can-Pack edged out Spanish club side Halcon Avenida (62-58) while Rivas Ecópolis held on to beat KSSSE AZS-PWSZ Gorzow (82-79).
Good Angels Kosice made it three wins in a row by beating MKB Euroleasing (75-58).
Penny Taylor fired in a three-pointer with 25 seconds to play that secured the victory for Fenerbahce (69-63) against Lotos Gdynia.
The Italian club sides had a perfect evening in bringing to an end the sixth round of FIBA Europe EuroLeague Women games.
Cras Basket beat Galatasaray (77-63) and Beretta Famila outscored MiZo Pécs 2010 (69-62).
Select the links below to read the EuroLeague basketball news from all the groups:
1. Group A
2. Group B
3. Group C
4. Group D
5. Results and box scores

---
EuroLeague Women Group A - No problems for the leaders
UMMC Ekaterinburg did not allow their hosts TEO Vilnius much time to settle into the game.
They scored the first points after 10 seconds. By the end of the first quarter they led (20-4).
The game as a contest was over by the interval with UMMC ahead (40-16).
UMMC went on to win (86-37) with Sandrine Gruda and Svetlana Abrosimova leading the scoring with 15 points each.
Abrosimva said after the game: "We played well as a team. 25 assists prove it. If we continue to play like that we can achieve a lot."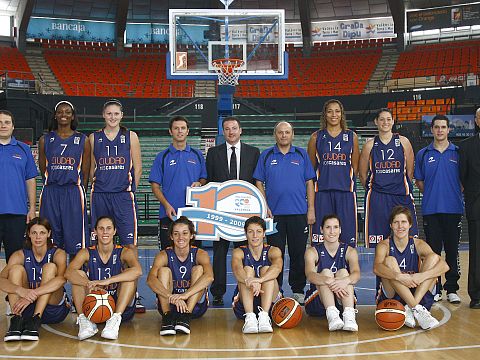 TTT Riga had suffered the embarrassment of losing their first EuroLeague Women tie this season by 80 points to Ros Casares (above in picture).
TTT have improved since that game and even without Lyndra Littles they remained close for the first 30 minutes against Ros Casares.
Ros Casares went into the final quarter leading (51-43). They then stepped on the accelerator blowing away their hosts to win (78-54).
Becky Hammond led the scoring for Ros Casares with 18 points.
Cras Basket are on an EuroLeague Women winning streak, they beat Galatasaray (77-63) for win number 4.
Michelle Greco led the scoring with 19 points and explained after the game: "It 'a good time. We have demonstrated it again tonight, with an intense game, return to fold a strong team like Istanbul. Now we believe much more in the third place in the EuroLeague Women and in our future in this competition."
Cras Basket move up to third place in the group.
Return to the top
---
---
EuroLeague Women B - Wisla Can-Pack qualify for next phase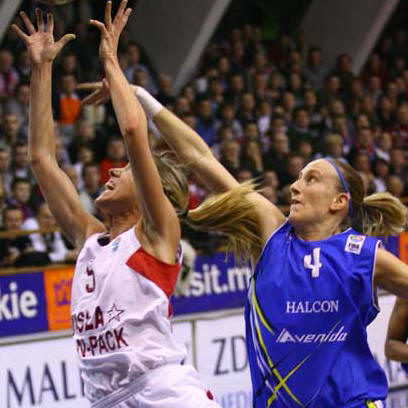 Marta Fernandez led Wisla Can-Pack's attack with 19 points as her side overcame Spanish club side Halcon Avenida (62-58) to the joy of the home supporters.
Her last 5 points during the final quarter enabled Wisla Can-Pack to stay in the match (55-56) with just under three minutes to play.
Iziane Castro Marques put Wisla Can-Pack in the lead for good with the game entering money-time.
However it was the player of the match Janell Burse with 16 points and 12 rebounds that made the game safe for the hosts with her last points of the game with just under 50 seconds to play.
Liron Cohen was the other hero of the night with 16 points as Wuska Can-Pack booked their ticket for the play-offs.
Halcon Avenida had four players in double digits with Le'Coe Willingham leading the way with 14 points.
EuroLeague Women, becoming too hard for Villeneuve d'Ascq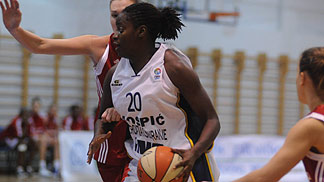 Gospic Croatia hit eight three-pointers in the first quarter to to ahead (35-11).
Villeneuve matched their hosts for the rest of the game but it was not enough for them to make up the deficit.
Gospic won the match (85-63) with Andja Jelavic leading the way with 19 points.
Carla Thomas (above) who played in France with Arras two seasons ago hit 5-of-6 from beyond the arc and finished with 17 points.
Jolene Anderson (9 rebounds and 4 assists) and Emilie Gomis scored 14 and 15 points each for Villeneuve.
Beretta-Famila are one step closer to qualifying for the EuroLeague Women play-offs (eighth-final) after beating MiZo Pécs 2010 (69-62).
Bernadette Ngoyisa Mudju scored 22 points and Laura Macchi contributed 18 points in the victory.
Return to the top
---
---
EuroLeague Women C - Not a great night for Bourges Basket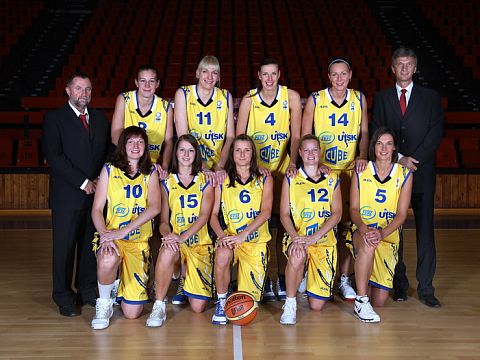 In the last four seasons Bourges Basket built its reputation in the EuroLeague Women competition with a suffocating defense.
However teams have found solutions in making Bourges' system less effective.
ZVVK USK Prague have two former players from Bourges Basket on their roster, Sonja Kireta and EuroBasket Women 2009 MVP Evanthia Maltsi, who both played under Pierre Vincent.
The two teams were tied (32-32) with 23 minutes played.
Kireta then started an 11-0 run for USK, starting with 2 points and conclunding it three minutes later with a three-point play (2+1).
Bourges never recovered and went into the final quarter trailing (37-51).
Lindsay Whalen led the way for the hosts with 18 points as her side paced itself to victory (70-47).
Pierre Vincent was disappointed with the defeat. Yet he explained after the game that he was of the belief that Bourges would improve:
"We lost and therefore I'm sad, it is a bad day for us. In order to win a game we need to score some points and it was our weak spot today, as we missed shots from open positions as well as a few lay ups. It was a difficult game for us but I am very proud of my team that they kept fighting till the end and did not give up even when the game was decided. Better days will come, I believe."
Good Angels Kosice might have made the late signing of the season with Angel McCoughtry and were rewarded.
She joined the club for seven weeks in November. But with her 24 points, 5 assists and 5 rebounds the club are more than likely to extend her stay.
Good Angels beat MKB EuroLeasing (78-58) and move up to third position in the group.
Rivas Ecópolis did not require overtime this week but were taken to the wire by their hosts from Poland, KSSSE AZS-PWSZ Gorzow, to win (82-79).
Rivas Ecópolis join Spartak Moscow Region and Wisla Can-Pack with perfect records after six rounds of EuroLeague Women action.
Return to the top
---
---
EuroLeague Women Group D - Spartak Moscow Region won again
Spartak Moscow have not lost a game but have had to wait until the sixth game to claim first place in Group D due to the fact that they have still one more game to play in this round.
Frisco Sika Brno have made a few changes to their roster since the first meeting between the two clubs but were unable to match the fire power of their guests from Moscow.
Spartak Moscow Region led (15-2) after only five minutes of play and never looked back.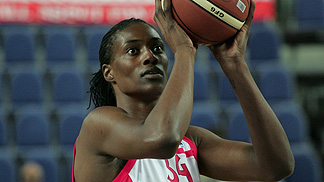 They won the first quarter (26-15) and started the second one with a 9-0 run with the first 7 points coming from Anete Jekabsone-Zogota.
Frisco Sika Brno did not give up but were unable to bring down enough the score to worry their opponents.
Diana Taurasi led the way with 18 points while Sylvia Fowles (above) added 18 points and picked up 9 rebounds.
Former French international Edwige Lawson-Wade contributed 8 points and was credited with 2 steals and 2 assists in the (82-65) victory.
Hana Horakova led the way for Frisco Sika Brno with 16 points.
Tarbes are not enjoying this competition and handed Szeviép Szeged their first ever victory in EuroLeague basketball.
Vaida Sipaviciute who played in France with Arras last season compiled a double-double of 16 points and 12 rebounds for the hosts.
It is hard to analyse what went wrong for Tarbes. Maybe playing on Sunday in the LFB was not a good idea. They allowed the hosts to score the first 10 points of the game.
Tarbes managed only 9 points in the first quarter while conceding 24. Tarbes' misery continued in the second quarter and they went into the locker room trailing (23-46).
Frida Eldebrink (21 points) and Charde Houston (11 points) did their best for Tarbes, but it was not enough.
Szeviép Szeged won (82-66) and move ahead of Tarbes in the table and will stay there even if the two teams remain on equal points at the end of the group stage.
Penny Taylor scored 9 of her 11 points in the final quarter as Fenerbahce held off Lotos Gdynia (69-63).
Turkish international Nevriye Yilmaz led the Turkish side to victory with 16 points, 6 assists and 6 rebounds. Tammy Sutton-Brown also scored 16 points and finished with 5 assists and 5 rebounds.
Ivana Matovic fired in 21 points for Lotos Gdynia.
Return to the top
---
EuroLeague Women results and box scores
TEO Vilnius 37-86 UMMC Ekaterinburg
Cras Basket Taranto 77-63 Galatasaray
Gospic Croatia 85-63 Villeneuve d'Ascq
Wisla Can-Pack 62-58 Halcon Perfumerías Avenida
Beretta-Famila 69-62 MiZo Pécs 2010
Good Angels Kosice 75-58 MKB Euroleasing Sopron
USK Praha 70-47 Bourges Basket
KSSSE AZS-PWSZ Gorzow 79-82 Rivas Ecópolis
Frisco Sika Brno 59-78 Spartak Moscow Region
Return to the top
---
Round 5: Tarbes and Villeneuve d'Ascq beginning to feel the heat
Return to the EuroLeague Women index
Return from FIBA Europe EuroLeague Women round-up to women playing basketball blog
Return to women playing basketball in France home page
Return to the top
---
EuroLeague Women picture credits:

FIBA Europe
Ros Casares basket
USK basket

Date created: 02 December 2009
Last Update: 03 December 2009
---
---