EuroLeague Women disappointment for clubs from France
---
---
TEO Vilnius are still without an EuroLeague Women victory after falling at home to Italian club side Cras Basket (67-80).
Renee Montgomery scored a game high 29 points for the hosts. But it was not enough to prevent the Italians from winning.
In the rest of the games from Group A, TTT Riga lost at home to UMMC Ekaterinburg (53-74) while Ros Casares held off Galatasaray (63-62).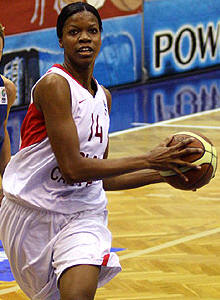 Wisla Can-Pack's perfect EuroLeague Women campaign remains intact after winning against Gospic Croatia (77-75) with 35 points coming from Janell Burse (left).
Villeneuve d'Ascq fell at home to MiZo Pécs 2010 (57-76) in the second game from Group B.
In Group C Good Angels Kosice beat KSSSE AZS-PWSZ Gorzow (70-65) and ZVVZ USK Prague won (98-75) against MKB Euroleasing.
The early game in Group D did not go well for Szeviép who lost playing at home (54-71) to Frisco Sika Brno. Tarbes also lost at home (70-83) to Fenerbahce.
Diana Taurasi was once again the match winner for Spartak Moscow Region in the road victory against Lotus Gdynia (77-70). She finished with 20 points, 9 rebounds and 6 assists.
In the last two EuroLeague Women games of the week, Rivas Ecópoli required overtime in beating Bourges Basket (72-67) while Halcon Avenida overcame Beretta Famila (74-64).
Select the links below to read the EuroLeague basketball news from all the groups:
1. Group A
2. Group B
3. Group C
4. Group D
5. Results and box scores

---
EuroLeague Women Group A - No joy for the hosts
Rebekkah Brunson (right) scored 20 points and Jami Montagnino added 18 as Cras Basket Taranto won against TEO Vilnius (80-67).
TEO Vilnius are the only team in EuroLeague Women Group A without a victory.
The two teams played cat and mouse for the first five minutes (9-9) and then Cras Basket stepped on the accelerator and outscored their hosts (21-3) to win the opening quarter (30-12).
TEO spent the rest of the game chasing after the score. Yet with only Renee Montgomery (29 points) scoring, it became mission impossible.
Kathy Wambe scored 10 points and was credited with 5 assists while Elodie Godin contributed 8 points and collected 13 rebounds in the victory.
TTT Riga lost at home to UMMC Ekaterinburg (53-74). UMMC did not have a fantastic game but won due to the shooting of Agnieszka Bibrzycka with 24 points and complete control of the defensive rebounds.
Olga Arteshina and Ann Wauters added 16 and 14 points for the Russian Champions.
In the final game in this group, Ros Casares held off the challenge of their hosts Galatasaray to win (63-62).
Galatasaray had the chance to take the game into overtime when Jia Perkin's last free-throw failed to drop with less than one second to play. However it was Delisha Milton-Jones for Ros Casares to pick up the defensive rebound and save her team.
Return to the top
---
---
EuroLeague Women B - Wisla Can-Pack are still on top
Wisla Can-Pack maintained
their perfect record by edging out Gospic Croatia (77-75) in an exciting finish to their EuroLeague Women Group B match.
Janell Burse scored 31 points (15 rebounds) for the winners. But the match winner was Iziane Castro Marques who scored what turned out to be the winning basket with 29 seconds to play.
Gospic Croatia did not have the best of starts in the game and trailed by 9 points by the end of the first quarter. However they never gave up and briefly led during the third quarter.
Gospic shot 12-from-36 from beyond the arc and Jelena Ivezic led the team with 19 points. However this was not enough to avoid their fifth defeat of the season.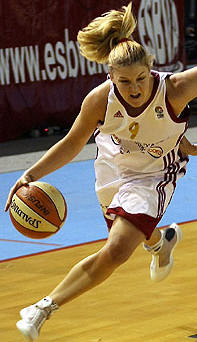 Villeneuve d'Ascq had a disastrous start to their match against MiZo Pécs 2010 and were down (4-20) after only eight minutes.
Villeneuve, without Jolene Anderson, spent the rest of the game chasing after the score.
Laurie Datchy (left) led the attack with 18 points. Elodie Bertal (9 points) and Lady Comfort (10 points) picked up 10 and 8 rebounds each.
All this was not enough to get back at their guests who were well served by Anna Vajda's 24 points.
Villeneuve's coach Abdou N'Diaye had this to say after the match:
"We played a terrible first quarter and it was then too late to get back even though my team fought hard. We need to stay calm and get ready for the next game."
Akos Fuzy, the coach from Mizo Pécs, made the following comments:
"It feels good to win two in a row. We started the game very well thanks to an aggressive defense and that allowed us to get a lot of fast breaks. In the second half, we made a lot of outside baskets from Kelly Mazzante with four three-pointers from six attempts. We needed this victory after losing our first three games."
Le'Coe Willingham led Halcon Avenida to victory against Beretta Famila (74-64). She scored 16 points and collected 10 rebounds.
Sandro Orlando, Beretta Famila head coach summed up the performance of her teams as follows:
"A bad game. We didn't play well in offense, didn't move the ball in the right way and forced too many three point's shots".
The head coach from Halcon Avenida, Jordi Fernandez was happy with the victory and had this to say after the game:
"We played an amazing first quarter, scoring thirty-three points and playing very well in offense. In the rest of the game we controlled the lead with a good defense. Now we are second but the way is so long because all teams of our group are good and can win against anybody."
Return to the top
---
---
EuroLeague Women C - Rivas Ecópolis remain unbeaten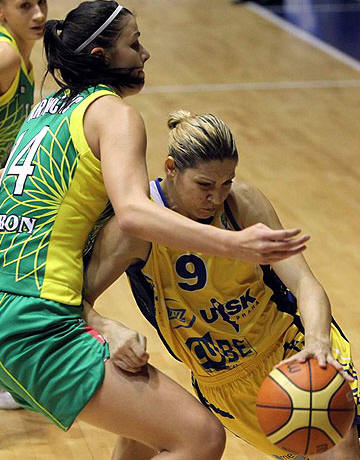 ZVVZ USK Prague had another EuroLeague Women three-point festival with 14-from-24 attempts.
Evanthia Maltsi (31 points) and Lindsay Whalen (24 points) combined for 7 three-pointers and a total of 55 points in the victory against MKB Euroleasing (98-75).
USK took hold of the game in the second quarter and with strong defensive rebounds kept MKB at bay.
Dora Horti and Amber Holt still managed to score 21 and 18 points respectively.
Angel McCoughtry scored 25 points and collected 8 rebounds as she helped Good Angels Kosice beat Polish side KSSSE AZS-PWSZ Gorzow (70-65).
McCoughtry, who only joined Good Angels three weeks ago, together with Linda Fröhlich, who arrived last week, have taken some offensive burden off Candice Dupree.
This has resulted in back to back wins for the club who is now back in the picture for EuroLeague Women play-off qualification.
Bourges Basket completed the hat trick of defeats for clubs from France after falling in overtime to Spanish club side Rivas Ecópolis (67-72).
Anna Cruz (21 points) settled the match for the hosts with 4 points that put an end to Bourges' chances of winning the game.
Cathy Joens (15 points and 4 assists) went 4-of-6 from beyond the arc was the player of the match.
Essence Carson led the scoring for Bourges Basket with 17 points and Syliani Kaltsidou added 14 points.
Return to the top
---
---
EuroLeague Women Group D - Tarbes in trouble
Taj McWilliams was once again the player of the match for Frisco Sika Brno in the road victory against Szeviep Szeged (71-54). She scored 25 points and picked up 8 rebounds.
Frisco Sika Brno scored the first 12 points of the game to pace themselves to victory.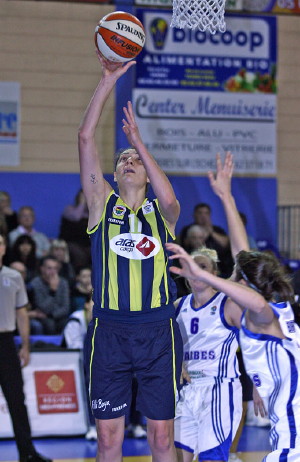 Nevriye Yilmaz (right) compiled a double-double of 24 points and 13 rebounds for Fenerbahce in their victory (83-70) against Tarbes.
Fenerbahce led from start to finish and never allowed Tarbes to settle in the game.
Nicole Powell, Penny Taylor and Nevin Nevlin did the rest of the scoring with 14, 13 and 13 points each.
For Tarbes, Anne Breitreiner and Frida Eldebrink led the scoring with 13 points each and Fatimatou Sacko contributed 10 points.
Tarbes are currently in fifth position with just one win in five games.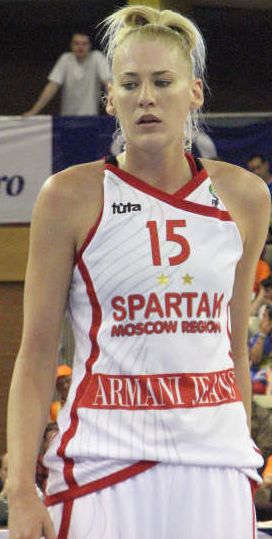 The basketball news about Lauren Jackson (left) not returning to Spartak Moscow Region after her rehabilitation took centre stage.
Lotos Gdynia, playing in front of a packed house, were not intimated by their guests and led (24-21) at the end of the first quarter.
Spartak Moscow Region took the lead back during the second quarter with a sequence of three-point shooting to go into the locker room with an advantage of 1 point (39-38).
The guests from Russia started to take control of the match during the third quarter. They went into the final quarter with 11 points clear after an 8-0 run.
Lotus did not abdicate and with Alana Beard (22 points), Ivona Matic (14 points), Erin Phillips (12 points) and Magdalena Leciejewska (8 points) all finding the target, Spartak's lead was cut to 3 points with five minutes left to play (67-70).
However Slyvia Fowles (13 points) finished with a flourish of points for the defending champions as her side held on to win (77-70).
Diana Taurasi led the scoring with 20 points while Janel McCarville scored 12 points. Anete Jekabsone-Zogota and Edwige Lawson-Wade added 10 points each.
Return to the top
---
EuroLeague Women results and box scores
TEO Vilnius-Cras 67-80 Basket Taranto
TTT Riga 53-74 UMMC Ekaterinburg
Wisla Can-Pack 77-75 Gospic Croatia
ESB Lille Metropole 57-76 MiZo Pécs 2010
Beretta-Famila 64-74 Halcon Avenida
Good Angels Kosice 70-65 KSSSE AZS-PWSZ Gorzow
ZVVZ USK Prague 98-75 MKB Euroleasing
Rivas Ecópolis 72-67 Bourges Basket
Szeviép 54-71 Frisco Sika Brno
Lotos Gdynia 70-77 Spartak Moscow Region
---
Round 4: Delight for UMMC Ekaterinburg in Group A
Return to the EuroLeague Women index
Return from FIBA Europe EuroLeague Women round-up to women playing basketball blog
Return to women playing basketball in France home page
Return to the top
---
EuroLeague Women picture credits:

womensbasketball-in-france.com
FIBA Europe
Krzysztof Porbebski @FIBA Europe
Olivier Sarre @ basquetebol.org
Cras Basket
Date created: 25 November 2009
Last Update: 26 November 2009
---
---