EuroLeague Women disappointment for French club sides
---
---
Last night was a difficult evening of Euroleague Women basketball for French club sides with three defeats.
Bourges Basket were beaten at their own game in a low scoring match while Tarbes and Villeneuve d'Ascq were completely overpowered in blow-outs.
The Russian clubs, Spartak Moscow Region and UMMC Ekaterinburg are in good form and both their games can be viewed in our Web TV section.
While KSSSE AZS-PWSZ Gorzow's victory against Bourges Basket will enter the history books of the Polish club, it is the victory of Cras Basket, Taranto, against Ros Casares that should occupy spaces of basketball news media outlets.
Select the links below to read the EuroLeague basketball news from all the groups:
1. Group A
2. Group B
3. Group C
4. Group D
5. Results and box scores

---
EuroLeague Women Group A - Three teams leading the way
UMMC Ekaterinburg opened the fourth round of EuroLeague Women basketball with a home victory (69-54) against Galatasaray.
You can watch the full game here.
Maria Stepanova who scored 12 points during the first quarter finished the game as top scorer with 18 points This was the first defeat for Galatasaray this season.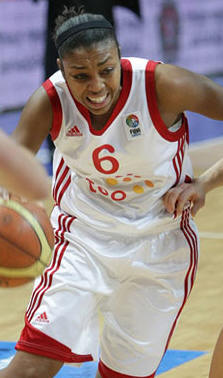 TTT Riga have ended their negative series with their first EuroLeague Women victory this season. They won on the road (74-68) with their new coach against TEO Vilnius.
Lyndra Littles (Weaver) recovered her scoring touch and finished with 21 points for TTT. But she was second to team-mate Lisa Willis with 23 points. In addition Cindy Lima added 11 points and pulled down 9 rebounds.
For TEO the tireless Renee Montgomery (right) scored 22 points and Milka Bjelica added 18 points. TEO are the only team in the group without a victory.

Cras Basket pulled off the biggest win of the evening by beating Ros Casares (78-69) in front of their home fans. Rebbekah Brunson led the way with a double-double of 23 points and 12 rebounds.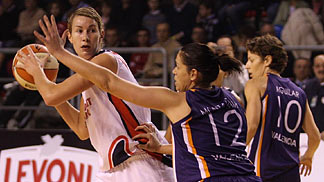 Cras Basket took the lead for good with 2 1/2 minutes played in the first quarter and had a maximum lead of 18 points going into the final guarder (65-47).
They were not troubled for the rest of the game.
Elodie Godin (above) and Jami Montagnino added 12 and 11 points each for the Italian Champions.
For Ros Casares Delisha Milton-Jones led the scoring with 18 points.
Ros Casares, UMMC and Galatasary are tied for first place in Group A with 3 wins each and 1 defeat, while Cras Basket are in fourth place with 2 wins and 2 defeats.
Return to the top
---
EuroLeague Women B - Wisla Can-Pack remain perfect
Wisla Can-Pack's perfect season in the EuroLeague Women continues as they notched up their fourth victory against Beretta Famila (83-72).
The Polish side, playing at home, were made to work hard against their Italian guests. Beretta Famila led at the interval (43-36) and with just under seven minutes to play in the third period (53-42).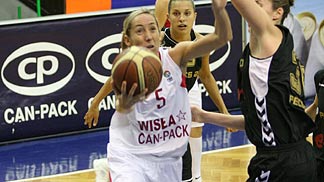 The hosts woke up and went on the rampage to score 13 unanswered points. By the end of the third quarter Wisla Can-Pack was in front (62-59).
A 6-0 run at the start of the final period put them in control for the rest of the game.
Marta Fernandez (above) was the player of the game for the hosts with 17 points, 13 assists and 6 steals.
Liron Cohen scored 17 points and dished out 5 assists while Janell Burse contributed 16 points and collected 12 rebounds. Nicole Antibe led the way for the visitors with 17 points.
In the rest of the group's action MiZo Pécs 2010 beat Gospic Croatia (74-68) with Nicole Ohlde and Anna Vajda scoring 24 and 23 points respectively.
Halcon Avenida showed little mercy for Villeneuve d'Acq (94-53). Sancho Lyttle led the way for the Spanish side with 31 points.
Return to the top
---
---
EuroLeague Women C - Rivas Ecópoli are having fun
Rivas Ecópoli made it four EuroLeague Women victories in four games with (70-63) victory against MKB Euroleasing.
Crystal Langhorne and Cathy Joens with 22 and 16 points respectively led the home side to victory.
Good Angels Kosice won their first game in the competition with a (73-70) victory against ZVVZ USK Prague.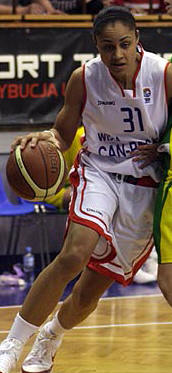 Candice Dupree (left) was the player of the match with 30 points, 13 rebounds and 3 blocks in the team's home victory.Linda Fröhlich (16 points) - who left Frisco Sika Brno last week - put the hosts in the lead for good (47-46) with back to back scores early in the third period.
Evanthia Maltsi and Lindsay Whalen scored 21 and 17 points respectively for ZVVZ in defeat.
In the last game in the group KSSSE AZS-PWSZ Gorzow beat Bourges Basket (49-38). They led from start to finish in a rather defensive match.
Samantha Richards (12 points) came up with telling plays for the hosts and was inspirational during the game.
She was joined on 12 points by Sidney Spenser as their side recorded their first victory ever in EuroLeague Women basketball.
Not much to say about Bourges, as they were well outbeaten at their own game. Nwal-Endéné Miyem and Styliani Kaltsidou scored 11 points each.
---
---
EuroLeague Women Group D - Who can stop Spartak Moscow Region?
Spartak Moscow Region
had no trouble in beating Tarbes (81-56) in a game that you can watch
with Russian commentary
.
Spartak Moscow dominated the first half of the game and went into the interval leading (54-21) to pace themselves to victory with Sylvia Fowles leading the way with 17 points.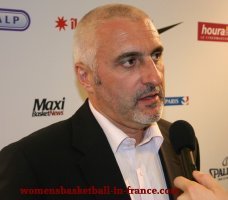 François Gomez, the head coach from Tarbes, summed up the match as follows: "The first half was Christmas for my girls because they were allowed to play against Diana Taurasi and Sylvia Fowles.
In the second half we came back to reality and played as good as we could. I hope we will keep playing like that to challenge for the 4th spot in this group."
Frisco Sika Brno overcame Lotos Gdynia (83-72) in a tight game.
With the game nicely balanced (67-67) with just under six minutes left in the game it required the personal exploit of Taj McWilliams (22 points) with 6 last-minute points (73-67) to finally put the hosts in control.
The lead grew to 10 points with the game in money-time (80-70) and the victory was assured.
In the last game of this round, Fenerbahce beat their hosts Szeviép from Hungary (70-66). They led from start to finish with Nicole Powell leading the way with 16 points.
Vaida Sipaviciute scored 16 points for the hosts who are still without a win in their first EuroLeague Women campaign.
Return to the top
---
EuroLeague Women Results and box scores
UMMC Ekaterinburg 69-54 Galatasaray
Cras Basket Taranto 78-69 Ros Casares
Gospic Croatia 68-74 MiZo Pécs 2010
Wisla Can-Pack 83-72. Beretta-Famila
Halcon Avenida 94-54 ESB Lille Metropole
MKB Euroleasing 63-70 Rivas Ecópolis
Good Angels Kosice 73-70 ZVVZ USK Prague
KSSSE AZS-PWSZ Gorzow 49-39 Bourges Basket
Frisco Sika Brno 83-72 Lotos Gdynia
Spartak Moscow Region 81-56 Tarbes GB
---
Round 3: Ros Casaras beat UMMC Ekaterinburg
Return to the EuroLeague Women index
Return from FIBA Europe EuroLeague Women round-up to women playing basketball blog
Return to women playing basketball in France home page
EuroLeague Women picture credits:

womensbasketball-in-france.com
FIBA Europe

Date created: 18 November 2009
Last Update: 19 November 2009
---
---