Spartak Moscow Region heading to EuroLeague Women final four
---
---
The EuroLeague women third and final match between the hosts Spartak Moscow Region and Ros Casares got off to an explosive start.
Elisa Aguilar fired in a three-pointer for the guests with her first shot of the match with less than 30 seconds on the game clock.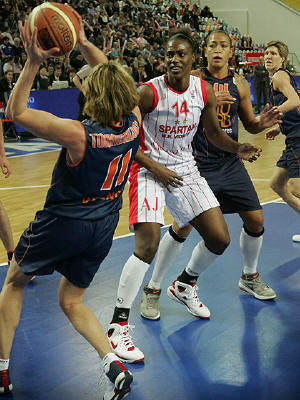 Sylvia Fowles (no. 14 left) from Spartak Moscow made up for her mistake that led to Ros Casares scoring. She picked up a rebound off a Lauren Jackson miss to tip the ball in.
Elena Tornikidou was in sharp form at the start of this game and quickly restored the lead for the guests with 4 points (7-4) with just two minutes played.
Fowles scored again for Spartak Moscow Region. But it was the play of Sue Bird that got the hosts going as she hit a shot from beyond the arc. This action was quickly followed up with a shot by her from two-point range.
Jackson completed the 9-0 run with a pair of free-throws for the hosts to lead (11-7).
Ros Casares then hit back with 9 straight points which included 4 points from Erika de Souza and a trey from Aguilar (16-11).
Bird ended the Ros Casares scoring with her second three-pointer of the quarter as her side went on to score 12 unanswered points in two minutes off fast offensive basketball.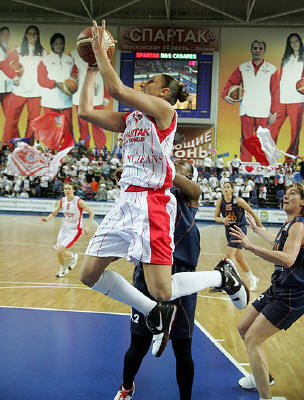 Diana Taurasi (right) opened her account for Spartak Moscow Region during this spell with 5 points, including a trey (23-16).
Delisha Milton Jones scored for Ros Casares to stop the riot. Yet it was the energetic Bird with her 12th point of the quarter that finished the scoring with a pair of free-throws for the hosts to lead (25-18).
Spartak Moscow did not drop the pace at the start of the second period. They were soon on their way with a three-pointer from Jackson.
By the 22nd minute of play they had increased their advantage to 11 points as Bird hit a couple of free-throws (32-21).
Ros Casares were forced to make some tactical changes with the veterans Amaya Valdemoro and Milton-Jones leading by example. So they managed to put a few points on the board. However they found it difficult to hold Fowles and still trailed by 9 points (27-36) after 24 minutes.
Spartak Moscow Region went through a barren spell in which they were unable to score. Hence Ros Carares managed to reduce their deficit as the pendulum was swinging in favour of the guests.
Valdemoro hit a trey and Jana Veselá scored to bring the guests to within a single point of the home side.
However Taurasi (11 points) preserved the lead for the home team with a jump shot (40-37) after some nice work from Bird (14 points and 5 assists).
The last 90 seconds of the second period belonged to Fowles (14 points and 6 rebounds) as she showed some of her other skills. She put in 4 points for Spartak Moscow Region to head into the locker room with the lead (44-41).
Elena Tornikidou (below) with 10 points was the leading scorer at the halfway stage for Ros Casares.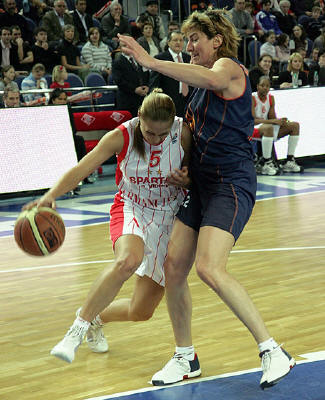 It was firework time at the start of the third period with three-pointers from Marina Karpunina (no. 5 left) and Jackson for the hosts against 2-point scores from Valdemoro, De Souza and Veselá. Spartak Moscow Region kept their advantage (50-47) with 22 minutes played.
Fowles - despite not having a good time from the free-throw line - kept on scoring.
However it was the guests from Spain that were scoring at a faster rate and went in from with a trey from Milton-Jones (54-53).
Aguilar fired in her third three-pointer of the evening to extend the lead of the hosts. Bird managed to split a pair of free-throws but 2 more points from De Souza (59-54) resulted in the head coach from Spartak László Rátgéber calling for a time-out.
Ros Casares had the chance to increase their lead but Tornikidou missed her free-throw.
With two minutes left to play in the third period Taurasi took over for Spartak as she scored 2 free-throws, followed by back-to-back three-pointers.
When she was fouled by Tornikidou on her second three-point score Taurasi was awarded a free-throw which she scored to take her team into the final period leading (63-59).
The start of the last quarter was littered by errors on both sides as the tension grew.
Milton-Jones scored the only points in the first two minutes as she hit 3-of-4 from the free-throw line to bring the guests to within in a single point (62-63).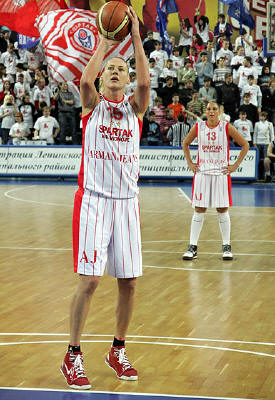 Fowles split a pair of free-throws. Finally the first point from the field after almost four minutes of play in the final quarter came from Jackson (right) after another Bird conducted attack.
Taurasi and Fowles completed the 8-0 run as Spartak opened up a lead (70-62) with just over five minutes to play.
Valdemoro scored but with Milton-Jones failing from the free-throw line, Ros Casares missed the opportunity in reducing their deficit enough to put pressure on their hosts.
Jackson restored the 8-point lead (72-64) for the hosts with 3½ minutes to play.
Ros Casares' only points after this came from the free-throw line with Milton-Jones scoring 6-of-8.
The remaining scoring for Spark Moscow came from Fowles and Karpunina as their side went on to win (79-70).
Fowles led the scoring with 23 points and 13 rebounds, Taurasi finished with 22 points. Bird scored 15 points and had 8 assists while Jackson scored 12 points.
For Ros Casares Milton-Jones led the scoring with 18 points. Valdemoro finished with 14 points while De Souza and Tornikidou had 11 and 10 points apiece. Veselá had 6 assists.
EuroLeague Women Box Score
---
All the results from the quarter-finals:

Game three
Spartak Moscow Region 79-70 Ros Casares (Spartak Moscow Region won series 2-1)
Game two
MKB Euroleasing 70-63 Bourges Basket (MKB Euroleasing won series 2-0)
MiZo Pécs 2010 76-81 Halcon Avenida (Halcon Avenida won series 2-0)
Fenerbahce 68-70 UMMC Ekaterinburg (UMMC Ekaterinburg won series 2-0)
Ros Casares 73-71 Spartak Moscow Region
Game one
UMMC Ekaterinburg 94-62 Fenerbahce
Spartak Mosscow Region 65-57 Ros Casares
Halcon Avenida 85-63 MiZo Pécs 2010
Bourges Basket 65-68 MKB Euroleasing
---
News from EuroLeague Women quarter-final game two
News from EuroLeague Women quarter-final game one
News from EuroLeague Women 1/8 final game three
News from EuroLeague Women 1/8 final game two
News from EuroLeague Women 1/8 final game one
Return from EuroLeague Women to Women playing basketball blog
Return EuroLeague Women season 2008-09 Index page
EuroLeague Women picture credits:

FIBA Europe

Date created: 25 February 2009

---