The first night in the EuroLeague Women 2008-2009 play-offs went well for seven of the eight teams playing at home. Only Italian club side Umana Reyer lost at home.
A full game report of Bourges Basket games against Gambrinus Sika Brno is available and can be located by by following the links or scrolling down the page:
In France the television rights belong to Sport Plus, a service of the satellite channel provider Canal Plus. Yet they had not made any arrangement to cover the first leg of the match.
But points were hard to come by as neither team was able to gain any momentum. With six minutes played Hamchetou Maiga Ba split a pair of free-throws to level the score (11-11).
With the first period winding down Gambrinus came up with a three-point play that was concluded by Eva Vitecková to end the quarter just 1 point behind Bourges (16-17).
Furthermore back to back scores from Whitmore appeared to bring the guests back into the EuroLeague Women tie (22-27).
Bourges continued to struggle and saw their advantage fall to just 3 points (29-26) before Emméline Ndongue came to the rescue with the last 6 points of the first half.
This allowed Bourges Basket to go into the locker room with the first big lead of the match (37-26).
Ndongue continued from where she left off in the first half with another trip to the free-throw line. She added another point to her tally.
Gambrinus did not abdicate and started to play better collectively. They hit their guests 10-2 and reduced their deficit to 4 points.
The first 3 minutes of the final period belonged to the guests as they went on a (6-2) run to come to within 3 points of Bourges Basket.
Then the home team went on to win (72-57) to take the first game in the three-match series.
Miyem led the scoring with 19 points while Ndongue and Dumerc scored 17 and 12 points each.
Gambrinus had a better three-point percentage 6-of-11 but still finished 15 points short. Hamchetou Maiga Ba who is well known in the LFB led the scoring with 13 points.
Whitmore and Petra Kulichová also finished in double digits with 12 points each.
The second leg will be shown live on EuroSport 2 and CT4 Sports from the Czech Republic.
---
EuroLeague Womens news from the rest of the games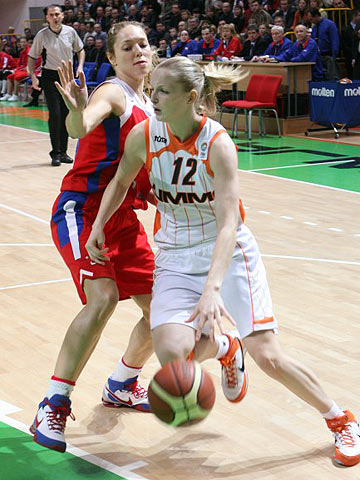 UMMC Ekaterinburg opened the play-off series with a comfortable victory against TEO Vilnius (91-61).

Agnieszka Bibrzycka (left) led the scoring with 21 points. Sandrine Gruda played for 16 minutes and scored 8 points.

UMMC were always in charge and finished their opponents with a 23-5 third-period blitz. Jurgita Streimikyte scored 23 points for TEO.

Spartak Moscow Region had to work hard in overcoming ZVVZ USK Prague (102-86). Sylvia Fowles led the scoring with 27 points and 11 rebounds.

Lauren Jackson also compiled a double-double with 25 points and 14 rebounds. Diana Taurasi also scored 23 points.

Evanthia Maltsi scored 15 points during the first 13 minutes to keep ZVVZ USK in contact early on. She finished the game with 27 points. Lindsay Whalen scored 20 points and dished out 5 assists. Cash Swin has not left the club yet and played for 32 minutes and scored 11 points.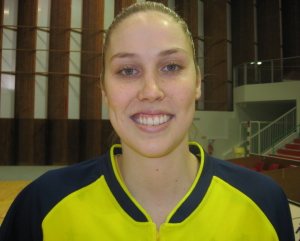 MiZo Pécs 2010 trailed by 3 points with 14 seconds to play but ended up beating Umana Reyer (61-60) thanks to a couple of free-throws by Brooke Queenan at the end of the game.
Nicole Ohlde (right) made a joyful return to EuroLeague basketball action with 17 points and was joined by Dalma Ivanyi as leading scorers.
Halcon Avenida took the lead for good (22-21) after 11 minutes of play through Donnette Snow and held off CSKA Moscow to win (80-69).
Le'Coe Willingham led the scoring with 21 points. However a couple of LFB favourites Gunta Basko and Petra Stampalija chipped in 14 points apiece.
Ilona Korstin led the scoring for CSKA Moscow with 15 points and 7 rebounds. Former French international Edwinge Lawson-Wade scored 7 points.
MKB Euroleasing Sopron won the first match in their series against Wisla Can-Pack Krakow by a comfortable score (81-58).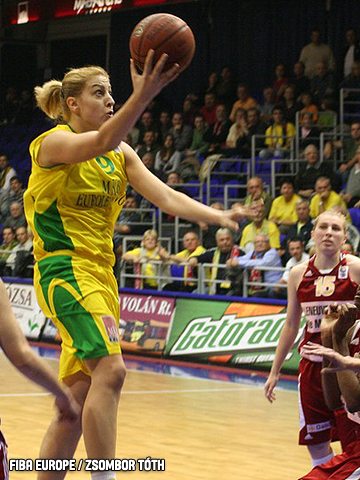 But they had to wait until the second half of the match to gain the upper hand with only a three-point lead (39-36) at the interval.
Once again Jelena Milovanovic (left) topped the scoring with 23 points for the winners.
For Wisla Can-Pack former Bourges Basket and USVO player Slobodanka Maksimovic led the way with 12 points.
Fenerbahce required overtime to beat Polish club side Lotos PKO BP Gdynia (87-83). The hero of the night was Katie Smith with 28 points with 7-of-9 from the field and 11-of-12 from the free-throw line.
Tamika Catchings was on fire for the Polish side and finished with 24 points which included 4-of-6 from the land of many.
Ros Casares stamped their authority in their match against Maxima Broker Kosice early in the first period with a 17-0 run to lead (17-5) and ended the game as a contest by the interval (44-19).
Ros Casares went on to win (98-53) with Candice Wiggins leading the way with 23 points.
---
All the EuroLeague Women 2008-2009 scores from the eighth-final first leg:
Bourges Basket 72-57 Gambrinus
Umana Reyer 60-61 MiZo Pécs 2010
Halcon Avenida 80-69 CSKA Moscow
MKB Euroleasing 81-58 Wisla Can-Pack
UMMC Ekaterinburg 91-61 TEO Vilnius
Spartak Moscow Region 102-86 ZVVZ USK Prague
Ros Casares 98-53 Broker Kosice
Fenerbahce 87-83 LOTOS PKO BP
---
What happened during EuroLeague Women round 10
What happened during EuroLeague Women round 9
Return from EuroLeague Women to Women playing basketball blog
Return EuroLeague Women season 2008-09 Index page
EuroLeague Women picture credits:
womensbasketball-in-france.com
FIBA Europe

Date created: 27 January 2009

---