Home advantage counted in EuroCup Women semi-final first leg
---
---
The EuroCup Women 2009 ended for clubs from the LFB in the eighth-final with the elimination of Tarbes. However French interest in this competition continues with the progress of Italian club side Cras Basket.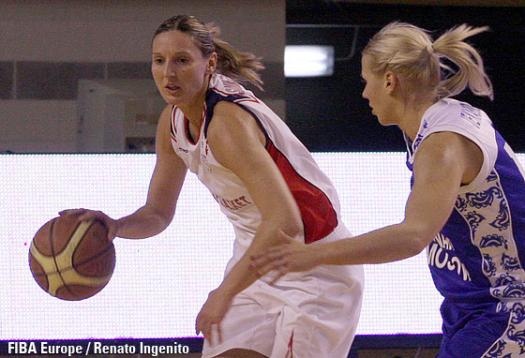 Elodie Godin who played in the very first EuroLeague Women all star game and has played for France at every level. Godin and Audrey Sauret-Gillespie (above) are members of the Italian club side Cras Basket that are leading Dynamo Moscow (76-71).
In a tough match with several lead changes, the home side took the advantage for good with 3:35 to play in the final period after a jump shop from Suzy Batkovic (67-66).
Megan Mahoney led the scoring for Cras Basket with 19 points. Batkovic scored 13 points and was joined in double digits by Michelle Greco with 12 points.
Godin was the player for the match for Cras Basket with 14 points and 9 rebounds. Sauret-Gillespie who has recently recovered from knee surgery contributed 4 points and 2 assists.
For Dynamo Moscow former Bourges Basket player Belinda Snell fired in 23 points which included 3-of-4 from behind the arc. Janell Burse and Anete Jekabsone-Zogota scored 17 and 15 points apiece.
For Natalia Hejkova, the coach of Dynamo Moscow, this was the worst game her team had played. But she thinks that her team should win next week and qualify for the final of the EuroCup Women.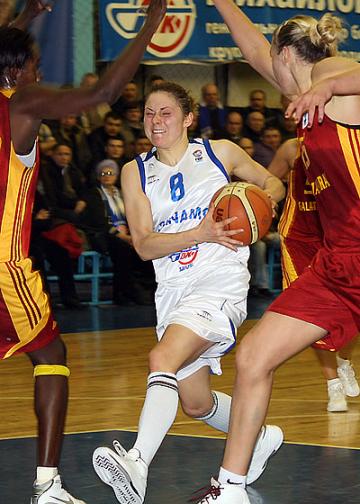 In the other semi-final Dynamo Kursk tried to take a big advantage into the second leg against Galatasaray. They led by as many as 18 points at one stage but had to settle with a 14-point lead (61-47).
Anastasia Fomina and Sandra Valuzyte (right) scored 18 points each in the victory for the home team.
Galatasaray fell in the semi-final last season and will be looking to go one better this year. They had only one player in double digits, Seimone Augustus had 12 points in a bad shooting night with 15-from-47 from the field.
Scores from the first leg:
Cras Basket Taranto 76-71 Dynamo Moscow
Dynamo Kursk 61-47 Galatasaray
The second leg will be played on Thursday, 19 March 2009.
---
EuroCup Basketball quarter-final second leg results
EuroCup Basketball quarter-final first leg results
Return from EuroCup Women summary to Women Playing Basketball blog
Return to EuroCup Women Index page
Picture credits:

FIBA Europe - Renato Ingenito
FIBA Europe
Date created: 13 March 2009

---