EuroCup Women qualifiers held on to first-leg advantage
---
---
the EuroCup Women 2009 semi-finalist held on to their advantage gained from the first leg of their matches.
Galatasaray were eliminated in the semi-final last season by the eventual winners Beretta Famila. They are back again in the last four of this competition.
Galatasaray won the second leg (55-49) against Russian club side Chevakata. Once again the top scorer for Galatasaray was Seimone Augustus with 20 points.
The Russian side, trailing by 14 points after the first leg in Turkey, attempted to destabilise the home side as they opened the game (5-0).
Galatasary woke up slowly and drew level (14-14) by the end of the first period. They took the lead for good during the second period and their overall advantage was never threatened.
Galatasaray won the two-game series (134-114). In the semi-final they will play another Russian side, Dynamo Kurst.
---
Dynamo Kurst won the first match at home against Greek club side Athinaikos BC by 25 points and just held on to qualify for the semi-final despite losing the game (69-89).
However with less than 60 seconds left in the final quarter Athinaikos BC had made up 24 points (87-64) and had the chance to take the lead of the tie.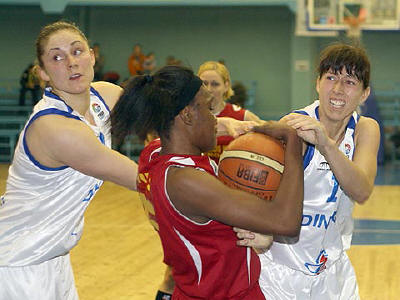 Unfortunately they turned the ball over with about 38 seconds left to play. The chance was gone as the game was played out on the free-throw line.
Dynamo scored 5-of-8 from the charity stripes while Athinaikos only managed 2-of-4 from the free-throw line which left them 5 points short on the aggregate score.
Latoya Davis (left) was the top scorer in the match with 26 points for the Greek side.
---
Dynamo Moscow booked their ticket into the EuroCup Women semi-final after a 35-point victory over the two games against Serbian club side ZKK Hemofarm Vrsac.
Dynamo Moscow led by 27 points after the first game and never allowed ZKK to threaten their advance as they won the second game (73-65).
Cras Basket will meet Dynamo Moscow in the semi-final despite ending up losing the second leg of their series against CB Feve San Jose (60-63).
---
The semi-final games will be played on the 12th and 20th March 2009.
Cras Basket Taranto vs. Dynamo Moscow
Dynamo Kursk vs. Galatasaray

Results of the semi-final:
Dynamo Moscow 73-65 ZKK Hemofarm Vrsac (Dynamo Moscow wins 163-128)
Galatasaray 55-49 Chevakata (Galatasaray wins 134-114)
Athinaikos BC 89-69 Dynamo Kursk (Dynamo Kursk wins 146-141)
CB Feve San Jose 63-60 Cras Basket Taranto (Cras Basket Taranto wins 126-106)
---
EuroCup Basketball quarter-final first leg results
EuroCup Basketball eight final second leg results
Return from EuroCup Women round four summary to Women playing basketball blog
Return to EuroCup Women Index page
EuroCup Women picture credits:

FIBA Europe
Galatasaray Dergisi © Serdar ÇELEBİ
Date created: 26 February 2009

---