22 teams have qualified for EuroCup Women play-off series
---
---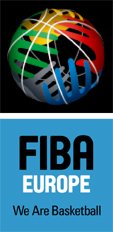 The
FIBA Europe EuroCup Women
is the second inter-continental competition for women playing basketball in Europe.
As a result during the qualification group phase they come second to the EuroLeague Women in terms of interest at this time of the season.
There are 12 groups of 4 teams, with the top 2 from each group and the best 8 third place teams qualifying for the play-off phase.
The teams will be seeded according to the their win loss record and point average to determine the bracket (draw) for the rest of the competition. The top seeds will be drawn against the lower seeds.
The games will be played over two legs based on aggregate score with the second leg played in the hall of the higher seeded team.
As a result of this ruling the teams already qualified are battling for the best ranking position possible.
EuroCup news for clubs in the LFB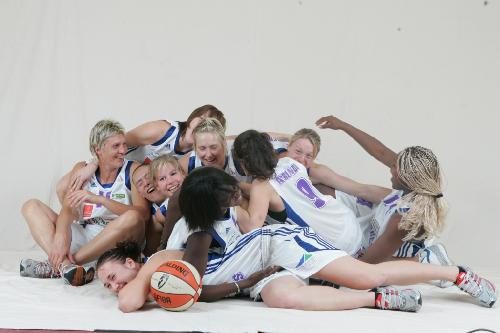 For the French clubs from the LFB Tarbes is the best placed club in the competition. They have won their group and are one of seven clubs yet to drop a game.
They travelled to Spain this week and had a yo-yo battle with Extrugasa. Tarbes dominated the first period (21-9) and appeared to have the game in their control.
They were brought down to earth as their hosts went on a 12- 0 run to reduce the deficit (23-25).
Béatrice Castets ended the riot and Tarbes were back on track with a three-pointer. They managed not to concede any more points and went into the interval leading (32-23).
Both sides had their moments during the third period as they cancelled each other out. Tarbes went into the final quarter with the same advantage (48-39).
Extrugasa made one last charge but only managed to get to within 4 points of their guests (44-48). N'Deye N'Diaye and Isabelle Yacoubou-Dehoui went back on the offensive and Tarbes won (56-51).
Mondeville lost at home to Galatasaray (61-79). Without any pivots they did not stand any chance of beating their opponents.
In the meantime Rankica Sarenca has been signed as medical cover for Nyree Roberts and is expected to play this weekend.
A victory for Mondeville next week should see them qualify for the next phase of the competition.
Challes-les-Eaux lost for the second time and have dropped from first in the group to third. They had one of those games when the ball refuses to drop as they lost (69-54) to Dyanmo Kurst.
Challes have qualified for the next phase of the competition even if they lose next week. They are one of the best teams in third place because of Tarbes beating Extrugasa.
EuroCup Women news from French players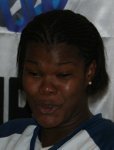 Sandra Dijon (right) played for 23 minutes and scored 9 points as Sporta Klubs Cesis won on the road against KK Zeljeznicar.
Dijon's side are third in their group and like Challes-les-Eaux they have also qualified for the next stage.
Cras Basket had a comfortable victory against Gospic (82-59).
Audrey Sauret-Gillespie scored 9 points and dished out 5 assists while Elodie Godin also scored 9 points in their victory.
Unbeaten teams in EuroCup Women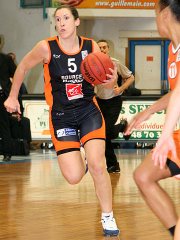 Dynamo Moscow blew away MBK (88-41) with Anete Jekabsone-Zogota leading the way with 17 points. Belinda Snell (left) only played for 15 minutes but scored 11 points.
Ibiza-PDV with Alicia Lopez scoring 20 points beat Kara Trutnov to stay unbeaten in Group H.
Cathy Joen scored 24 points which was not enough as her side Rivasecopolis fell at home to Group C leaders Elitzur Ramla (61-73).
All the same Joen's side have qualified for the next round.
Szeviép's domination of Group D continues as they overcame bottom placed Seat Foton Györ (70-66).
Athinaikos BC from Group E beat last placed Ragusa (81-61). With this defeat Ragusa are already eliminated from the competition.
FIBA Europe EuroCup Women 2008-2009 fifth round results
KSSSE AZS-PWSZ Gorzow 77-74 Municipal Targoviste
Dynamo Moscow 88-41 MBK Ruzomberok

Dynamo Kursk 69-54 Challes-Les-Eaux
Bnot Hasharon 81-91 CSS-LMK SF. Gheorghe

Rivasecopolis 61-73 Elitzur Ramla
Dunav Econt Rousse 56-44 ZKK Crvena Zvezda

Szeviép 70-66 Seat Foton Györ
Solna Vikings 75-73 Université BC Neuchâtel

Ragusa 61-81 Athinaikos BC
Panionios G.S.S. 61-70 CB Feve San Jose

Gospic 59-82 Cras Basket Taranto
K.V. Imperial AEL 71-59 Gran Canaria

USO Mondeville 61-79 Galatasaray
ZKK Buducnost 84-70 AKO Aris Holargou

Baschet ICIM 79-57 Arvi Marijampole
Kara Trutnov 71-83 Ibiza - PDV

Lavezzini Basket 78-68 Ravenna Esperides
KK Zeljeznicar 63-84 SK Cesis

Extrugasa 51-56 Tarbes
Olivais Coimbra 80-63 Pallacanestro Riber

ZKK Hemofarm Vrsac 75-67 Chevakata
Lemminkainen - A.D.V. (To be played 23 November)

BC Star - TLÜ 67-52 Spartak M.R. Noginsk
Botas Spor 74-66 Dexia W Namur

---
EuroCup Basketball round four news
Return from EuroCup Women round four summary to Women playing basketball blog
Return to EuroCup Women Index page
picture credits:
Tarbes Basketball Club
Womensbasketball-in-france.com

FIBA Europe
Date created: 21 November 2008

---