EuroCup Women 2009 preliminary round under way
---
---
The preliminary round of the EuroCup Women 2009 has finally started. This competition is the
second European inter-continental competition
for women playing professional basketball in Europe although some of the clubs are amateurs.
The Ligue Féminine de BasketBall (LFB) are represented by Challes-les-Eaux, Mondeville and Tarbes.
The price for winning this competition is automatic qualification for the EuroLeague Women 2010.
Two wins and one defeat for the clubs from the LFB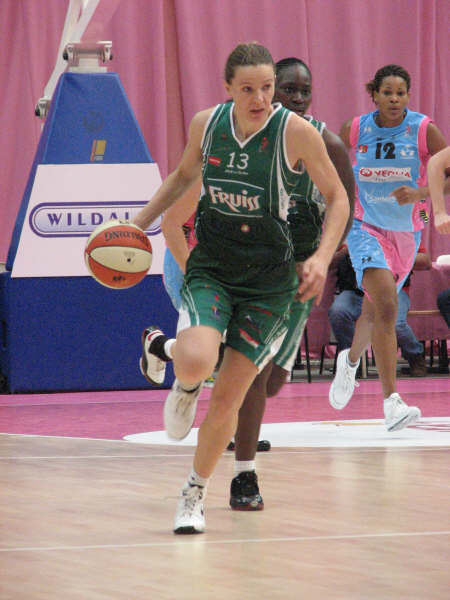 Challes-les-Eaux started their campaign with a trip to BNOT Hasharon in Israel. They won comfortably (81-69).
Once they went in front after two minutes in the first period, they never lost the lead.
Martina Luptokova-Gyurcsi (left) led the scoring with 19 points.
She was joined in double digits by Carly Wilson with 18 and Laina Badiane with 13 points.
Tarbes, the second French club, overpowered their pponents from Portugal Olivais Coimbra (102-59).
Isabelle Yacoubou-Dehoui was the pick of the players with 24 points and 11 rebounds.
On the other hand Mondeville lost at home to a Greek side Ako Aris Holargou (65-71).
Mondeville went into the final quarter leading (58-51) but were unable in the last ten minutes to break their opponent's defense.
They allowed the game to slip away. The only good news for Mondeville is the return of their former coach Hervé Coudray who will take over the reigns of the team for the next LFB match.
---
News from around the groups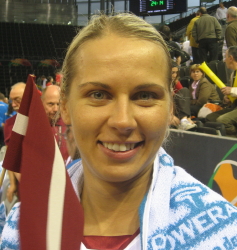 Dynamo Moscow beat Municipal Targoviste (95-59) to get their EuroCup campaign off to a good start.
Anete Jacobson-Zagota (right) scored 12 points and dished out 3 assists for the winners.
But she had to play second to her team mate Marina Kusina who scored 29 points and took 8 rebounds.
K. V. Imperial AE beat Cras Basket Taranto (70-53). French international Elodie Godin scored 12 points and also had 8 rebounds as her side was defeated.
In the all Greek match between Panionios G. S. S. against Athinaikos BC, the latter team won (62-59).
The Spanish club side CB Feve San José won on the road against Ragusa (71-51) with Eshaya Murphy leading the way with 23 points.
Another Spanish club Extrugasa, playing at home, took the victory against Pallacanestro Ribera (81-67) with Sara Gomez scoring a game-high 29 points for the winners.
FIBA Europe EuroCup Women 2008-2009 preliminary first round results

KSSSE AZS-PWSZ Gorzow 82-76 MBK

Dynamo Moscow 95-59 Municipal Targoviste

Dynamo Kursk 88-74 CSS-LMK SF. Gheorghe

Bnot Hasharon 69-81 Challes-Les-Eaux Basket

Rivasecopolis 84-57 ZKK Crvena Zvezda

Dunav Econt Rousse 73-89 Elitzur Ramla

Szeviép 79-51 Université BC Neuchâtel

Solna Vikings 75-71 Seat Foton Györ

Panionios G.S.S. 59-62 Athinaikos BC

Ragusa 51-71 CB Feve San Jose

Gospic 76-64 Gran Canaria

K.V. Imperial AEL 70-53 Cras Basket Taranto

USO Mondeville 65-71 AKO Aris Holargou

ZKK Buducnost 53-89 Galatasaray

Baschet ICIM 61-66 Ibiza - PDV

Kara Trutnov 79-73 Arvi Marijampole

KK Zeljeznicar 53-56 Ravenna Esperides

Lavezzini Basket 79-43 SK Cesis

Olivais Coimbra 59-102 Tarbes GB

Extrugasa 81-67 Pallacanestro Ribera

Lemminkainen 72-94 Chevakata

ZKK Hemofarm Vrsac 100-52 A.D.V.

BC Star - TLÜ 58-88 Dexia W Namur

Botas Spor 74-77 Spartak M.R. Noginsk

---
Return from EuroCup Women round one summary to Women playing basketball blog
Return to EuroCup Women Index page
picture credits: womensbasketball-in-france.com
Date created: 23 October 2008

---