Charleville-Mézières in NF1 basketball news main headline
---
---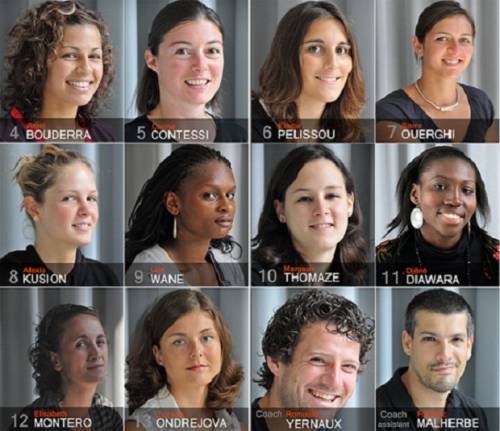 NF1 basketball news: Charleville-Mézières crushed Lyon
Lyon's winning streak finally came to an end at the hands of Charleville-Mézières.
Lyon who had spent last season in NF2 started their winning streak on the 10 May 2008. The last team to beat them was Nantes-Rezé.
Charleville are on a mission this season for direct promotion to NF1 and did not waste much time in taking command against Lyon.
Charleville, playing at home, showed no mercy and led (18-2) after six minutes of play and (29-4) by the end of the first period.
The game was over as a contest by the interval with the hosts leading (41-7).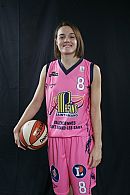 Carinne Contessi leading the way with 20 points.
This is the first time that Pierre Bressan has lost a match as coach of Lyon.
Union Hainaut Basket - Saint Amand, who did not play last week due the CFBB absence, had a tricky road game against Rennes.
However with Clémence Beikes (right)on form (20 points and 5 assists) and Janeka Lopp finding her way to the basket with 17 points, UHB-SA ran out winners (73-65).
Dunkerque are still unbeaten after overcoming Roche Vendée (59-53).
---
---
The SIG lost for the second weekend in a row but this time at home against Tours (TVL)(63-67).
The home team went into the interval leading (32-23) but had a bad third quarter allowing Tours to take advantage (48-44) going into the last quarter.
In the end it was a case of déjà vu for the SIG as they allowed Clarisse M'Paka back to back scores in the closing minutes of the game.
The SIG were then unable to make up the difference.
During her time at Racing Strasbourg M'Paka played alongside three players who have since joined the SIG.
Pleyber-Christ had lost all their road games last season. This season they won their first away match (73-53) against Charnay-Mâçon and made it their second victory in a row.
Naignouma Coulibaly was the star of the game with 20 points and 18 rebounds. She also drew 8 fouls.
Nice are still looking for a victory after losing at home to CSP Rezé (75-81) while US Laveyron beat Voiron (76-60).
Reims' match with the CFBB will be played in November.
All the results from the fourth round of games in 2009-2010 for the Nationale Féminine 1 are listed below:
Nice 75-81 CSP Rezé
Rennes 65-73 Union Hainaut
Charleville-Mézières 74-49 Lyon
Charnay-les-Macons 53-73 Pleyber-Christ
Illkirch-Graffenstaden 63-67 Val de Loire
Dunkerque 59- 53 La Roche-sur-Yon
Laveyron 76-60 Voiron

---
Due to the Open LFB we did not report on the third round of games from NF1.
However here is a brief summary of the main basketball news from that weekend.
Pleyber-Christ had beaten Tolouse at home last season during the third game of the season which at the time was considered an exploit.
This time round Pleyber-Christ beat at home in the third game the SIG (70-66).
Lyon battled hard to beat Rennes (82-71) with 25 points coming from Candyce Sellars. US Laveyron came away with a road victory against Reims (69-58).
Lyon 82-71 Rennes
Voiron 77-60 Nice
Reims 58-69 Laveyron
Pleyber-Christ 70-66 Illkirch Graffenstaden
Val de Loire 40-76 Charleville Mezieres
Reze 74-81 Dunkerque
La Roche-sur-Yon 86-62 Charnay-les-Macons
Union Hainaut - CFBB (postponed for the 2 December)
---
Week 2: NF1 basketball patterns are already in place
Return from NF1 Amateur Basketball news to the Nationale Féminine 1 index page
Return from NF1 Basketball news to women playing basketball blog page
NF1 basketball picture credits:

Ligue Féminin de basketball
CFBB
Reims Basket Féminin
Date: 05 October 2009

---