NF1 basketball patterns are already in place
---
---
Pre-season NF1 basketball title contender favourites Union Hainaut Basket Saint Amand, Illkirch-Graffenstaden and Charleville-Mézières notched up their second victory.
Dunkerque, Lyon and Rennes also remain unbeaten to set up a six-way tie for first place.
Six teams are yet to register a victory with Pleyber-Christ holding up the table with a 67-point difference.
What happened during the second weekend of NF1 basketball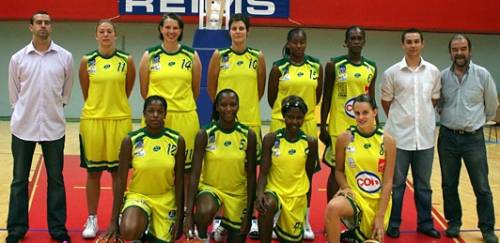 Reims Basket Féminin (above) recorded their first victory of the season on the road by beating Nice BC 06 (82-72).
Fatou Dieng was the hero of the evening for Reims with 32 points which included a perfect (16 from 16) from the free-throw line.
Olga Tarasenko, the head coach from Nice, should de disappointed with the defeat because her team won the battle of the rebounds (39-19) with a total of 23 offensive rebounds.
They also had less turnovers and more assists.
However they committed 31 fouls and gave Reims 35 trips to the free-throw line. Reims hit 31 from 35 attempts which enabled them to stay in front for most of the match.
Barbara Cousin led the Nice offensive with 16 points followed by Laura Desert with 15 points.
Last season the SIG lost both encounters against Roche Vendée but have finally added another line to the NF1 exploits by winning (68-65) and recording their first official victory against the team from Roche-sur-Yon.
Once again Céline Schmitt-Sendner was the leading scorer with 18 points and 10 rebounds. Lina Brazdeïkyte added 13 points while Darline N'Soki and Charline Servage contributed 10 points each.
Charleville-Mézières found a place to host their game and showed no mercy against Pleyber-Christ to win (81-44).
Dunkerque held off Voiron in an entertaining game (71-63) with Marianne Dia collecting 21 rebounds.
Their style of shooting from beyond the arc did not help them as they fell (79-52) to Lyon despite 16 points from Eléonore Grossemy and Adja Konteh (left).

Rennes continue their series by beating Tours (TVL) (86-65) with Lorraine Lokoka leading the scoring with 18 points.

Charnay-Macon's first half dominance enabled them to hold off CSP Rezé (73-62) to win their first home game of the season.



Clémence Beikes, (right) who is the captain of UHBSA, once again led by example with 19 points.

She also pulled down 10 rebounds, drew 7 fouls and made 6 steals. Furthermore Beikes had 6 assists but cancelled this out with 7 turnovers.

Once Union took control midway through the first period (12-8), US Laveyron were on the back foot and not able to claw themselves back.

All the results from the SECOND round of games in 2009-2010 for the Nationale Féminine 1 are listed below:

Illkirch-Graffenstaden 68-65 Roche Vendée
Charnay-Macon 73-62 CSP Rezé
Dunkerque 71-63 Voiron
Nice BC 72-82 Reims
CFBB 52-79 Lyon
US Laveyron 55-74 Hainaut
Rennes 86-65 Tours (TVL)


Charleville Mézières 81-44 Pleyber-Christ
---
Week 1: NF1 basketball is back without any fireworks
Return from NF1 Amateur Basketball Nationale Féminine 1 to index page
Return from NF1 Basketball news to women playing basketball blog page
NF1 basketball picture credits:

Ligue Féminin de basketball
CFBB
Reims Basket Féminin
Date: 21 September 2009

---