Basketball news: Is Marina Puskar signing with Limoges ?
---
---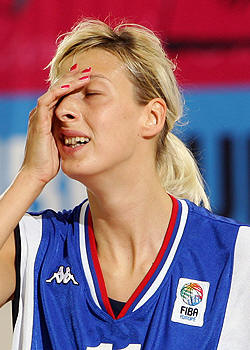 Limoges' injury and roster problems have filled the basketball news section of the regional newspaper for several weeks.
The club invited Serbian international Marina Puskar for a try-out at the beginning of this week. She returned home after three training sessions with the team.
The 1.93m (6'4") power forward has the profile the club is looking for as a direct replacement for Laima Rickeviciute.
Puskar had suffered a knee injury in December of 2007 and recovered in time to play with the Serbia national team at EuroBasket Women 2009.
However since the start of the 2009-2010 season she has been out of contract and has not been playing competitive basketball.
Her lack of match fitness is the main reason for the two parties to be unable to make an official decision of whether or not she is joining the club.
Puska had played in the Ligue Féminine de Basketball with USO Mondeville during the 2004-2005 season. She had spent the next three seasons playing for several clubs in Italy.
After recovering from injury in March, 2009 she played just two competitive games for Crvena Zvezda in Serbia before joining the national team.
---
Return from Basketball News to Ligue Féminine de BasketBall index
Return to "what's new" - WBBiF page
Return to women playing basketball in France home page
Picture credits:

FIBA Europe

Date: 15 January 2010

---
---