LFB basketball news: Limoges, looking for players
---
---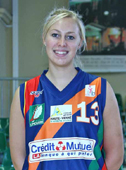 Basketball news: Laima Rickeviciute time in France is over for now
Laima Rickeviciute
's time in the LFB for this season is officially over.
An agreement was reached and she was able to leave the club in December. In her 13 games for the club she averaged 6.1 points and 3.7 rebounds.
Limoges have until 20 February 2010 to sign a replacement.
In the meantime, the club is thinking about a medical replacement for Awa Gueye who is recovering from a knee injury. She is not expected to be fully recovered until mid February.
Limoges are the only team in the LFB without a victory this season. They are hoping that things will change for them in 2010.
---
Return from Basketball News to Ligue Féminine de BasketBall index
Return to "what's new" - WBBiF page
Return to women playing basketball in France home page
Picture credits:
Limoges ABC

Date: 4 January 2010

---
---