Pauline Akonga-Nsimba's 32 points is enough basketball news for one evening
---
---
For a club without a website, Arras are doing well in the basketball news department. They have established a club
Ligue Féminine de BasketBall
record with five consecutive wins and they are joint first after five rounds of game.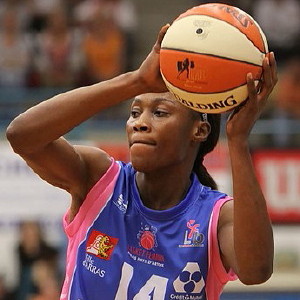 Pauline Akonga-Nsimba (left) fired in 32 points as Arras dominated Mondeville (78-60) for their road victory of the season.
Tarbes have also been impressive this season and they cruised past Challes-les-Eaux (96-60) to remain unbeaten. Arras will welcome Tarbes this weekend for the big match in round 6.
If a LFB player of the month award existed then Jolene Anderson would be in the running. She once again led the Villeneuve d'Ascq offensive as they beat Basket Landes (75-58).
COB Calais won the north derby against Armentières (72-49). In the rest of the action Nantes-Rezé fell at home (54-57) to Lattes Montpellier and Limoges ABC also fell at home (52-79) to Toulouse.
The match Aix-en-Provence (62-56) Bourges Basket was played last week.
You can read brief basket ball news highlights from each game and retrieve the game statistics by clicking on the links below or by scrolling down the page:


1. USO Mondeville (60-78) Arras

2. Cob Calais (72-49) Armentières

3. Limoges ABC (52-79) Toulouse

4. Nantes Rezé (54-67) Lattes Montpellier

5. Tarbes (96-60) Challes-les-Eaux

6. Villeneuve (75-58) Basket Landes

---
Arras are playing basketball
Since the start of the season Arras have not managed to stay out of the basketball news. They won for the first time at the Open LFB in round 1.
They followed this up with overtime victories in round 2 and 3. Last weekend they stepped on the accelerator as they pushed aside Aix-en-Provence.
The expectation was that the game against their hosts Mondeville would go to the wire. Well once again Arras tore up the script. With Pauline Akonga-Nsimbo firing in 32 points the game did not live up to its billing.
The game was close for the first five minutes (8-8). However foul problems for Valeriya Berezhynska with 3 and Aurélie Bonnan with 2 during the first quarter was exploited by Arras.
By the end of the first period Arras led (20-12) with 11 points coming from Akonga-Nsimbo.
Mondeville were never able to get into the match despite having better luck from beyond the arc then their guests they went into the locker room trailing (28-37).
Caroline Aubert tried to get her team going in the third quarter. Yet with Lenae Williams not having any luck in scoring, Arras were able to stretch their lead (52-33) with 27 minutes played.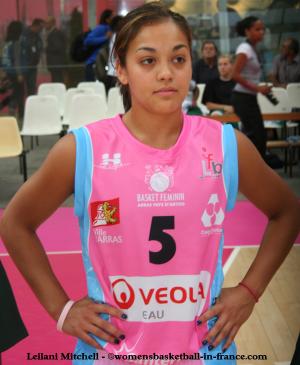 The major problem for Mondeville Akonga-Nsimbo whom they did not know how to stop. When they found a way then they allowed Leilani Mitchell (right)and Johanne Gomis free trips to the free-throw line.
Although Arras went into the final quarter leading (54-39) it was not possible to write off Mondeville who are known for final quarter heroics.
However 2 quick points by Olesia (Oleysa) Malashenko and some time later a trey from Gomis put Arras firmly in control.
The knock-out blow came with a hustle and steam from Mitchell who then found Sarah Michel to score. This gave Arras a 22-point lead with eight minutes to play (61-39).
The game fizzled out as a contest as both sides traded baskets regularly with almost everybody getting some playtime. Arras finished winning (78-60).
In addition to her 32 points Akonga-Nsimbo also took 11 rebounds. Mitchell who is the captain of the team and plays in the WNBA for New York Liberty finished with a double-double of 10 points and 10 rebounds and 4 steals.
Gomis fired in 13 points while Marielle Amant contributed 9 points and captured 11 rebounds.
For Mondeville Valeriya Berezhynska led the attack with 17 points. Aija Putnina and Williams scored 13 and 10 points each.
Basketball news report Box Score 
---
COB Calais spoilt Mia Fisher's début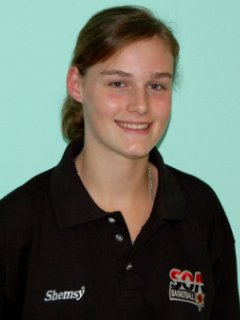 The basketball news from Armentières was bleak with the announcement that Virginie Bremont (left) would be out for a least three weeks with a sprained ankle. So she was not available to play against her former club Cob Calais. However Mia Fisher had arrived and was cleared to play.
The first quarter was fast and hectic. But both sides were having a poor time shooting. Jennifer Humphrey opened the scoring from the free-throw line for the hosts. However Armentières went into the lead shortly after with a trey fromMélissa Micaletto.
Fisher was soon in the action and got her first points from the free-throw line after drawing her former team-mate Anne-Sophie Pagnier into fouling her.
A three-pointer by Gaëtane Merlot enabled Armentières to hold a 5-point advantage (8-3) up to the midway point in the first quarter.
After a trey by Pagnier, Calais then used their height well in the paint to gain the lead and won the first quarter (14-13) thanks to a last basket from Elisabeth Egnell.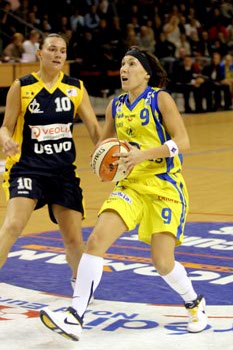 Strong rebounding by Lauren Neaves and excellent shooting from Aurélie Cibert (right) allowed Calais to go into the locker room leading (29-25).
Calais changed defensive systems after the break. With fast breaks and good transition play they went 8 points clear (35-27) with three minutes played in the quarter.
Armentières struggled offensively and failed to score for the last five minutes of the quarter allowing Calais a 9-0 run to go into the final quarter leading (48-33).
Calais ended the game as a contest within the first minute of the final quarter with 4 quick points (52-33).
Although Fisher finally ended the seven-minute barren spell, Calais was not troubled for the rest of the quarter and stretched their lead to 30 points (72-42).
The last minute of the game belonged to the guest as they finished with a 7-point flourish with Fisher's first trey in the LFB on the buzzer.
Humphrey led the Calais attack with 17 points and 10 rebounds while Pagnier fired in 16 points (4-of-9 from beyond the arc).
Cibert and Engell also finished in double digits with 14 and 11 points each. Neaves scored 9 points, collected 12 rebounds and made 4 blocks.
For Armentières Fisher was the main player with 21 points, 4 steals, 2 assists and 4 rebounds.
Basketball news report Box Score
---
---
Limoges are struggling to make an impact in the LFB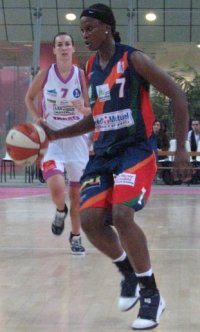 Awe Gueye
's (right) return from leading Senegal to the AfroBasket 2009 title was the good news. But once again there were bad basketball news for Limoges in terms of injury.
Johanna Tayeau went down badly with a suspected sprain during the match and should be out of action for some time.
Limoges once again kept it close during the first period before falling away during the second period to trail (29-38) at the interval to Toulouse.
Toulouse went all out during the third period and moved 15 points clear with 25 minutes played (54-39). They did not allow their hosts any chance of coming back.
For Limoges Erica Davis battling in the paint came to nothing as she was penalised for fouls and eventually fouled out of the game alongside Anaïs Jomby.
The match winner for Toulouse was Agathe N'Nindjem-Yolemp with 22 points and 14 rebounds.
Katarina Fikiel and Emmanuelle Hermouet scored 14 points each while Leah Metcalf finished on 13.
For the hosts Gueye was the best player with 18 points which included 3-of-3 from beyond the arc.
Basketball news report Box Score
---
Nantes have to work harder
Lindsay Taylor finished the game with 15 points of which 9 points came during the first quarter. This has been the pattern of Nantes this season. They get the ball to Taylor early and see what she can do.
Montpellier did the damage in the first 10 minutes as they went on a 12-0 run to lead (18-4) with seven minutes played. Kathleen MacLeod with her only field goad ended Montpellier's run.
Then Taylor continued her battle against the giants of Montpellier as Nantes closed the gap by the end of the first period (14-22).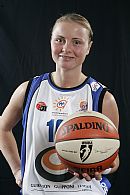 Mame-Marie Sy-Diop made her entrance at the start of the second period and made her presence felt almost immediately with a block on Sandra Dijon-Gérardin.
She soon scored her first points and then won a defensive rebound to launch a fast break that led to MacLeod scoring her last points of the game from the free-throw line (21-25) with two minutes played in the second period.
This was as close as Nantes could get before Pauline Krawczyk (left) from Montpellier started to cause mayhem at both ends of the court as her side moved 9 points clear (36-29).
Taylor was on hand to score the final points of the quarter. But it was her block on Gaëlle Skrela that got the home fans excited.Montpellier went into the locker room leading (36-31).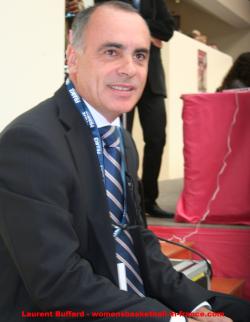 Both teams played very defensively at the start of the second half. Scoring became more difficult and Laurent Buffard (right) decided to call a time-out with his side trailing (34-43) with six minutes remaining in the quarter.
There was no improvement after the time-out for Nantes-Rezé with the only points scored from Krawczyk for Montpellier (47-35).
Nantes just managed 1 point from the free-throw line by the end of the period. They started the final quarter trailing (36-50).
For the neutrals the final quarter was exciting as both sides traded basket for basket. But for the home fans it was difficult to watch as Nantes stugglled to bring down the deficit.
However a trey by Yuliya Andreyeva with just over a minute to play (54-63) gave the home fans a glimmer of hope. Yet second later the player of the match Krawczyk with 2 points for Montpellier put an end to that.
Montpellier won the game (67-54) with three players in double digits. Krawczyk led the scoring with 20 points while Skrela added 15 and Dijon-Gérarddin compield a double-double 12 points and 13 rebounds.
For Nantes Taylor led the scoring with 15 points and 11 rebounds while Sy-Diop added 10 points.
Basketball news Box Score 
---
---
Tarbes were in a hurry: is that basketball news ?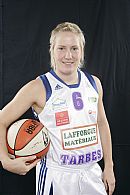 Tarbes were in impressive form during the first 20 minutes. Frida Eldebrink (left) was 6 from 7 from beyond the arc at the interval with 18 points.
Isabelle Yacoubou-Dehoui hit 7-from-8 from the field and Charde Houston was 4-from-4 from the field.
Tarbes hit 70% of their shots during the first half of their game against Challes-les-Eaux and led (59-33) at the interval.
Tarbes were less perfect during the second half of the game. However they had ended the game as a contest by the end of third period leading (77-42).
Elderbrink finished as the leading scorer with 23 points as Tarbes won (96-60). Yacoubou-Dehoui (right) fired in 21 points while Houston finished on 16 points.
For Challes-les-Eaux Magali Lacroix led the scoring with 17 points.Basketball news Box Score;
Tarbes and Arras will play each other this weekend in a game that will be in all the basketball news journals in France. 
---
Villeneuve d'Ascq waited for the third period
Villeneuve had to wait until the second half of the match to put away their guests from Landes who were leading at the interval (34-36).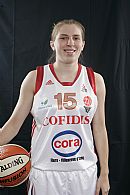 It took almost 26 minutes for Villeneuve d'Ascq to take the lead for good in the game with a couple of free-throws from Jolene Anderson (left) (41-40).
90 seconds later after a couple of treys from Emilie Gomis and 2 points from Anderson (49-42) Villeneuve were in control and did not allow Basket Landes back into the game.
Anderson hit the shot of the night from way behind the three-point line and beat the 24-second violation buzzer that started a 9-0 run to finish the quarter with a 13-point lead (59-46).
Villeneuve were never in trouble and led by as many as 19 points before setting for a 17-point victory (75-58) with Anderson scoring the last points of the game.
Anderson finished with a double-double 23 points, 11 rebounds and 5 assists while Lady Comfort put in 18 points. Gomis was the only other player in double digits with 11 points.
Ana Perovic led the scoring for Basket Landes with 16 points. Julie Barennes added 15 and Sabrina Reghaïssia scored 10 points.
Basketball news Box Score
---
Return from LFB basketball news to Ligue Féminine de BasketBall index
Return to "what new" - WBBiF page
Return to women playing basketball in France home page
Week four basketball news: Arras, Mondeville and Tarbes remain unbeaten
Basketball news picture credits:

womensbasketball-in-france.com
Olivier Martin
Cob Calais
SO Armentières
Ligue Féminine de BasketBall (LFB)
Date: 22 October 2009

---