Bourges Basket losing is always basketball news
---
---
The main basketball news from the LFB in round three is the defeat of
Bourges Basket
at home to Arras (81-84) in overtime.
Arras are only the third LFB club side to win at the Prado since 2005. By clicking the following link you can read our match report and retrieve the game statistics.
Elsewhere in the Ligue Féminine de BasketBall there was plenty of drama. Aix-en-Provence went down at home to Armentières (64-70) while Challes-les-Eaux also fell at home (53-58) to Basket Landes.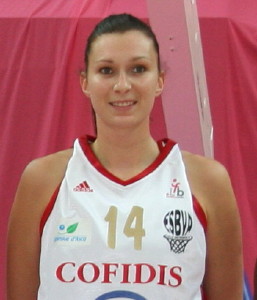 Mondeville remain unbeaten after a strong second- and third-quarter performance against Limoges (77-58).
Tarbes continue to hit big as they beat Toulouse (94-56) with Charde Houston once again stealing the honours with 22 points and 9 rebounds.
Villeneuve d'Ascq had to work hard in stopping Nantes-Rezé (77-72). Elodie Bertal (left) and Jolene Anderson combined for a total of 40 points for the winners.
Montpellier waited until the third quarter before stepping on the accelerator to win on the road against Calais (73-51).
You can read brief highlights from each game and retrieve the game statistics by clicking on the links below or by scrolling down the page:


1. Challes-les-Eaux 53-58 Basket Landes

2. Bourges Basket 81-84 Arras

3. Villeneuve d'Ascq 77-72 Nantes-Rezé

4. COB Calais 51-73 Lattes Montpellier

5. USO Mondeville 77-58 Limoges ABC

6. Aix-en-Provence 64-70 SO Armentières

7. Tarbes 94-56 Toulouse

---
---
Basket Landes surprised Challes-les-Eaux
The basketball news for Basket Landes was not good this week with the information that the season for
Amélie Pochet
was over with cruciate ligament damage.
Sabrina Reghaissïa scored first for Basket Landes during a tense opening phase.
Neither team was able to find their mark and only 6 points were scored in the first five minutes with Anäis Le Gluher and Reghaïssia for Basket Landes to lead (6-0).
Stéphanie Dubois finally scored for Challes.
But a trey by Le Gluher set Basket Landes on their way as they dominated the first quarter to lead (14-9).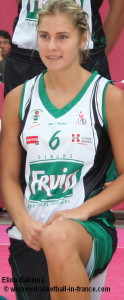 Challes-les-Eaux drew level (16-16) after 7 straight points by Elina Babkina (left) with 15 minutes played.
Basket Landes then went on the offensive once more and scored 9 straight points.
They maintained this margin as they went into the locker room ahead (30-21).
For the rest of the match Challes chased after the score but were unable to get within 5 points of their guests.
Le Gluher finished the match with 20 points and Reghaïssia added 16 points as Landes won their first match of the season (58-53) with Bulgarian international Ekaterina Dimitrova dishing out 5 assists.
Babkina led the home attack with 11 points and Kirby Copeland scored 10 points and handed out 7 assists.
Basketball news game report Box Score
---
Arras winning again in overtime
For the second weekend in a row Arras required overtime to win. You can find the the full game report here.
Basketball news game report Box Score
---
---
Villeneuve d'Ascq held on to beat Nantes-Rezé
Villeneuve d'Ascq went into the final quarter leading by 13 points. Yet they had to weather a strong fight back from Nantes-Rezé for the victory.
Nantes only held the lead once in the game for about 30 seconds in the first period. They trailed by as many as 19 points at one stage in the game.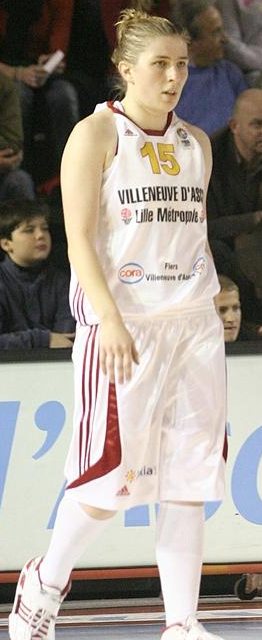 However with back to back three-pointers by Kathleen MacLeod and Lindsay Taylor (right below), Villeneuve's advantage was just 4 points (69-65).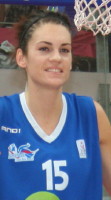 Ingrid Tanqueray ended the Nantes sequence and fired in a three-pointer for Villeneuve.
By the time Jolene Anderson (right) fired in her 18th point of the game with just under a minute to play (75-69) it appeared that Villeneuve had the game won.
However Mélanie Plust fired in a shot from down-town.
Then Doriane Tahane had the chance o make it a 1-point game but she missed both her free-throws and the chance of Nantes pulling off an upset was gone.
Laurie Datchy scored the last points of the game from the free-throw line to secure the victory of the hosts.
Elodie Bertal led the Villeneuve attack with 22 points while Anderson followed up with 18 points which included 4-of-9 from beyond the arc.
For Nantes-Rezé Taylor finished with 25 points and was 2-of-5 from beyond the arc. MacLeod also went 2-from-5 from beyond the arc, scored 20 points and had 4 assists.
Basketball news game report Box Score
---
Montpellier waited until the third quarter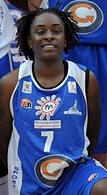 After an evenly contested first half Montpellier and
Constance Jinks
(left) went all out from the start of the third quarter.
Jinks scored 9 of her team's first 11 points of the quarter as they regained the lead (43-38) with six minutes left to play in the quarter.
Lauren Neaves was not having one of her better games. But she still caused problems for Montpellier as Calais managed to keep in touch (42-46) after Elisabeth Egnell found a way to score.
Calais failed to score in the last two minutes of the quarter and allowed their guests a free run of 8 points to take a 12-point lead into the final period.
Calais' foul problems and the absence of Anne-Sophie Pagnier and Elsa Martin left them handicapped as Montpellier finished with a flourish to win comfortably (73-51).
Gäelle Skrela led the Montpellier attack with 15 points, while Jinks contributed 14 points. Pauline Krawczyk added 13 points.
Jennifer Humphrey was the only player from Calais in double digits with 14 points.
Basketball news game report Box Score
---
Mondeville not the same without Williams
Limoges once again displayed that they are a good team during the first quarter. They now have to find a solution for the rest of the game. With Awe Gueye away on international duty Limoges are short of one player.
Mondeville played without Lenae Williams which opened the door for Fanny Cavallo to start the match. She took the opportunity and scored the first points of the game.
Mondeville quickly opened up a lead (11-2) with less than four minutes played.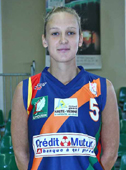 Erica Davis battled for Limoges. But it was back to back three-pointers by Maryska Kowalik (left) that brought Limoges back into the game.
Mondeville lost their concentration and struggled for the rest of the quarter. With back to back scores from Davis the two teams were tied (21-21) after the first quarter.
Mondeville regained control of the game during the second period. Yet they were stopped from running away with the game by Johanna Tayeau and Kowalik.
All the same Mondeville went into the locker room leading (40-34).
Mondeville were never in trouble for the rest of the game and slowly stretched their lead to win (77-58).
Valeriya Berezhynska led the Mondeville attack with 17 points, while Caroline Aubert, Aurélie Bonnan and Aija Putnina all scored 13 points.
Davis led the Limoges attack with 17 points while Kowalik finished with 11 points.
Basketball news game report Box Score
---
---
SO Armentières are learning quickly
Aix-en-Provence were aggressive right from the tip-off.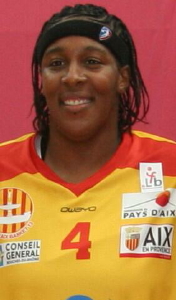 Julia Page won the jump ball and Tiffany Stansbury (left) was soon in action at the offensive end. However she missed her attempt but she won her own rebound to recycle the ball.
Aix kept control of the ball and despite Anaïs Déas' shot missing the target, they finally opened the scoring through Claudia Das Neves.
Aix celebrated their first points too quickly as Virginie Bremont replied almost immediately for Armentières.Aix went then on a 8-0 run to open the first lead of the game (10-2) with six minutes played.
Cora Duval started the Amrentières comeback by winning a defensive rebound and then start an offensive attack.
The ball reached the hands of Bremont who then fed it to Gaëtane Merlot who then hit a three-pointer.
The tempo of the game changed after this action. Despite Aix wining the first quarter (22-15) the pendulum swung in the favour of the guests.
The second quarter was very tactical and Aix led by as many as 11 points at one stage. They just held on to the lead at the interval (37-33).
Bremont scored 7 points and dished out 2 assists as Armentières took the lead for the first time in the game (46-45) with 26 minutes played.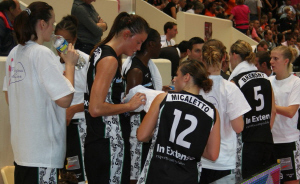 Mélissa Micaletto added another three-pointer to increase her side's advantage to go into the final quarter leading by a single point (52-51).
The lead changed hands six times during the final quarter. It was a free-throw by Marie-Frédérique Ayissi with 90 seconds left in the game that put Armentières in the lead for good.
Aix continued to turn the ball over and Armentières' lead grew to 7 points before dropping to the final 6 points (70-64).
The basketball news headline in Armentières should read "historical first victory in the Ligue Féminine de Basket".
Bremont led the scoring with 18 points and 5 assists. Anda Nedovic added 17 points and Merlot finished on 11 points.
Mendy fired in 15 points for Aix, while Stansbury added 12 points. Ivona Matic and Sabrina Palie scored 11 points each.
Basketball news game report Box Score
---
Nothing stopping Tarbes
Tarbes take their time to get going and this match was no different.
Toulouse led (7-2) after two minutes and then trailed (7-14) with just under five minutes played.
Tarbes led by as many as 10 points and ended the first quarter with a 12-point advantage (28-16).
Tarbes' lead grew in every quarter as the game turned into a demonstration. All the players from Tarbes who scored shot above 50% as they won easily (94-56).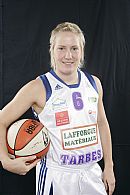 Charde Houston once again was the best player on the court with 22 points and 9 rebounds.
Frida Eldebrink (right) scored 18 points which included 4-of-7 from beyond the arc.
Anne Breitreiner, Fatimatou Sacko and Isabelle Yacoubou-Dehoui scored 11 points each.
Leah Metcalf and Emmanuelle Hermouet scored 12 and 11 points apiece for Toulouse.
Basketball news game report Box Score
---
Return from Basketball News to Ligue Féminine de BasketBall index
Return to "what new" - WBBiF page
Return to women playing basketball in France home page
Read all the news from the second round LFB matches
Basketball news picture credits:

womensbasketball-in-france.com
Ann Dee
Limoges ABC

Date: 11 October 2009

---
---