Arras should still be in the basketball news this weekend after their efforts against Tarbes in the sixth round of games in the Ligue Féminine de Basket 2009-2010.
Tarbes ended up winning the game (85-84) in a match that went to the wire.
Houston has been in all the basket news from the beginning of the season because of her shooting percentage.
She led her team in scoring with 24 points (64% field goal percentage). But it was her final quarter performance that swung the match in her side's favour.
Yet this was not enough as her team fell on the very last play of the game.
This match is a good preparation for Tarbes' participation in the EuroLeague as they were forced for the first time this season to play to their full potential.
Anne Breitreiner was 5-of-6 from beyond the arc.
Isabelle Yacoubou-Dehoui with 18 points and 12 rebounds is back to her best. Not forgetting Frida Eldebrink and Isis Arrondo who are coming up game after game with big shots when required.
With this win Tarbes are now alone on top of the LFB and will be the focus of LFB basketball news in the coming weeks.
---
LFB basketball news game report
Tarbes taken to the wire by Arras
No time for pleasantries and observation, as both teams went on the attack from the jump ball. Isabelle Yacoubou-Dehoui won the jump ball and Tarbes set up the first attack.
Charde Houston from Tarbes was fouled by Pauline Akonga-Nsimbo on her first drive to the basket. Houston scored both free-throws to open the scoring.
Akonga-Nsimbo then tried to make amends immediately for her foul on the next attack but was blocked by Yacoubou-Dehoui.
Akonga-Nsimbo is not a lady to be put off. Moments later she got herself to the free-throw line after forcing Houston to foul her. She hit the free-throw and both teams were level (2-2) with just 40 seconds played.
The pace dropped slightly after the flying start. But Houston and Akonga-Nsimbo continued their private battle scoring all the points for their sides with Tarbes leading (7-4).
Tarbes had the better of the early exchange. When Anne Breitreiner (left) hit a trey for Tarbes to move 6 points clear (12-6) it appeared that Tarbes would take control.
However Leilani Mitchell had other ideas and scored back to back baskets as Arras stayed in contention.
Arras led briefly but a second trey from Breitreiner restored the advantage for the home side.
The pace of the game picked up and Arras were on level terms shortly again with a couple of free-throws by Mitchell (21-21).
Isis Arrondo and Yacoubou-Dehoui restored home advantage with back to back scores for Tarbes to lead (25-21) at the end of the first period.
Mitchell fired in a trey from down-down to get things going in the second period.
The two teams continued playing quickly and taking shots from distance as they struggled to get anything going inside the paint.
Bruno Blier, the coach from Arras, was getting worried after his side missed three shots in a row. He decided to call for a time-out as they were trailing (32-36).
Whatever he said to his players did not work immediately because Houston was again left unmarked.
She fired in a jump shot from the free-throw line arc for her 11th point of the game with just under five minutes left in the quarter for Tarbes to lead by 6 points (38-32).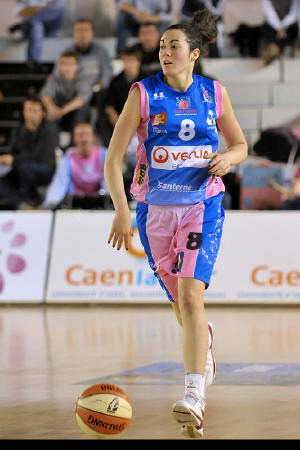 Sarah Michel (right) started the Arras revival as she found her way into the paint to lay up and pick up a foul as Frida Eldebrink went for the block.
Michel did not make it a three-point play but Arras were beginning to win the duals. A split second of carelessness by Breitreiner was punished immediately with Mitchell wining the ball and passing to Johanne Gomis to score.
Arras continued to press and Marielle Amant got into the paint to lay up. Houston then lost the ball to Mitchell who then found Gomis with the perfect pass.
Gomis did not waste the chance and hit a three-pointer for Arras to take the lead (41-40).
Arras held on to the lead and went into the interval leading (43-42).
By half time, Mitchell led the Arras attack with 13 points. She also had 4 steals and 5 assists. Yacoubou-Dehoui led the home attack with 14 points while Houston scored 11 points.
Tarbes returned from the locker room more aggressive and were back in front with 40 seconds with a trey from Breitreiner. They appeared to be back in control with a basket by Houston (49-45) with 90 seconds played in the third period.
Arras did not waste any turnover situations. Within a minute they were back on level terms and eventually regained the lead (51-49) with 2 more points from Mitchell.
The two teams started to play cat and mouse as they traded basket for basket for the rest of the quarter with the lead changing several times. Neither side was able to get a run going and the notion of defense was forgotten.
Tarbes led (62-60) after 28 minutes. Then they allowed Arras to finish the quarter with 7 unanswered points starting with a trey from Gomis and concluded by scores from Olesia Malashenko and Hanna Bouldwin-Biernacka (67-62).
A couple of free-throws by Amant at the start of the final period gave Arras their largest lead of the game (69-62) with 91/2 minutes left to play.
Yacoubou-Dehoui and Houston immediately stepped up and threw themselves into the battle as Tarbes had no choice but to chase the game.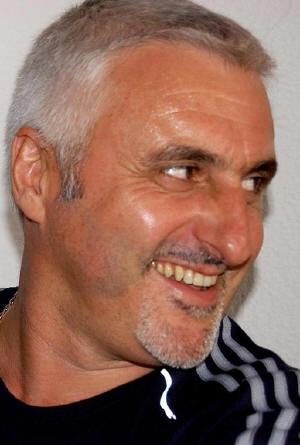 François Gomez (left) from Tarbes made some tactical substitution which stopped Arras and in particular Akonga-Nsimbo getting into the paint.
In the meantime Houston continued her one-woman demolition act on the offensive end. This also resulted in Akonga-Nsimbo fouling out for Arras with 6 ½ minutes left to play.
However Arras still led (71-68) with five minutes remaining. But a 17-metres jump shot from the top of the key by Florence Lepron for Tarbes led to Blier to call for a time-out with 4:38 left to play in the game.
Malshenko ended the Arras barren spell. However Tarbes were back on level terms (73-73) with Houston scoring and drawing a foul for a three-point play with four minutes left to play.
Mitchell who had been quiet in the final quarter was left open on the baseline and buried a three-pointer for Arras to regain the advantage.
Amant added a couple more points for Arras before Eldebrink fired in a shot for Tarbes from beyond the arc. Arras still led (80-76) as the game went into money-time.
Tarbes could not find a way into the paint. So they went outside with treys from Arrondo and Breitreiner and took the lead (84-82) with less than 20 seconds to play.
Arras used a time-out which enabled them to restart at mid-court. Mitchell found Amant in the paint to score in order to bring the teams level (84-84) with about four seconds left to play.
The end was messy. Gomis picked up a foul on Eldebrink that allowed her two-free-throws. Eldebrink missed the first and scored the second one to secure the victory (85-84).
Basketball news game report Box Score
Game roster:

Tarbes: Charde Houston (24), Anne Breitreiner(15), Frida Eldebrink (10), Pauline Jannault (0), Isis Arrondo (7 points and 5 assists), Naura El Gargati (DNP), Florence Lepron (2), Béatrice Castets (3), Fatimatou Sacko (6), Isabelle Yacoubou-Déhoui (18 points and 12 rebounds)
Arras: Julie Bertin (DNP), Leilani Mitchell (21 points, 4 steals and 8 assists), Princesse Goubo (0), Sarah Michel (8), Johanne Gomis (10), Olesia Malashenko (10), Hanna Bouldwin-Biernacka (2), Marielle Amant (16), Pauline Akonga-Nsimbo (17 points and 10 rebounds)
---
Read all the basketball news from round 5
Return from Basketball News to Ligue Féminine de BasketBall index
Return to "what new" - WBBiF page
Return to women playing basketball in France home page
Previous basketball news game reports:
Aix-en-Provence beat Bourges Basket (62-56)

Bourges Basket lost at home to Arras in overtime (81-84)

Basketball news picture credits:

womensbasketball-in-france.com
Tarbes Gespe Bigorre (TGB)
Romain Chaib @Basquetebol.org
Date: 24 October 2009

---
---