All around the world today, 27 May 2011, the basketball news headlines are about the passing away of Małgorzata Dydek.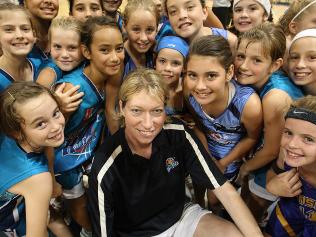 Margo Dydek, as she was known to WNBA fans, suffered a heart attack on 19 May in her home in Brisbane, Australia and had been in a medical induced coma. She was pregnant with her third child at the time.
According to reports from Australia she passed away peacefully surrounded by her family.
Dydek was one of the tallest women ever to play professional basketball and at 2:13 (7-foot-2) the tallest player ever in the WNBA.
Dydek played basketball on both sides of the Atlantic and had spent two years playing in France with USVO between 1994 and 1996.
She led Lotus Gdynia to two EuroLeague Women finals before closing her European career with a season each in Russia and Spain.
Her biggest triumph came in 1999 when she led Poland to the EuroBasket Women title.
Dydek was the first pick during the 1998 WNBA draft and played for the Utah Starzz (1998-2002). The franchise then moved to San Antonia and became the Silver Stars.
She played two seasons for the Silver Stars and then was traded to Connecticut Sun. She ended her WNBA career in 2008 with a season with Los Angeles Sparks.
She played a total of 323 games in the WNBA and is the block shot holder with 877 blocks.
---
Return from LFB Basketball News to Ligue Féminine de BasketBall index
Go to Women Playing Basketball In France Home Page
Return to the top of page
---
Picture credits:



Rob Maccoll The Courier-Mail
Date created: 27 May 2010
---