Ligue Féminine 2 basketball news:
Lyon are the champions
Final four finalists confirmed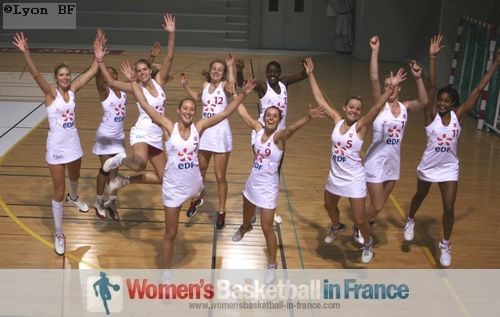 This weekend all major basketball news is about the EuroLeague Women final four so that it might be possible that the success of Lyon may not get much media attention.
It is 19 years since a team from the town of Lyon last played in the top division in France. With their road victory against Rennes (63-58) the LF2 regular season title is theirs as well as LFB basketball for next season is the prize.
The LF2 final four will take place on 21/22 May 2011 in Lyon.
Limoges' slim chance of making the top 4 came to an end when they lost at home to Nice. This result means that Nice, Roche Vendée and Reims BF have all qualified for the final four.
At the bottom end of the table Angers pulled off the victory of the evening in beating Reims (68-56). However with Perpignan winning, Angers become the second team to be mathematically relegated.
Results of week 27:
Rennes 58–63 Lyon
Limoges 44–61 Nice
Roche Vendée 66–46 CFBB
Angers 68–56 Reims BF
Pau Lacq Orthez 72–65 Voiron
Perpignan 77–75 Dunkerque Malo
Pleyber-Christ 80-73 Le Havre
Armentières 60-53 Illkirch-Graffenstaden

Look back on the previous LFB 2 news.
---
Return to Ligue Basketball news page
Return to women playing basketball in France Home page
GO Back to the top of the page
---
picture credits:
Lyon BF

Date created: 09 April 2011
---