LFB basketball news - Marjorie Carpréaux signs till end of the year
---
---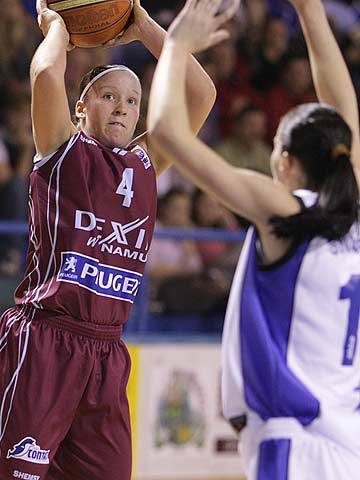 Basketball news Marjorie Carpréaux comes to the rescue
Marjorie Carpréaux
is just 22 years old but already has an impressive basketball CV.
She is 1.62m and one of the best point guards in Belgium.
She is also a Belgium international and has shined for Belgium in youth internationals.
During the summer of 2007, she became a face of the future European basketball while playing in the U21 World Championship, U20 European Championship and Eurobasket Women 2007.
Belgium finished 7th at EuroBasket Women 2007.
Carpréaux first played for Belgium during the 2002-2003 season at U16 level and has been busy every summer since then with international competitions.
At club level she won national titles with Dexia Namur and also played in the EuroLeague Women between 2006 and 2008.
Last season (2008-2009) she played in the EuroCup Women where she compiled an average per game of 11.9 points and 5.8 assists.
Carpréaux left Dexia in January of 2009 for her first experience outside Belguim. She joined
Pallacanestro Ribera
in the Italian top division.
Her baptism of fire in terms of playing basketball away from home lasted two months.
Ribera was not having the best of seasons when she joined the club and things went from bad to worse after the Italian Federation declared that Carpréaux had no right to play in the first two games.
The club avoided direct relegation by the end of the regular season and had to participate in the play-down. Carpréaux had left the club before the play-down series.
Carpréaux was back in Italy at the beginning of this season with Women Basketball Livorno in the top division.
Despite having a good season she asked to be released from her contract at the beginning of December.
She is on trail with USO Mondeville until the end of 2009. She will haves two LFB games and a Eurocup game to convince Hervé Coundray to keep her until the end of the season.
---
Return from Basketball News to Ligue Féminine de BasketBall index
Return to "what new" - WBBiF page
Return to women playing basketball in France home page
Related stories:
Injuries and Swine flu makes this difficult for Mondeville
Depleted Mondeville lose in EuroCup Women
Picture credits:
FIBA Europe

Date: 12 December 2009

---