Basketball Coupe de France 2009 is already over for Challes-les-Eaux
---
---
The Basketball Coupe de France weekend has come to an end with just one surprise result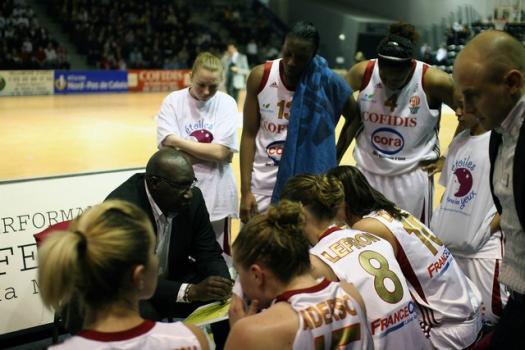 There are six teams from the LFB and two teams from NF1 still in competition for the Joë Jaunay trophy.
Aix-en-Provence are still in the running after knocking out Clermont-Ferrand (87-71).
Aix-en-Provence raced out to a (19-2) lead early in the first period and had the game won by the end of the third period leading (70-45).
Hollia Grima, 19 points and 13 rebounds, was the player of the match for Aix. Renae Camino fired in 17 points while four other players finished in double digits. K. B. Sharp also dished out 8 assists.
Emma Randall did not suit up for Clermont-Ferrand which left Claudia Das Nevers alone offensively and scored 23 points.
Nice Cavigal Olympic from NF1 continue their adventure in this competition after eliminating LFB high flyers Challes-les-Eaux (76-68).
It was not until the 38th minute in this close match that Nice took control for good with 5 points from former Challes player Johanne Gomis (65 -62).
The player of the match Melissa Micaletto controlled the tempo for Nice to hold out for the victory. Micaletto led the scoring with 19 points and also came up with 4 assists.
Tarbes came away from Basket Landes with the victory (80-69). Tanisha Wright led the scoring with 24 points. Tarbes also introduced new signing Liene Jansone who scored 15 points.
Lattes Montpellier, trailing at home by 18 points at half time, ran out winners (86-85) against Mondeville with Sheana Mosch leading the way with 30 points.
Elsewhere Bourges Basket just did enough to beat Nantes-Rezé (62-51).
Kathy Wambe in her first game of 2009 was the catalyst Union Hainaut Basket required to beat SJS Reims (87-69).
Reims were leading (22-15) after nine minutes of play and yet the game was tied (22-22) by the end of the first period.
Union scored the first 12 points of the second period (34-22) and never looked back with a (47-28) lead at the interval.
Jolene Anderson was on fire for Villeneuve d'Ascq with 25 points. She hit 7-of-9 from beyond the arc as Villeneuve without Géraldine Robert beat COB Calais (85-73).
Charleville-Mézières showed no mercy against Quistreham as they won (90-53).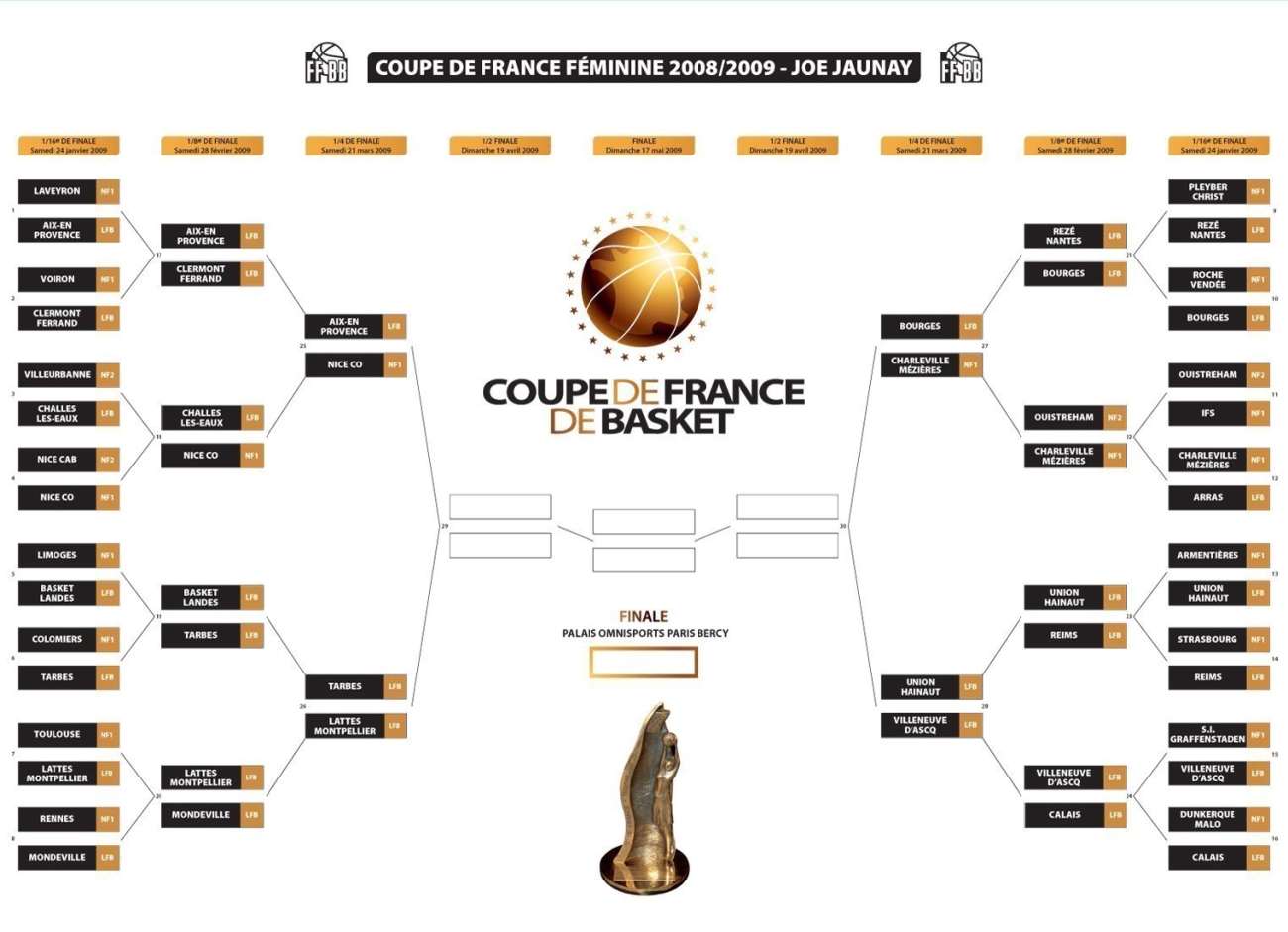 The quarter-finals will be played on Saturday, 21 March 2009.
By clicking on the picture on the right you will be able to save a French Cup bracket wall chart with all the results of the 2009 edition of the Coupe de France.
Basketball Coupe de France Féminine results from the first two rounds
Second Round
Aix-en-Provence 85-71 Clermont-Ferrand
Nice CO (NF1) 78-68 Challes-les-Eaux
Basket Landes 69-80 Tarbes
Lattes Montpellier 86-85 Mondeville
Nantes-Rezé 51-61 Bourges Basket
Quistreham (NF2) 53-90 Charleville-Mézières (NF1)
Union Hainaut Basket 87-68 SJS Reims
Villeneuve 85-73 COB Calais
First Round
Nice CAB (NF2) 84-85 Nice CO (NF1)
Toulouse (NF1) 57-96 Lattes Montpellier
Strasbourg ABC (NF1) 72-86 SJS Reims (LFB)
Charleville-Mézières (NF1) 71-51 Asptt Arras (LFB)
Laveyron (NF1) 73-76 Aix-en-Provence (LFB)
Voiron (NF1)81-82 Clermont-Ferrand (LFB)
Villeurbanne (NF2) 44-75 Challes-les-Eaux (LFB)
Pleyber-Christ (NF1) 49-83 Nantes-Rezé (LFB)
Roche Vendée (NF1) 48-101 Bourges Basket (LFB)
Ouistreham (NF2) 68-55 Ifs (NF1)
Armentieres (NF1) 73-79 Union Hainaut Basket (LFB)
Illkirch-Graffenstaden (NF1) 64-78 Villeneuve d'Ascq (LFB)
Dunkerque (NF1 ) 67-88 COB Calais (LFB)
Colomiers (NF1) 54-76 Tarbes (LFB)
Limoges 55-70 Basket Landes (LFB)
---
French Cup changes for season 2008-2009
Return from Basketball Coupe de France to Women playing basketball blog
Return from French Cup for women basketball news to LFB news page index
basketball coupe de France picture credits:

Alain Cugier @ Basquetebol.org
FFBB

Date created: 1 March 2009

---