The draw for the Basketball Coupe de France 2008-2009
Trophée Joë Jaunay: 2008-2009 brackets
---
---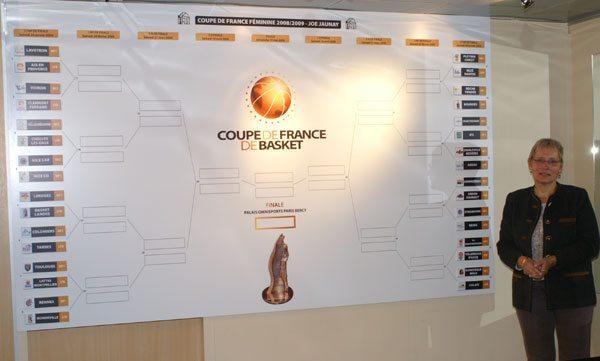 The draw for the basketball Coupe de France Féminine for 2008-2009 was made by Marie-Noëlle Servage who holds the position of "Présidente de la Commission Sportive Fédérale" of the the French basketball federation (FFBB) on Wednesday, 17th December 2008.
The reason for the change of the format of the competition can be found in our 2008-2009 French Cup introduction page.
The rules for determining the home team is as follows in order of priority:

1. The team playing in the lower division.

2. If the teams are in the same division then it is the team that had to travel the furthest in the previous round.

3. The last option is based on the order the teams were initially drawn.
The semi-final this year will be played on Sunday, 19th April 2009 in Rennes.
The draw (brackets) is as follows:
US Laveyron (NF1) vs. Aix-en-Provence (LFB)
Voiron (NF1) vs. Clermont Ferrand (LFB)
AS Villeurbanne (NF2) vs. Challes-les-Eaux (LFB)
Nice CAB (NF2) vs. Nice CO (NF1)

Limoges (NF1) vs. Basket Landes (LFB)
Colomiers (NF1) vs. Tarbes (LFB)
Toulouse (NF1) vs. Montpellier (LFB)
Rennes (NF1) vs. Mondeville (LFB)

Pleyber-Christ (NF1) vs. Rezé Nantes (LFB)
Roche Vendée (NF1) vs. Bourges Basket(LFB)
Ouistreham (NF2) vs. Ifs (NF1)
Charleville Mézières (NF1) vs. Asptt Arras (LFB)

Armentières (NF1) vs. Union Hainaut Basket (LFB)
Strasbourg ABC (NF1) vs. SJS Reims (LFB)
Illkirch-Graffenstaden (NF1) vs. Villeneuve d'Ascq (LFB)
Dunkerque Malo (NF1) vs. COB Calais (LFB)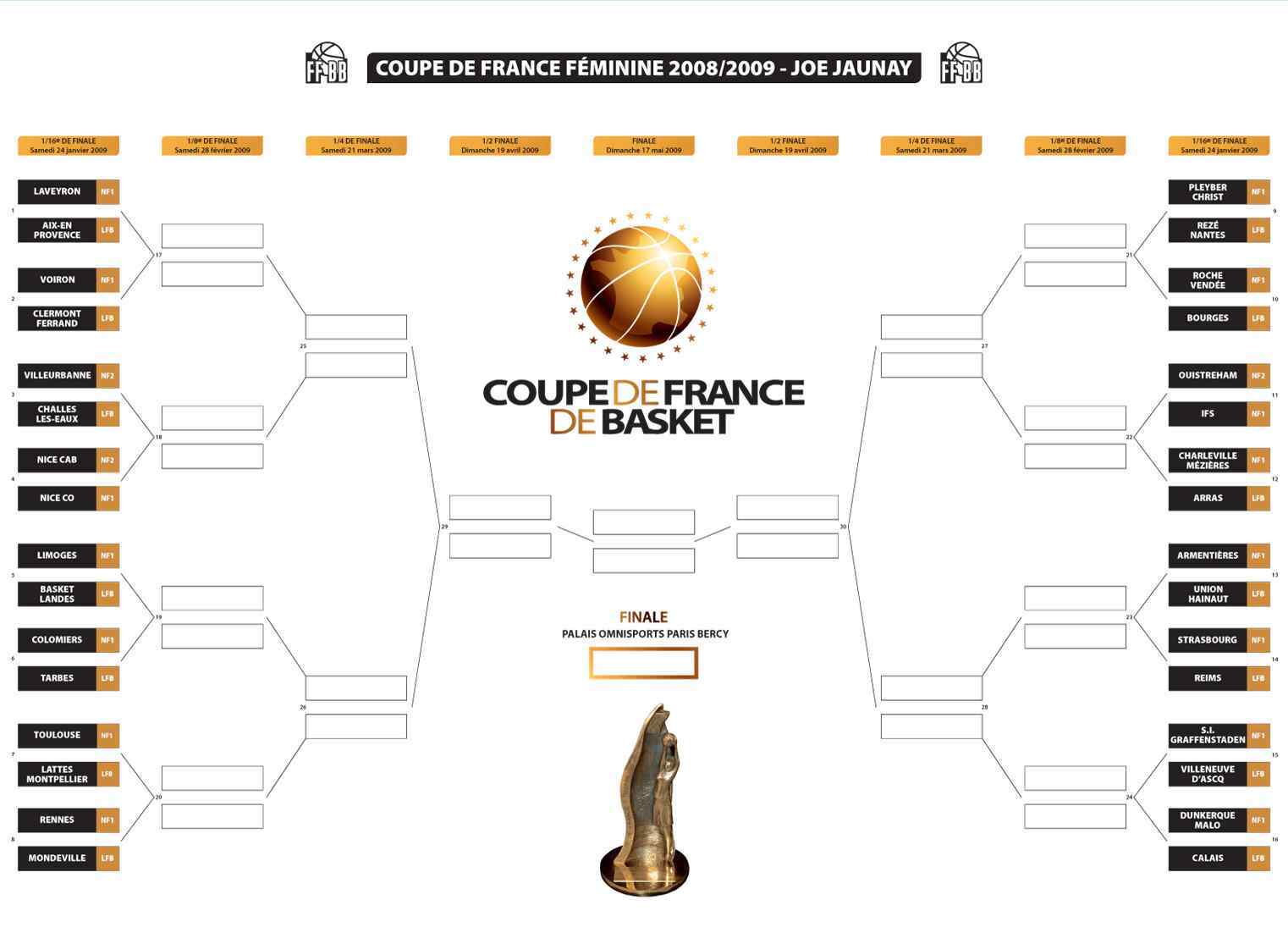 The matches are scheduled for Saturday, 24 January 2009.
You can save a mini wall chart by clicking on the picture on your right.
The basketball Coupe de France for women is better known as the Trophée Joë Jaunay. The competition is named after Joë Jaunay who was the technical director (DTN) for the FFBB from 1964-1980.
---
French Cup changes for season 2008-2009
Return from Basketball Coupe de France to Women playing basketball blog
Return from French Cup for women basketball news to LFB news page index
picture credits: FFBB

Date created: 19 December 2008

---