France U20 succeed in youth international basketball tournament in Turkey
---
---
The Spanish youth international basketball campaign in the U20 category will be without
Tamara Abalade
, Laure Nicholls and
Alba Torrens
as they prepare with the senior team for the Olympic games.
This will be the first time this age group will be without the three players during the summer international season. The other players and coaching staff are learning how to play without them. Spain started the tournament with a match against France.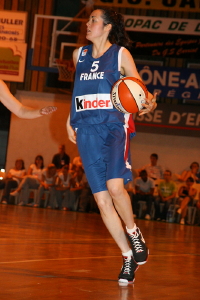 Sarah Michel (left) led the French scoring with 16 points as France ran out winners (65-45). Spain were slow out of the starting blocks allowing France to open a significant lead at the interval (46-24).
Ana Cata Chitiga was the other player in double digits with 14 points for France while Laura Herrera led the scoring for Spain with 9 points.
France lost their second game to the hosts (52-56). France had beaten Turkey (69-43) a week earlier but were unable to find any rhythm and trailed (13-20) by the end of the first period.
France spent the rest of the game chasing after the score. Despite a 10-2 run late in the final period it was not enough for France to make up the deficit.
Doriane Tahane led the scoring with 13 points and Marielle Amant joined her in double digits with 10 points.
For Turkey Gizem Yavuz and Mehtap Gezer scored 12 and 11 points apiece.
In the final game France cruised past Russia (69-48). The Russians were not able to break down the defence put in place by Abou N'Diaye. By the interval France led (38-25).
Once again Mitchell led the offensive with 20 points. Amant and Lorraine Lokala had 12 points each. Olga Zhuzhgova scored 10 points for Russia.
Mélanie Arnauld was not able to play during this weekend. France are off to Zamora in Spain for their last test matches before heading off to Italy.
Return from Youth International Basketball to "What's New" page
Return to youth international basketball index
picture credit:
Fabien Savouroux - Basquetebol.org

Date created: 01 July 2008
---