U18 youth international basketball preparation has started
Canada NEDA show France the way
---
---
The France U18 youth international basketball preparation for the 2009 season started with a series of defeats against the Canadian basketball's National Elite Development Academy (NEDA).
NEDA is the Canadian equivalent of the French basketball academy, the CFBB, which is run by the "Institut National du Sport et de l'Education Physique" (INSEP).
These are national basketball academies for players between the age of 15-18.
Some of the players from these two nations will play n the U19 FIBA World Championship for Women in Thailand later in the year.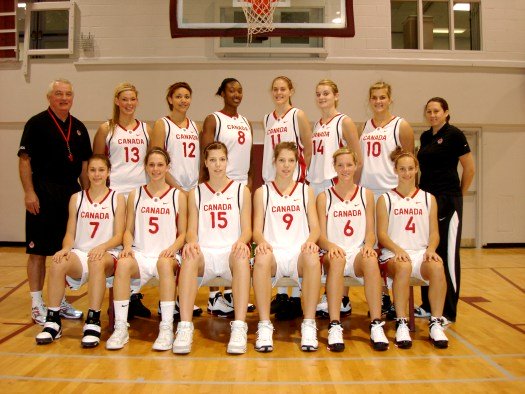 Back Row L-R: Coach Mark Walton, Felicia Wijenberg, Natalie Achonwa, Kayla Alexander, Alexandra Yantzi, Jen Lennox, Taryn Wicijowski, Coach Carly Clarke. Front Row L-R: Karly Roser, Kristine Lalonde, Michelle Plouffe, Katherine Plouffe, Melissa Mullins, Megan Lukan.
NEDA beat the Union Hainaut Cadettes (U18) team (73-48) on Monday, 9th March.
They followed up this victory on Tuesday, 10 March with a victory (77-67) against the CFBB.
The Canadian team continued their tour with a 2-0 victory against France U18.
In the first game played on Wednesday the Canadians, trailing at that interval (28-29), took control of the game in the second half.
They applied an interesting full court press, that resulted in turn-over after turn-over for France.The Canadians won the match (74-64).
French players and points: Elanga 16, Corre 13, Gandega 10, Viale 8, Goubo 5, Diallo 3, Favre 5, Alibicy 2, Lokoka 2, Bousbaa 0
The second match was much different: NEDA took control of the match with an (18-4) second period to lead (32-18) at the interval.
France chased the game in the second half but were unable to bring down the deficit, allowing the guests to win the match (68-54)
French players and points: Gandega 15, Corre 9, Viale 8, Elanga 8, Alibicy 6, Favre 4, Bousbaa 3, Lokoka 2, Diallo 2, Arfelis 0
---
France U18 2009 Preparation Roster
Return to the Youth International Basketball Index page
Picture credits:

Canadian Basketball Federation
Date created: 13 March 2009

---