U18 Youth International basketball test for France against Canada
---
---
The youth international basketball season starts this week with a two-game series against Canada.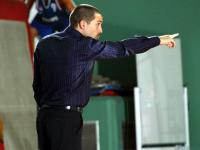 Jérôme Fournier, who was the assistant coach last season for the U18 Women, has been appointed the head coach this season.
This appointment allows Grégory Halin, the coach from 2008, to concentrate on the U19 team this season.
Fournier has called up 12 players for the first test this season. 10 players from the 1991 generation and 2 players from the 1992 generation.
Most of the players in this squad have not played for France in a European Championship before.
This may be the only chance they will have to gain a place in the final training squad for the U18 European Championship and also the U19 World Championship team.
No players currently from the French National Basketball Academy (INSEP-CFBB) are in this team.
The programme for the U18 Women this season is as follows:
10 March 2009: CFBB - Canada
11 March 2009: France - Canada
12 March 2009: France - Canada

2009 Rezé International Tournament (Tournoi à Rezé ): 4 June - 7 June 2009
2009 Fougères International Tournament (Tournoi à Fougères ): 11 June - 13 June 2009
2009 U18 European Championship Women 2009 Division A in Södertälje (Sweden): 2 July - 12 July 2009
The 12 players are:

Tracy Albicy
Marion Arfelis
Linda Bousbaa
Kelly Corre
Awa Diallo
Kekelly Elenga
Aurélie Favre
Touty Gandega
Priscilla Lokaka
Soléne Vareille
Anais Viale
The assistant coaches are: Grégory Morata et Nathalie Lesdema
---
Return to the Youth International Basketball Index page
Picture credits:

Bellenger/IS/FFBB
Date created: 09 March 2009

---