Villeneuve d'Ascq's women playing basketball
in the LFB in 2010-2011
---
---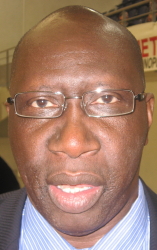 Abou N'Diaye
's (left) philosophy of women playing basketball has enabled him to turn Villeneuve d'Ascq into one of the top teams in the French League.
However financial constraints that almost saw the team relegated two years ago in 2008-2009 meant that the club had to start looking at former youth internationals to fill the places of established professional basketball players.
Last season was a roller coaster ride with the club eventually finishing sixth. The EuroLeague Women campaign was a steep learning curve with just one victory in 10 group games.
After two seasons at the club Jolene Anderson has left and now plays in Turkey.
Lady Comfort who spent 1 ½ seasons has also gone.
Ana Cata-Chitiga who was one of the new faces for last season exercised the non qualification for EuroLeague Women clause in her contract to join Alain Jardel at Tarbes.
N'Diaye went for two Americans who had already played in France before. In Carla Thomas' first year out of college in 2007-2008, she played for Arras. Last season she played for Gospic Croatia and gained a lot of EuroLeague experience.
Olayinka Sanni's one year at Calais (2008-2009) was the best season the club ever had in the LFB. She returns to France after spending a year in Israel.
With the injury to Emilie Gomis while playing for France, Bridgette Mitchell, a Duke graduate has joined as a medical replacement.
When Julie Page (right) first came to the French league last season, not much was written about her in the French media. However when it was announced that she would be leaving Aix-en-Provence, she was the talk of the town.
When the news broke that she would be joining Villeneuve d'Ascq a whole column was dedicated to her in the regional newspaper. But her contracted was then cancelled end of January 2011 with immediate effect. Her replacement is Adrijana Knezevic since 24 January 2011.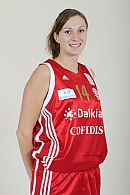 The last player to join the team this season is Belgium international Marjorie Carpréaux.
She only played two games with USO Mondeville last season before Temeka Johnson was signed as the medical replacement for Caroline Aubert. She will be sharing point guard duties with Ingrid Tanqueray.
So the team roster for the current season is as follows: Elodie Bertal (left), Marjorie Carpréaux, Laurie Datchy, Emilie Gomis, Adrijana Knezevic (since January 2011), Carine Paul, Fanny Ploegaerts, Olayinka Sannni, Ingrid Tanqueray and Carla Thomas.
Go back to the top of page
---
Go to Women Playing Basketball In France Home Page
---
Women playing basketball picture credits:

womensbasketball-in-france.com
LFB

Date created: 7 December 2010
Last updated: 27 January 2011
---