Europe awaits the women
playing basketball for Arras
---
---
The north of France is the centre for women playing basketball on a professional basis in France with many clubs in the LFB and LF2.
Last season Arras Pays d'Artois Basket Féminin became the number one club in the region with a third place finish at the end of the 2009-2010 regular season.
The French Basketball Federation rules prevented Arras being nominated for a place in the EuroLeague Women competition. But the club has been allowed to participate in the EuroCup Women.
Krissy Badé makes her return to France after spending the last two seasons playing in Italy and Spain and is the club's biggest signing of the season.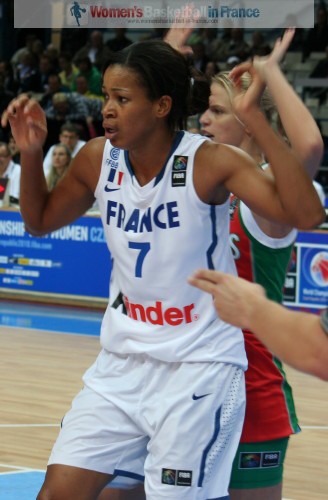 Aija Putnina transfers from USO Mondeville, while the remaining recruits are youth players. Adja Konteh comes from the CFBB and Laury Aulnette from Bourges Basket Espoir.
The core players from last season have all returned: Johanne Gomis and Marielle Amant (left) both played for France at the FIBA World Championship while Leilani Mitchell had an award winning season in the WNBA.
Julie Bertin who missed the whole of last season due to injury has not returned while N'Déyé N'Diaye who joined in mid season has moved to Calais. Princesse Goubo who left the club during the first phase of last season is now playing for Perpignan in LF2.
The 2009-2010 coach of the year Bruno Blier continues his function as head coach and is assisted by Cécile Constanty.
The roster is as follows: Leilani Mitchell, Laury Aulnette, Krissy Badé, Sarah Michel, Johanne Gomis, Olesia Malashenko, Adja Konteh, Marielle Amant, Aija Putnina, Pauline Akonga N'Simbo, Juliana Mialoundama.
Go back to the top of page
---
Go to Women Playing Basketball In France Home Page
---
Basketball picture credits:

womensbasketball-in-france.com

Date created: 15 October 2010
---