Women playing basketball for
Aix-en-Provence in 2010-2011
---
---
The last two seasons have not been easy for the women playing basketball for Aix-en-Provence in the LFB.
The club finished in the bottom half of the table last season, in 11th place, despite beating Bourges Basket in a dramatic fashion early in 2009-2010.
Emmanuel Cœuret is in his second season at the club and finalised his LFB roster early.
As assistant coach Odile Santaniello has joined the club.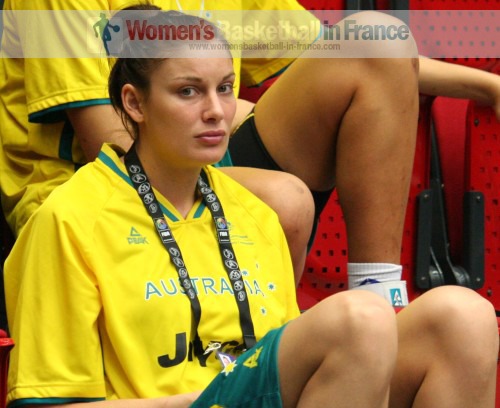 Hollie Grima (left) from Australia and Zoi Dimitrakou from Greece were in action for their national teams during the 2010 FIBA World Championship for Women.
Julie Page is the only player from the leavers who has signed for a club in the LFB this season.
Anaïs Déas, who captained the team last season, has joined Armentières in LF2. Guiday Mendy has also dropped down to the second division with Nice while Tiffany Stansbury has moved to Italy.
The roster is as follows: Emmanuelle Gorjeu, Claire Tomaszewski, Zoi Dimitrakou, Lauren Neaves, Isabelle Strunc, Anaïs Viale, Margaux Okou-Zouzouo, Natalie Hurst, Sabrina Réghaïssia, Hollie Grima.
Go back to the top of page
---
Go to Women Playing Basketball In France Home Page
---
Women playing basketball picture credits:

womensbasketball-in-france.com

Date created: 15 October 2010
---